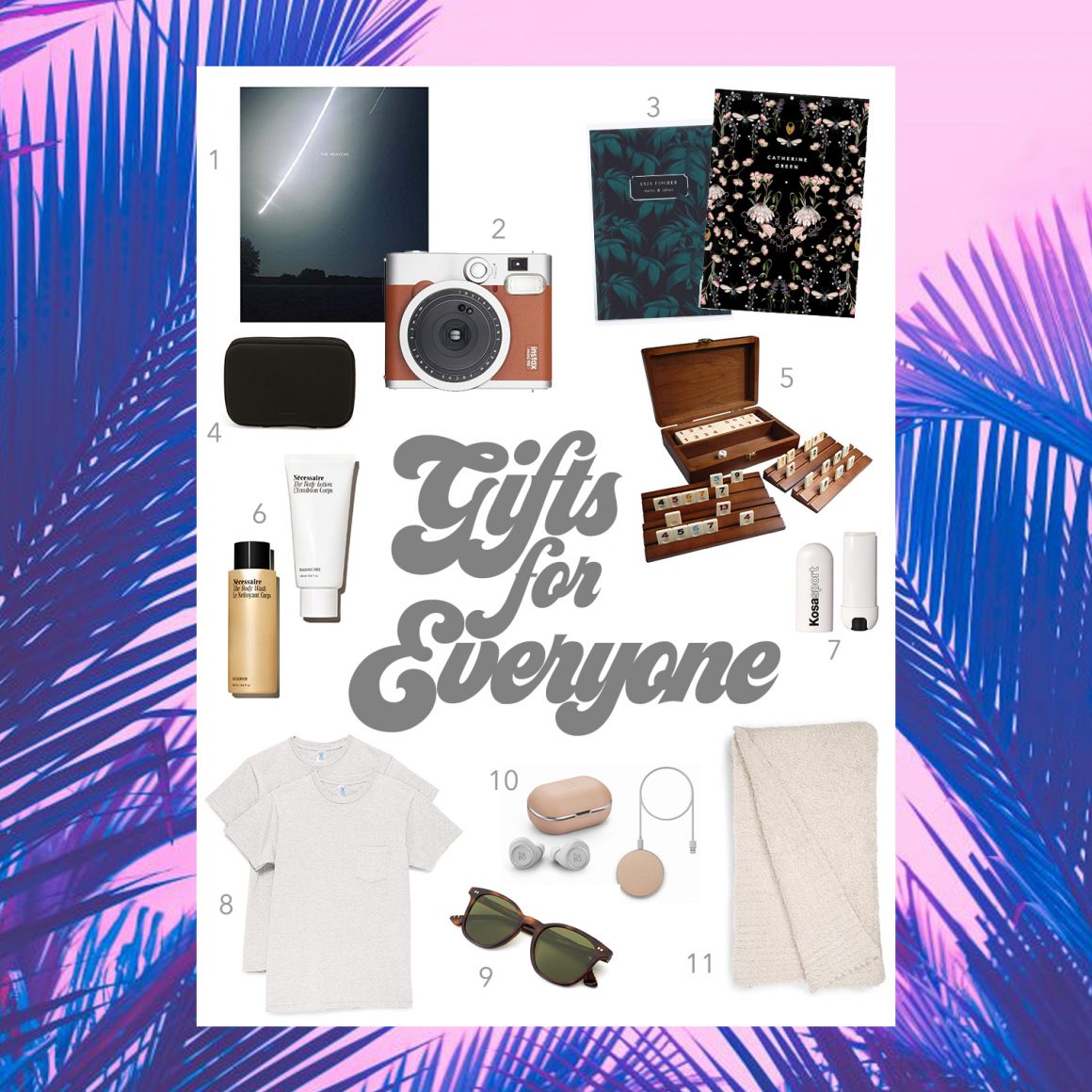 My final gift guide this year and it's officially December! All of these guides are technically for everyone, but this is a list of things that could have been included in both the him and her guides. I would truly feel comfortable giving these to men or women, people super close to me (like my husband or sister), or less familiar recipients (like colleagues or secret Santas, etc.). You might think that the body wash/lotion and lip balm seem kind of personal, but trust me when I say that these are so good that even your kid's teacher or your work friend would be happy to receive them!
1. The Heavens Book ($37) I love collecting decorative/coffee table books. I've always loved photography, I love interior design and decor, and who doesn't love collections of beautiful images? This book is so unique and special because it's all photos of the sky and stars. I think it's a great unisex/all ages gift and can really fit with any theme/intent. It would be great for those interested in astrology, religion, photography, collecting books, needing to decorate a new home, college/grad students, etc. Also if you know someone is having a hard time, something like this is such a thoughtful gift (don't forget to inscribe the first page!) for them to enjoy as a reminder of how beautiful our surroundings are. I think coffee table books are also great hostess gifts especially for larger parties when you know they will be getting plenty of wine/flowers already.
2. Fujifilm INSTAX Mini Instant Camera ($150) Rob got me a little polaroid snap camera a couple of years ago and I just pulled it out again and absolutely adore it. We are constantly bombarded with perfectly curated, filtered and edited images these days and it's so refreshing and fun to just take a snap (with no selfie mirror or screen) and wait to see the image as it prints. Not to mention that since all of our pics are now on our screens and phones, we rarely have physical prints to save and share! This is SUCH a cute camera that literally everyone would love.
3. Papier Customizable Notebooks ($30) I have always loved notebooks. They're such beautiful and functional (and affordable!) gifts. These are some of the prettiest I've seen, and I love that you can also customize them. Perfect for moms, dads, teachers, students, and just anyone who loves writing, journaling or taking notes.
4. Nordstrom Tech Travel Organizer ($45) Now that everything we use has cords & chargers involved, it's so important to keep them organized and portable. I love this simple & sleek neoprene case because it has 3 clear interior pockets so that you can store and see everything in one place.
5. Travel Rummikub Game ($40) This is my favorite board game lately. I love this pretty set and the fact that it's travel sized/friendly. So fun for families, couples, travelers, friends, anyone!
6. Necessaire Body Lotion & Body Wash ($25 each) I love these so much that I currently don't even want to try anything else. GREAT ingredients, texture, packaging, etc. and definitely look/feel way more expensive than $25! The body lotion is unscented and super nourishing, and my favorite body wash is the Sandalwood (super subtle but relaxing unisex scent). They both really enhance the shower/self care experience and feel so luxurious and soothing.
7. Kosas Lip Fuel Hyaluronic Lip Balm ($18) One of the simplest, most effective and coolest lip balms out there. The tube is a very thin oval shape instead of round, so it fits sleeker in purses and pockets. Minimal shine/gloss, and a subtle minty scent. Everyone who sees/tries it loves it!
8. Velva Sheen 2-pack Pocket Tees ($85) These are technically men's tees, but they're also my favorite classic t-shirts. They're crisp, not slouchy looking and extremely well made. So many tees are so thin and clingy (or sheer) now, but these are definitely not.
9. Krewe Howell Polarized Sunglasses ($315) This New Orleans based & inspired eyewear brand is so cool. As a Louisiana girl, I love supporting homegrown brands and I also just love their glasses and sunglasses! So many styles that are perfect for men and women, and they have excellent customer service such as their "second chance" program where they offer a first replacement pair for free!
10. B&O Beoplay E8 2.0 Wireless Headphones ($400) AirPods are all the rage, but I have the first gen and they're definitely not perfect! The sound quality isn't ideal, I can hear too much background noise (great for safety if walking on the streets, infuriating when trying to listen to music in a crowded gym), and they're just so basic. Apple also does so many updates (they already have a newer version that does address some of my issues), but that also means it's easier to spot "last year's" or "the latest" version at a glance and earlier versions often lose compatibility with newer phones as they come out. These are definitely an investment, but they're so grown-up and nice looking while still apparently working well and producing clear and beautiful sound.
11. Barefoot Dreams CozyChic Throw ($147) These are the. Most. Comfortable. Blankets. Ever. They are snuggly, lightweight and so cozy. Rob and I both love ours and have both taken numerous delightful naps on the couch since getting it. It isn't the most beautiful throw I've ever seen, but the comfort and coziness makes up for it 100000%. Highly recommend for anyone and everyone! Families will especially love, I think. A great gift to take if you're spending the holidays staying with someone!
Happy shopping, happy giving, and Happy Holidays!