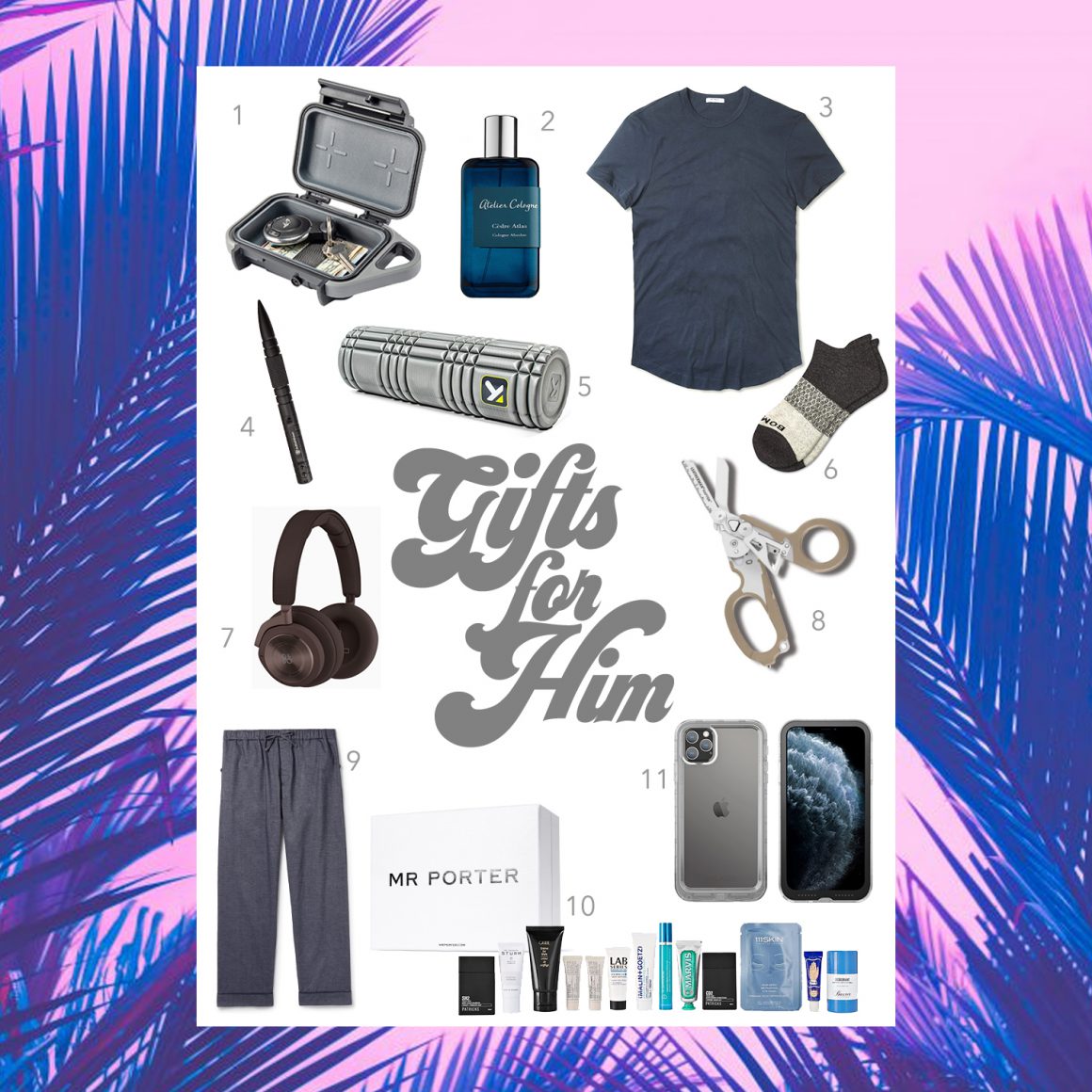 The men we love are sometimes notoriously difficult to buy for. I asked Rob for help with this cover image, and I was so happy that he genuinely seemed excited by most of the things on this list! I know not all guys are into only tools or technology or skincare, so I really added a mix here and am sure you'll find at least a few things the men (and boys!) in your life will love.
1. Pelican Personal Utility Case ($30) Perfect for an outdoorsy guy or sportsman, this case protects its contents from water, dirt, snow & dust. My dad loves boating and hunting, and this will be perfect for him to throw his car keys and small items into so they stay dry and safe.
2. Atelier Cologne Cèdre Atlas ($28 for travel size, $135 for full bottle) I'm so sensitive to scents and perfumes. Rob usually doesn't wear cologne so I never thought about it, but after one particularly "experimental" trip to Ulta (aka I took too long browsing and he sprayed 10 colognes on himself) I had such a bad headache and realized that we need better options for men, too! This brand makes some of the most beautiful scents that are also made from 89 percent renewable, natural-origin high quality ingredients that don't affect me as badly! They're one of my favorite fragrance brands, and this scent is so fresh and crisp that it could easily be unisex as well.
3. Buck Mason T-Shirt ($32) This new brand makes some of the best looking and most comfortable casual men's clothing. If your guys haven't shopped here, I guarantee they'll find something they love. If they already have, then they'll be happy to receive more! I love and wear the t-shirts because they're so soft, flattering, and come in tons of colors, styles and a few fabrics. Sweaters, sweats, jackets, pants, button-down shirts and more are also available!
4. Smith & Wesson Aircraft Aluminum Tactical Pen ($20) Rob has this on his Amazon wish list and its' so unique and affordable, so here it is! It's a pen that looks cool and rugged but can also double as a defense tool if necessary (a slight sigh from me here, because I would never imagine stabbing someone with a pen??). Anyway its main function isn't as a weapon, but the guys in your life might think it's cool that it could be one if they somehow ever needed it to be.
5. TriggerPoint Foam Roller ($30) One of the best gifts I gave Rob last year was a massage. This is the next best thing! Perfect for sore muscles and super easy to use (they can look up tons of tutorials online). I love this roller because of the little tracks that really give some extra kneading to sore backs and legs. This is such a good gift because it's perfect for the super active guy and one who might not get to move as much as he wants! Sitting all day definitely creates some kinks and soreness and this is a great way to quickly and easily get some relief.
6. Bombas Ankle Socks ($12) The guys in my life have also worn socks until they literally fall apart. These could easily have been included in my gift guide "for everyone," because everyone I know loves them. They're so comfortable and supportive and come in endless colors, styles, etc.
7. B&O Beoplay Over-ear Headphones ($500) Over-ear headphones are definitely the way to go if you want the best personal music listening experience. I've tried Beats and Bose, and honestly have not noticed a super huge difference in the quality. I think this category is pretty similar, and unless you're a professional musician (or professional fan!), it just comes down to preferences & priorities. I think these are the best looking headphones I've seen, and they also look incredibly well constructed and I've heard great reviews about them.
8. Raptor Emergency Response Shears ($70) These are kind of a cult-fav on Amazon (over 1,500 reviews and 86% 5 stars) and they're so cool! They were developed with special operations medics, EMTs and fire fighters in mind and can cut through almost anything. They're basically super strong folding shears that also feature a strap (like seatbelt) cutter, a ring cutter, a ruler, an oxygen tank wrench, and a carbide glass breaker. 25 year warranty, made in the USA, these are just really cool for your outdoorsy or gadgety guy!
9. Desmond & Dempsey Brushed Cotton-Twill Pajama Pants ($125) I feel like Rob would never buy new pajamas unless they were given as a gift, haha. These are so good looking and well made that they make a beautiful present that will also last.
10. Mr. Porter Grooming Kit ($88) This kit has a little of everything! Skincare, haircare, bodycare, toothpaste, deodorant, etc. I don't know any guys who are huge beauty buffs, but this set could be perfect for sampling and/or travel. It's always fun to try new things, and when I have actually gotten Rob to try skincare, he has enjoyed some of it! This is also a great starter kit for young guys and would be a nice *hint* if someone you know could use a sprucing up of toiletries.
11. Pelican iPhone Case ($24-50) These phone cases are sleek and attractive while being suitable for any kind of activity. Whether your guy needs a case that's rugged, waterproof, shock proof, etc. these are great options.
Happy shopping, happy giving, and Happy Holidays!