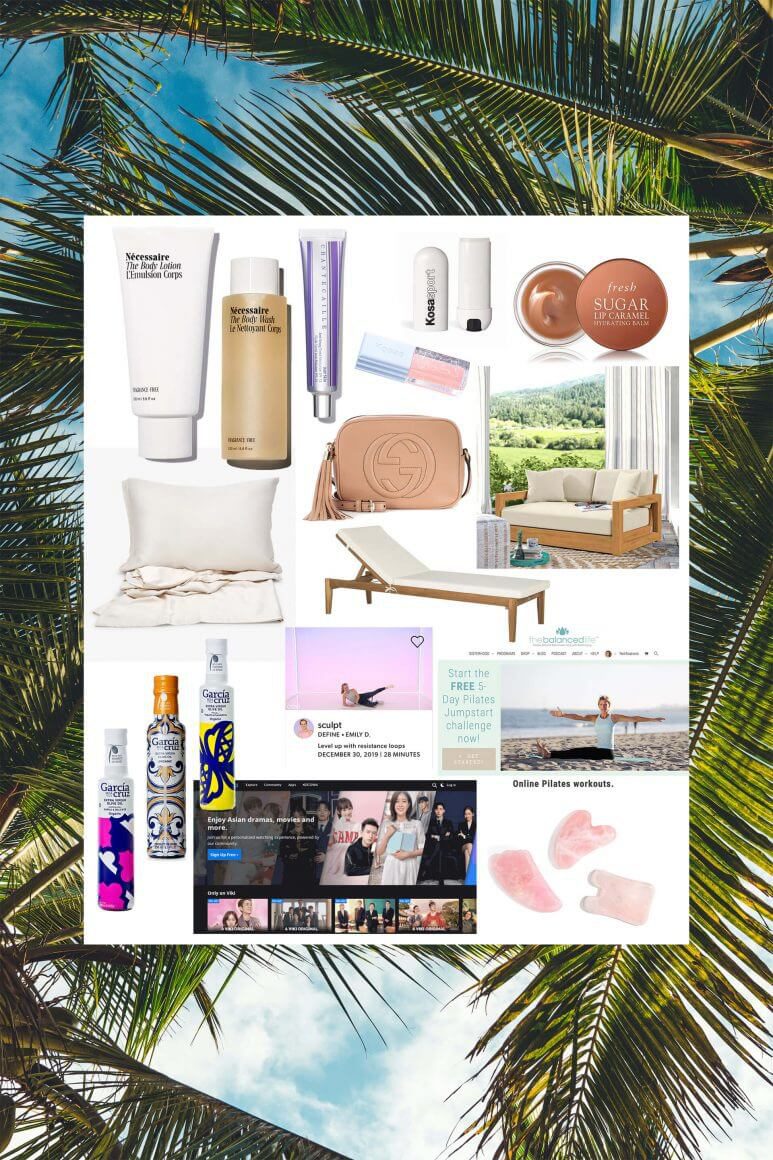 I'm basically a broken record with these at this point, but they're my favorite body lotion and body wash, period.
I bought this a while ago and liked it immediately, but I've really fallen in love with it more over these past few months. It's a great light tint that is the perfect dewy finish; it's not matte or oily but just beautiful skin-like texture. It's especially perfect for mature skin since it's moisturizing and so natural. There also really isn't enough pigment to settle into lines/pores/wrinkles so it wears well all day. When we Facetimed Rob's parents for Christmas, his sweet mom complimented my skin and that's one of the nicest things to hear! All I was wearing was this. (Though to be fair, it was also 85 degrees and some sweat might have also contributed to my "glow")
I'm still always on the hunt for the absolute perfect lip balm (RIP Bite Beauty's original agave lip balm) and this is the closest I got in 2019. It isn't as thick as I'd like for nighttime, but it is the smoothest balm I've truly ever used. It moisturizes well thanks to hyaluronic acid and has a neutral-natural finish that isn't too shiny so even Rob will use it occasionally. Non-offensive slight mint flavor and super cute/functional packaging too.
This gloss is newer to me but it's already a staple in my bag! I have the Jellyfish shade which is clear. It seems like a little less product per tube than I'm used to, but I'm nowhere near finishing it yet and will repurchase when it does run out. Side note that Kosas is really a cool and innovate brand and the ingredients are always on point which makes me feel even better using & recommending their products.
These are expensive. Borderline ridiculously so, but I have never ever felt anything as soft and luxurious as this fabric. I have the pillowcases and they're 10000% better than any silk or cotton pillowcase for comfort, coolness, and keeping your skin and hair looking A+. I first discovered the line when I got a duvet cover for my old bed pre-marriage (it's now in the guest room because it's too small for our master) and while I won't splurge on the cover for our new bed right now (bc dogs), I'm seriously considering getting the sheets because they're just so luxurious. You spend half of your life in bed, it might as well be as comfy as possible!
This is so basic, expensive for what it is, and so many other people have it. But it's also  just a really good neutral classic bag! I love the shape, size, color, interior and the tassel on the zipper. I used it almost every day last year and it's showed zero wear. It was also a pretty great investment because I considered selling it on Poshmark a few months ago and was completely swarmed with offers very close to the original price. I decided to keep it because it's just so good and can be appropriate for literally any outfit or place I might go.
You might remember that we've been sloooowly furnishing our first house because a) furniture is super expensive, b) newly manufactured furniture can often off-gas chemical smells that I'm sensitive to, so I usually only buy 1-2 pieces at at time, c) we won't be in this house or even in Florida forever so I want to find things that will last and transition well, and d) finding things that I love (and that Rob likes) has been much harder than I imagined!
I got this loveseat earlier this year and my mom just gave us the lounge chairs for my birthday. I absolutely love the neutral, comfy and chic design! Our entire living area faces our patio/backyard, and I think these really compliment and enhance the view. They're pretty good prices and materials IMO, and they seem to also be wearing well so far.
I've been using this at night and love it. Again, not enough to deter me from continuing to try new lip balms, but it is my favorite and most used for this year.
I haven't been able to use these as much as I'd like this past year, but both of these virtual workout plans/programs are phenomenal.
The Balanced Life is the most gentle, happy, and positive program with workouts and challenges that are as easy as 10 minutes a day. Robin is a delight and somehow even the short and light workouts leave me feeling so much stronger. She only opens enrollment a few times a year, but periodically offers trial challenges as well. I'd recommend this to anyone looking for something easy and super effective to do at home. I tried Barre3 and Physique 57 in the past, but this was the first at-home program that I actually stuck with and always looked forward to.
Obe Fitness is newer to me, but I adore it as well. They have SO much variety in every aspect: workout type (dance cardio, Hiit, yoga flows, stretches, pre/post natal, etc.), workout time (15 min-an hour), instructors (women and men, different energies and personalities), streaming options (live workouts and a huge on-demand archive), and even dance choreography classes. It's so fun and there's something for everyone!
I use olive oil for everything that I cook, and these are my favorite that I've ever tried! I buy three different flavors and use them all for different types of food. I've repurchased each multiple times and think it's the highest quality, greatest price, and best flavor period.
This year I continued with therapy, had a regular nighttime skincare routine with Gua Sha Massage, and discovered (and immediately became obsessed with) Korean TV shows. These all have served me in different ways and are things that I genuinely loved and enjoyed this year!
If I had to pick two bonus items, they'd be the Luzern Rehydrate Serum and Barefoot Dreams blanket. The serum is incredible for soothing and smoothing my skin and Rob and I both have enjoyed many naps under our blanket. It's super cozy but also breathable so we never get hot! Barefoot Dreams also makes cardigans, which are definitely next on my wish list.
Did you discover any new favorite things in 2019? I'd love to know with they are!