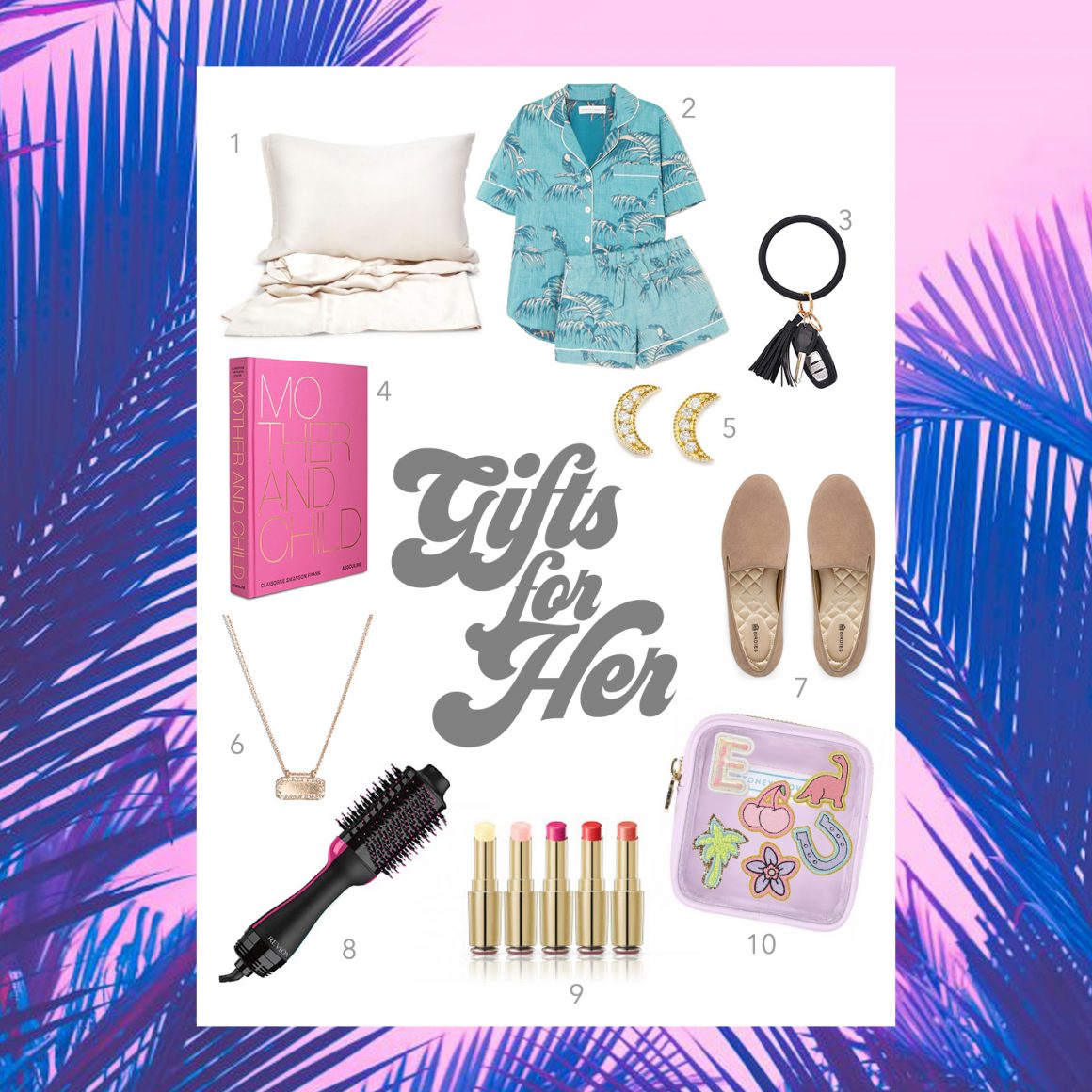 My gift guides "for her" are always basically a wish list for myself, haha. I do already own the last three items on this list, but everything else would make me super excited to find under my tree this year (and honestly, I'd eagerly take multiples of #s 9 & 10). Happy shopping!
1. SDH Legna Classic Sheets ($92-$464) This bedding is the most luxurious, gorgeous and comfortable I've ever seen & felt. The fabric feels like a mix of superfine silk and cotton, and is "free of chemical bleaches, dyes, and formaldehyde. This biodegradable bedding is crafted from wood fiber harvested from responsibly managed forests. Sophisticated and sustainable, the bedding pairs a glamorous sheen with soft, neutral hues." I've had the pillowcases on my wishlist forever!
2. Desmond & Dempsey Printed Cotton Voile Pajama Set ($150) I love PJ sets! I bought a bunch of those slinky/super comfy fabric pjs from high end brands and from places like target, and my issue with all of them is that while the fabric is so soft, it doesn't breathe! The 100% cotton pjs from this brand are so luxurious and incredibly well made, and they also truly keep me cool in the summer and warm in the winter. They're slightly crisp at first and soften with wear, but I love the look, feel and designs. Nothing beats natural fabrics and beautiful craftsmanship!
3. Key Ring Wristlet ($10) My mom got me one of these cute keyring bracelets ages ago, and I've since lost it (sorry, mom!). But it's so easy to just slip the ring over your wrist/arm to deal with groceries, dogs, kids, etc. and it's always super easy to find in your bag/house/car. $10 makes it perfect for neighbors, friends, teachers, teens, white elephant, etc.
4. Mother and Child Book ($85) This book has some of the most beautiful images of mothers. It's such a celebration of womanhood and shot by a former assistant to Anna Wintour, so it's incredibly stylish and modern as well. She chose women who inspire her professionally and personally, and her photography style is a magical and ethereal so it's just overall a gorgeous and wonderful buy. Not to mention that I look for beautiful colors/styling and meaningful wording for coffee table books, and this 10000% fits the bill.
5. Gold Crescent Moon Studs ($80) These studs are so beautiful and very on-trend. I love how modern and affordable this entire brand/designer is! Perfect for women of all ages but I think the price point is especially great for younger women. Gold plated sterling silver and a great selection of believable looking CZ stones like these, as well as tons of semi-precious stone choices.
6. Horizontal Diamond Edge Tag Necklace ($560) I ABSOLUTELY LOVE this necklace. It's so unique and rare to see a horizontal tag style. I love that it has space to engrave a monogram/initials or something special on either the front or back, and I just love love love this. It's so special and pretty and I'd literally wear it 24/7.
7. Birdies Starling Flat ($120) This brand started out making luxury slippers, and they were so comfortable  and chic that everyone started wearing them everywhere! These loafer/flats are SO cute. They also have a quilted and super cushioned memory foam sole with arch and heel support.
8. Revlon One Step Hair Dryer & Volumizer (usually $60 but currently $40!) I do not know one woman who has tried this who doesn't love it. It's kind of goofy/nostalgic looking, but trust me when I say that this tool helps me get the best looking hair possible in my home. It's as good as getting a professional blowout! (Maybe warn whoever you give it to that it can be a little damaging, but just use the lower heat setting and use wisely and they'll be in love!)
9. Sulwhasoo Essential Lip Serum ($38) This tinted lip balm is so good. The packaging is one of the most beautiful tubes I've seen, and the formula is so hydrating and luxurious. It comes in clear and 6 other shades to choose from. I usually wouldn't recommend buying lipstick for someone unless they asked for a particular shade/brand, but this one is a definite winner and also from a unique brand! I can almost guarantee any woman will love it.
10. Stoney Clover Lane Customizable Pouches (about $50-70) This is one of my absolute favorite things of 2019! This brand makes pouches that you can customize with patches and they're SO cute and extremely well made. There are endless options for customization from letters and numbers to animals, hobbies, locations, and so much more. It's so fun and nostalgic but also feels so fresh and cool! I think any girl would LOVE to receive these or a gift card here as a gift.
Happy shopping, happy giving, and Happy Holidays!