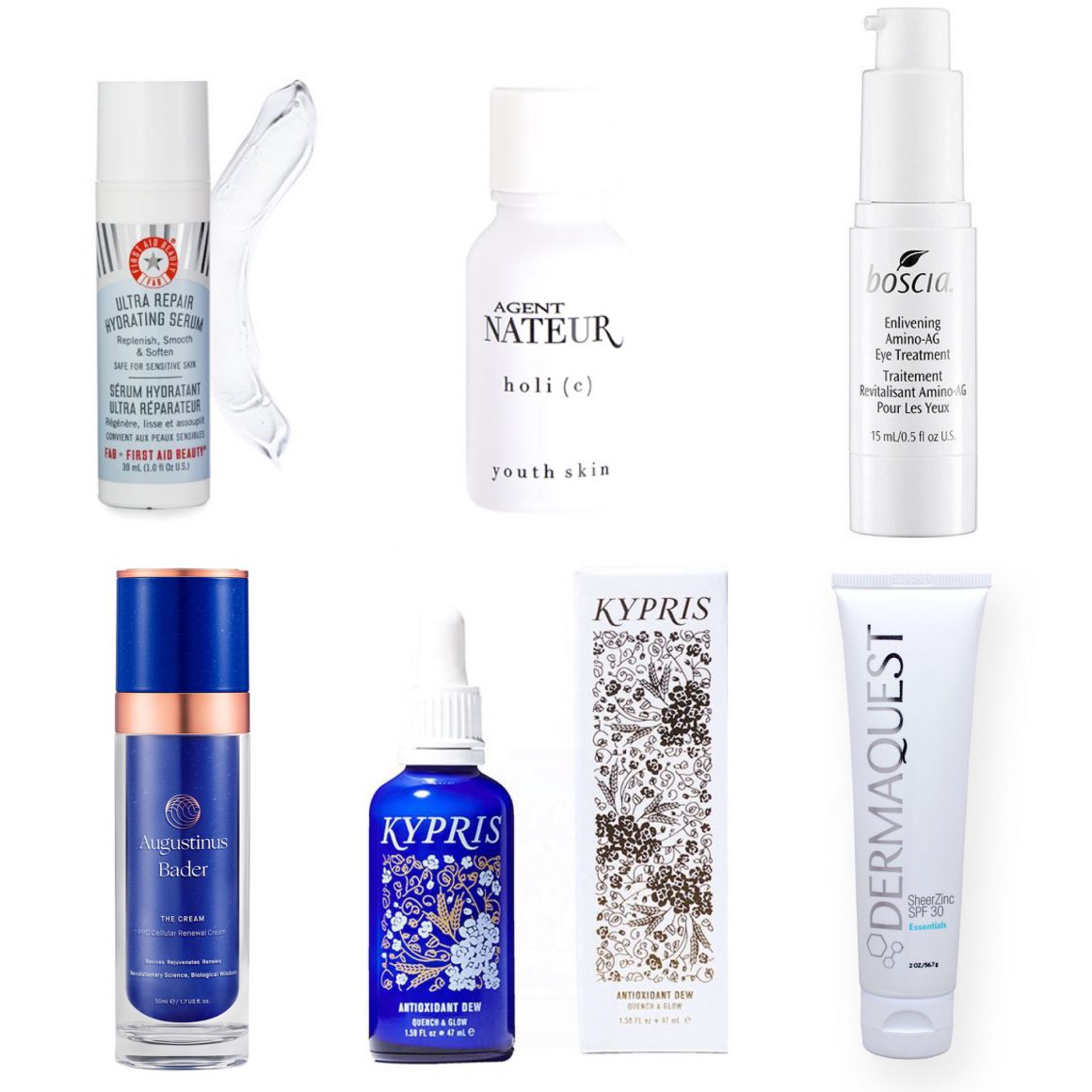 If you missed Part 1 of my current skincare routine, check it out here!
I've got a pretty good skincare routine down right now and am seeing some great results like fewer breakouts, better texture & tone, brighter skin and fewer fine lines. I don't use all of these every day (and often use different/additional things), but here are my go-to products that I'm loving right now and wanted to share:
First Aid Beauty – Ultra Repair Hydrating Serum • $36
This is a GREAT basic hyaluronic serum with peptides and aloe. No scent, nice gel-like consistency, absorbs completely and I really notice a boost in hydration. It also mixes well with others & is an essential layering piece for me lately.
Agent Nateur – Holi(c) Youth Skin Refining Face Vitamines, 15ml • $120
This is my favorite vitamin C product that I've tried. It's also been a huge help for my hyperpigmentation issues and is amazing for tightening the skin and increasing collagen production. The founder of this brand is amazing and only creates the safest, most effective, and most beautiful products all sourced from Europe. Highly recommend and I truly do think this is worth the price because it's lasting me forever. Add a small amount of the powder to your palm and mix with hyaluronic (or any other) serum, toner, moisturizer, sunscreen, plain water, you name it. It mixes immediately with no grit and absorbs quickly/easily. I notice a difference in the smoothness and vibrancy of my skin when I don't use this product, and I don't want to be without it!
One of my very first clean beauty purchases and a rediscovered favorite. I use this as a serum/treatment/light moisturizer and sometimes it's all I apply after washing my face. It's been one of my desert island products for 2 years now! Amazing for my skin and age but a product that I think can be layered for anyone/any skin issue. Helps to heal skin after breakouts and sun exposure, etc. Incredible ingredients and gorgeous brand.
Boscia Enlivening Amino-AG Eye Treatment • $38
I used this eye gel years ago and totally forgot about it until now! When I saw it I immediately repurchased because I loved it then and it's still as good as I remember. Very moisturizing and really helps with dry expression lines. I don't like using a lot of products with caffeine and it is almost impossible to find a caffeine-free eye cream. I love this formula and it manages to be great at depuffing and helping with undereye bags despite having no caffeine. Highly recommend for anyone wanting to try a really nice, affordable & effective eye cream!
Augustinus Bader The Rich Cream • $80–265
This cream is worth. the. hype. Almost every makeup artist, skincare blog and beauty brand is talking about this moisturizer right now. Again, I mostly ordered it because I was just so curious if it could be as amazing as everyone said (I also needed a heavier moisturizer than the serums/gels I usually prefer because I've been trying more exfoliating products and retinol which was making my skin super dry). The website has a lot of claims and "clinical results" but honestly this is just an incredible moisturizer. Thick but not heavy at all, unscented, super gentle and crazy moisturizing. It almost has a cream-to-oil feel after application until it eventually fully absorbs and just leaves you with plump and smooth skin. Y'all know I live in a billion degrees heat/humidity and have combo skin with some really tough hormonal breakouts lately. This doesn't add to my congestion or oiliness at all. They do have a lighter cream but this one is the one I'd recommend especially for anyone with more mature or dry skin. I'm really pleased with the ingredients in this one as well. For how it compares to La Mer, check out my skincare favorites page here!
DermaQuest SheerZinc SPF 30 Tinted • $53.50
I mentioned that I'm fully back on the sunscreen wagon and this is one I've been trying and loving lately. If you're doing any kind of exfoliation (physical or chemical), are working on skin texture/tone, or are interested in delaying or lessening wrinkles, sunscreen is a necessity! This mineral formula is amazing for my combo skin and doesn't cause breakouts while still being really effective. It also layers well over skincare/under makeup, doesn't have a scent, and doesn't make my face feel gross after a few hours like so many other formulas.