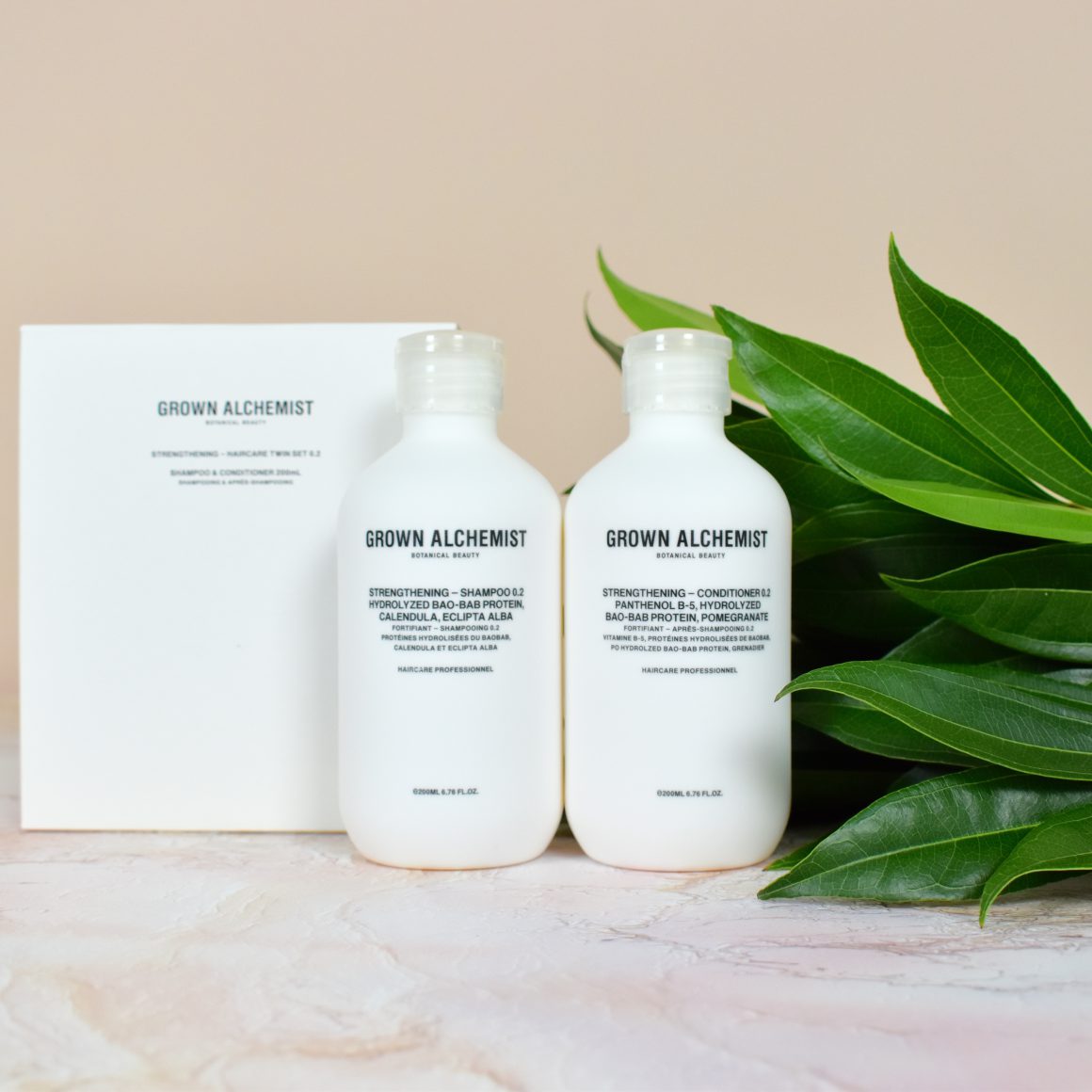 Hey guys, this is my absolute favorite shampoo and conditioner right now! I've been seriously struggling to find a clean haircare line that *really* works like I expect it to since I started cleaning up my self care & beauty products about 6 months ago. I tried samples of Rahua, Innersense, Acure, Josh Rosebrook, and more and none of them worked for me (and I couldn't stand the smell of many of them). As a result, I was alternating clean/organic brands with Oribe, my favorite conventional line, and there was no competition to how my hair felt, smelled, and looked day after day (Oribe was winning by far).
Oribe still has some ingredients that I'm not comfortable using every time I shower (and I reallllly wish they could clean up the formulas because I'm pretty much obsessed with their entire line), so I ordered this Grown Alchemist Strengthening Haircare Twin Set as my last hope for what is available in clean haircare right now. I first tried it about a month ago, and I haven't used anything else on my hair since!
Grown Alchemist's products feel like high end formulas, don't have an overwhelming smell (the conditioner actually smells a little like chocolate to me), and my hair looks and feels SO good for days after use. I also know my hair is healthier than when I was exclusively using Oribe. I only wash my hair a couple of times a week, and other nontoxic shampoos/conditioners would leave me oily again after day 2. I can make it almost a week before needing to wash my hair with these products!
Finding clean shampoo and conditioner was really important to me because your scalp is very sensitive and absorbent so whatever you are scrubbing into it shouldn't be toxic. Also, as you rinse your hair, the products rinse down your entire body, so that's also not ideal if your shampoo has parabens, dyes, PEGs, mineral oils, artificial fragrance, and many other potentially harmful chemicals in it.
This shampoo/conditioner duo also comes in Anti-Frizz, Detox, Color Protection, and Volume formulations. It currently sells for $49 and I personally think it is worth every penny. Click here to shop all Grown Alchemist Haircare Twin Sets from bglowing.com.
What are your favorite nontoxic haircare products? I'm now looking for some styling products, heat protection, dry shampoo and hairspray. Let me know if you have any suggestions!
XO, Edie