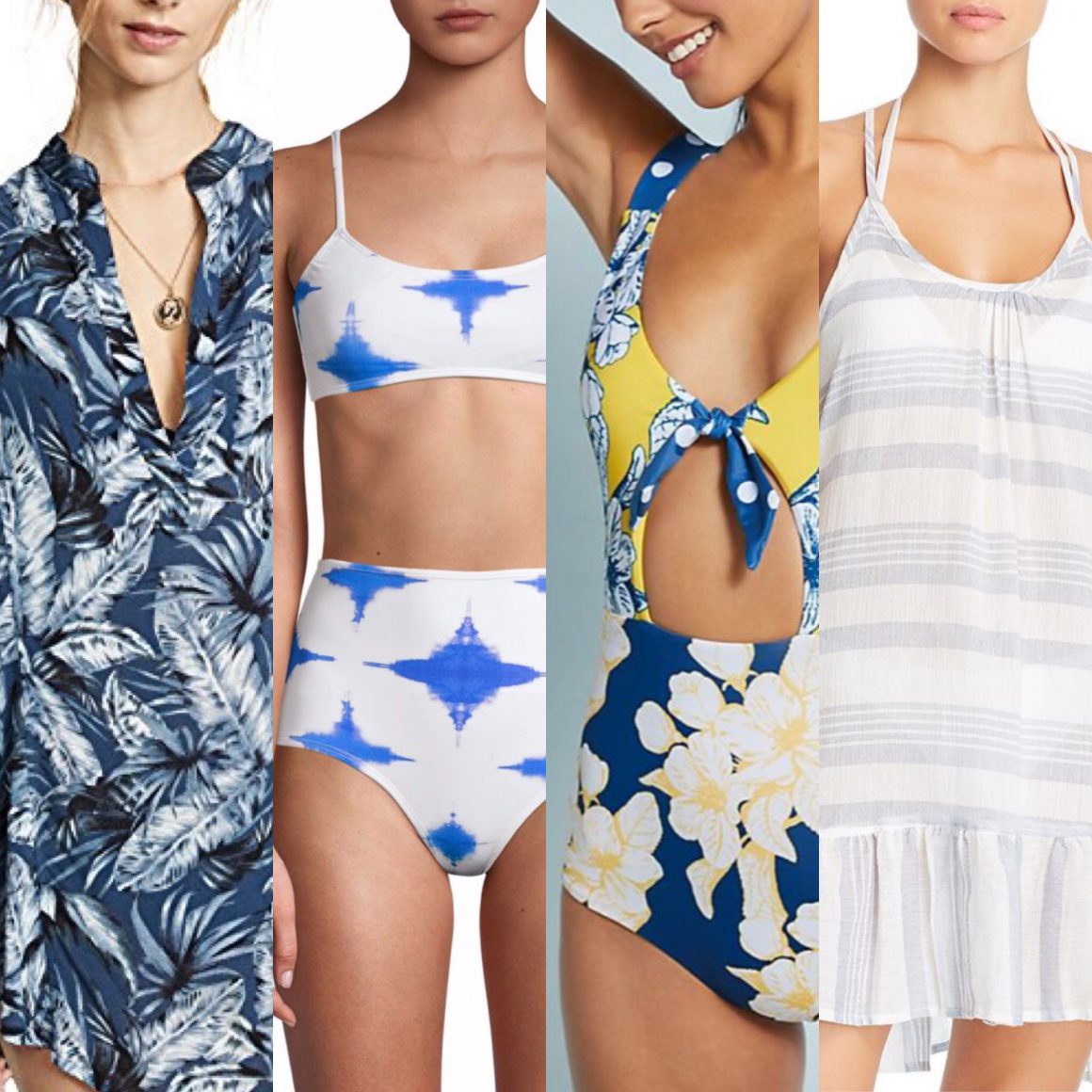 I'm always happy to chat about beauty and health & wellness, but one of my goals this year is to share more of my other interests with you! I've always loved fashion, magazines, clothes and accessories and I LOVE browsing my favorite stores online. I have bookmark folders for every different category and am always saving things for inspiration, ideas and to buy or try.
One thing I like shopping for this time of year is actually swimsuits! If you live in a tropical place that's always 70 degrees and up like me, then swimwear is obviously a necessity year round. This is also the start of when many of us start planning warm-weather & beach trips that begin in the spring. Fashion has always had a kind of weird cycle of releasing product lines that are technically out of season, and the resort category (also called a cruise/ travel collection) is usually released in the winter. It's a great time to shop since there are so many cute pieces available that don't last long—meaning you'll be less likely to see your same swimsuit on everyone at the beach this summer (and waiting until then to shop is sometimes too late to find something you love)!
Here are a few of my faves right now: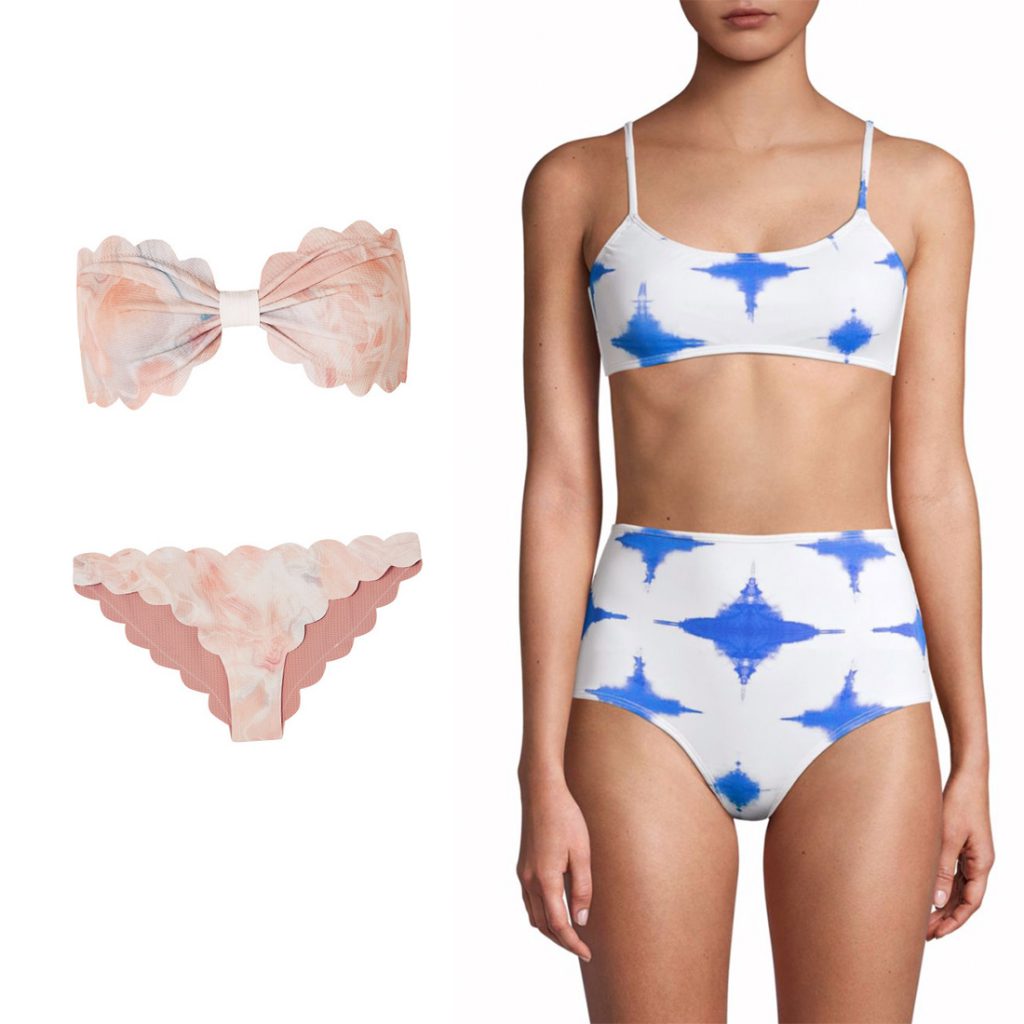 The first suit is the Antibes Bikini by Marysia, aka prob the most flattering swimsuit brand ever. I've literally never seen anyone look bad on one of their suits. Their signature scalloped trim in particular is as genius as it is beautiful—no straight tight lines = less cutting into softer areas of skin like thighs and under arms and a smoother (and more comfortable) overall look!
I love the look of a white swimsuit but I've honestly never been brave enough to buy one. From worrying about modesty to wondering if it will change colors from Louisiana lake water & where I spent summers on north Florida's gulf shores, it's just never seemed practical or worth the risk. Now that I live by some of the most beautiful clear water and am just more comfortable with my body and life in general, white swimwear isn't so scary anymore! I will still probably start with a patterned piece though like this blue & white tie-dye one by Paper London. And HOW CUTE are these high rise bottoms?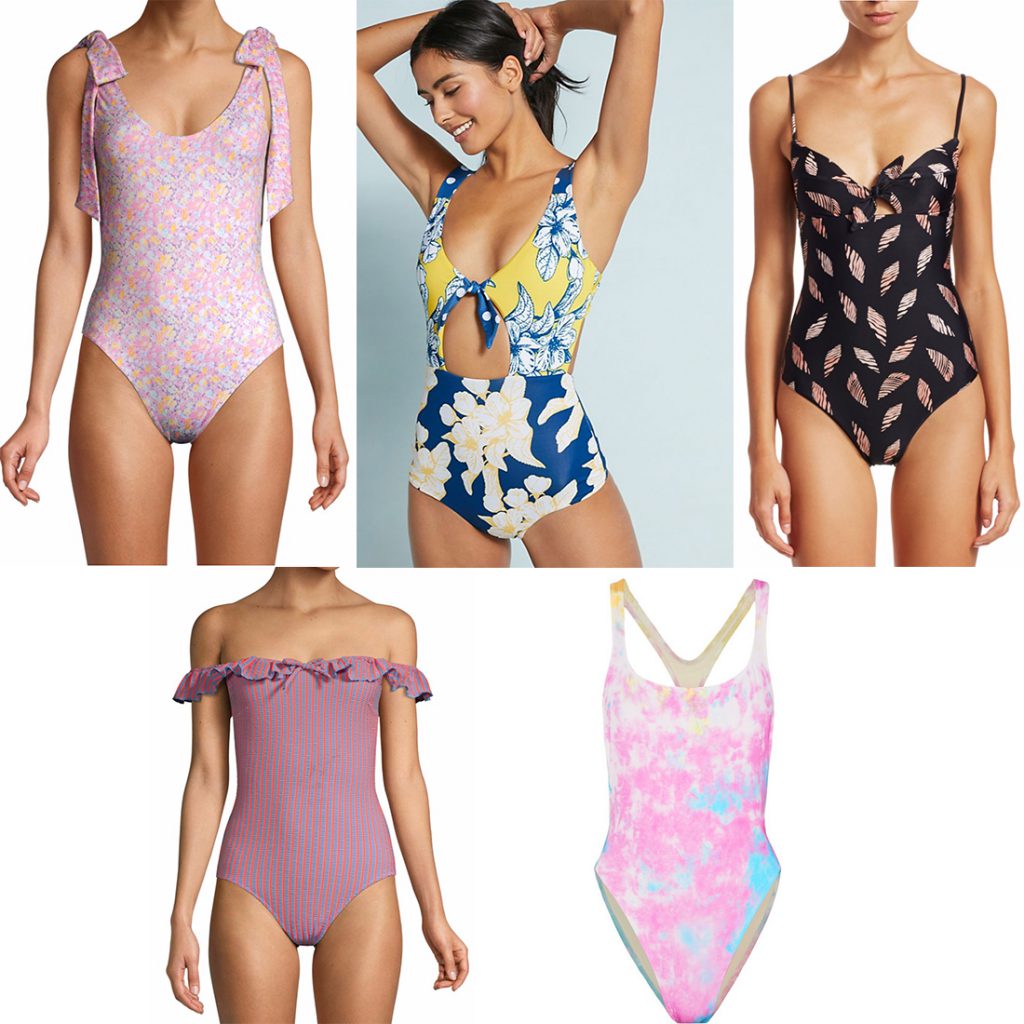 While I do love a good bikini, one-pieces will always be where my heart truly lies in swimwear. I love the coverage, support, shapes and confidence that they give you especially when doing activities like boating, swimming, etc. They're also more versitle for wearing around away from the beach as well—just throw on some shorts or a skirt and some sandals and you're ready to go!
This LoveShackFancy shoulder-tie swimsuit might be my fav of this whole bunch. It's so sweet but also flattering and sexy! I looove a good bow moment and the double bows here are perfection.
This yellow, blue & white suit is really unique and cute. I love the colors, patterns and design! I found this at Anthropologie and I've always loved their swimwear selection because they often pick brands that I've never heard of and are so fresh & cool.
A classic black swimsuit is kind of a must-have, but I always like black with a little something extra. Whether it's a new shape (ruffles, structure, cutouts), a killer texture/fabric or some great accessories, black can either be boring or it can be wow. This piece with a graphic palm leaf print and subtle keyhole cutout/tie is definitely the latter.
Speaking of dressing up something classic, this simple shaped one-piece is so pretty with a small ruffle neckline and little bow detail. The vertical stripes are also super flattering!
I live for tie dye and am so happy that it's really "in" for spring/summer this year especially. This suit is like major 90s supermodel/pro beach volleyball player vibes and I'm here for it! It's limited availability but I had to include it because it's probably exactly what I would create if someone had me design a swimsuit right now.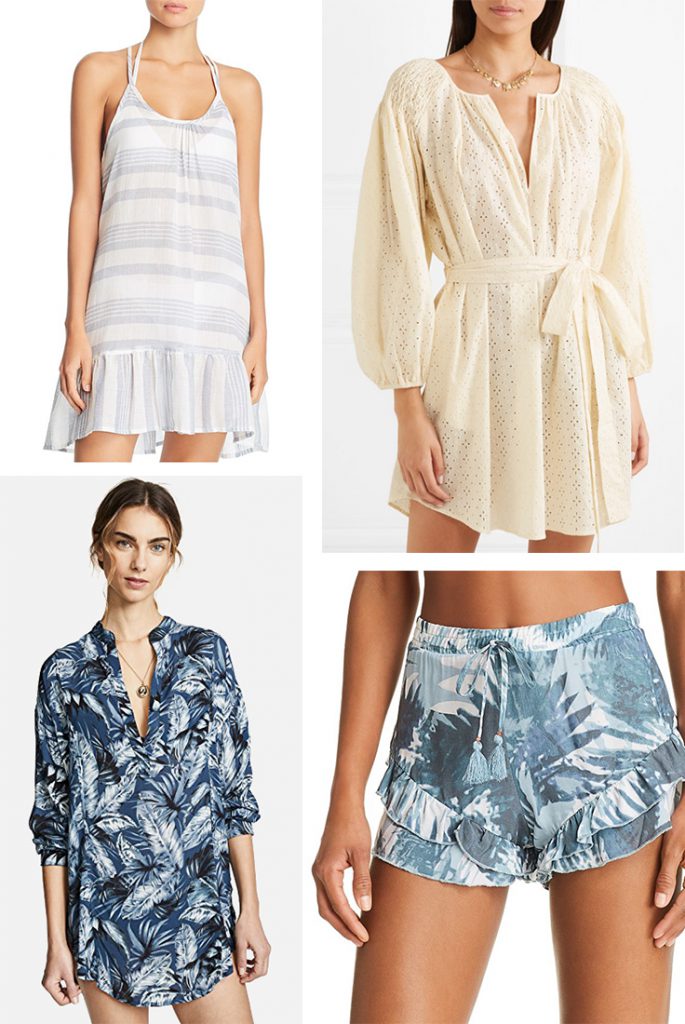 Last but never least are cover ups! If there's one thing that really makes swimwear look pulled together and chic, it's a great cover up (additional acceptable answers would be classic sunglasses and a well-made hat). Shoes are kicked off or covered in sand, your bag is left by your chair, and I'm a firm believer in not going full on with jewelry & makeup at the beach. Coverups are as functional as they are fun, and when I spent summers on the beach with my family I'd be in them all day and then usually to the tiki bar for dinner!
This striped/ruffled/strappy/sheer coverup sounds like it should have too much going on but really it's just right. Easy breezy and ageless, I think this would look great on everyone and it's so lightweight that it will be great for those super hot days. At less than $60, it's also kind of a steal!
This cotton eyelet coverup is also by Marysia, and it is gorgeous. The volume/shape/details are so classic and beautiful while also being modern and fresh. Crisp cotton like this is super cooling and comfortable in the heat! And do you see the smocked shoulders?? I'm telling you that this brand is amazing. EDIT: this is 60% off right now, guys!!
Mikoh is a Hawaiian swim/surf/lounge brand created and designed by two sisters, and I love their vibe and designs. Laid back but luxurious, this leaf print tunic would look equally amazing on a an 18 year old and an 80 year old. This would also look so chic with shorts or jeans to run around. And while it is sheer, the print and colors offer great coverage without the weight.
These shorts by Surf Gypsy are SO cute. You should see how the ruffles look from the back! While I prob wouldn't wear these as a "cover up" like the others, I would absolutely wear these all spring/summer as loungewear, pjs, and yeah, maybe with a tank or bikini top to the beach! Y'all know I love a palm print and feminine details like ruffles, and these check both of those boxes. Love them!
I hope you liked this first post of some of my fashion faves, and please let me know what else you'd like to see here! I love hearing from you either by email, on
instagram
and in the comments below!