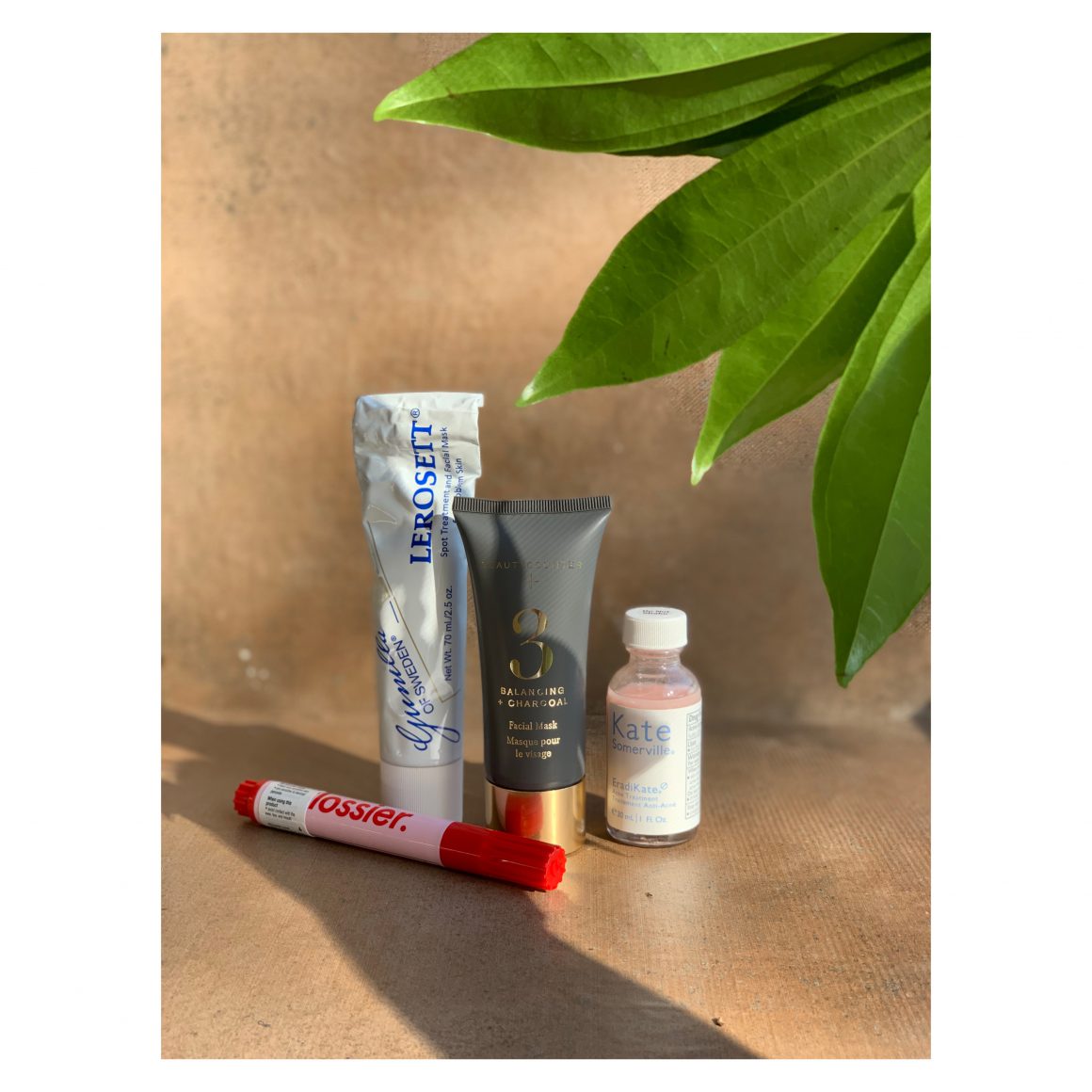 While a clean diet, healthy lifestyle, and great skincare routine should theoretically leave you with clear and blemish-less skin, we know that's not always the case. Hormones, stress, undiscovered food sensitivities (or sometimes indulgences like the occasional slice of pizza for me) can all contribute to less than perfect skin. I've personally been dealing with a few stubborn breakouts for months that have been really annoying.
I'm playing with my diet/lifestyle and working with a new functional doc, so hopefully I can get to the bottom of the problem with my skin. Although it's not a big deal in the greater scheme of things, breakouts and blemishes can definitely be a hit to my confidence and a bit of a hassle. I have to adjust my skincare to account for the sensitive or active areas, I usually choose to wear makeup to cover the spots, and then heavy cleansing the makeup/sunscreen from the area just feels like making it worse!
Luckily, I've found a great little group of products that have made dealing with my breakouts much easier. I've tried A LOT of acne lines and products, and was a huge fan of Proactiv back in the day (and up until a few years ago, actually). The products I'm sharing today are hands down some of the best that I've tried. I've got two masks, two spot treatments and a bonus item that if you follow me on Instagram, you already know I love!
First up, the masks:
1. Lerosett Organic Clay Acne Spot Treatment & Clearing Mask ($28)
This is a 100% organic clay mask from Sweden that I love using as a spot treatment mask. While the two other spot treatments I'll share are great for applying to/leaving on the actual blemishes for extended amounts of time, I like to use this as a mask around one whole area and then wash off after 30 mins to an hour. So I apply to my forehead, nose, chin and/or cheeks-whatever needs it. I feel like it's pretty specific to treating breakouts, so I don't use this weekly or on my whole face. It's more of an as-needed treatment that really works!
From the product description: LEROSETT® is a thin clay; you lightly rub it into the skin about 1-millimeter thick. As it dries, it quickly expands and attracts dead skin cells and impurities between the particle layers of the clay. LEROSETT® absorbs the positively charged impurities, the dead skin cells, and oils that cause a pimple.
Naturally high levels of zinc then help boost natural proteins that protect against infection and minimize the oil production that started a pimple in the first place, all without added chemicals.
It seems to calm the area down and lessen the inflammation/"angriness" of pimples and I think helps with healing time as well.
2. Beauty Counter No. 3 Balancing Facial Mask ($49)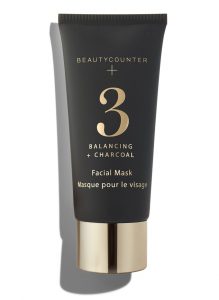 My issues with Beauty Counter aside, I really do like some of their products. This charcoal mask is REALLY good and *super fun to use! As it dries, you see the more congested pores and it feels so satisfying that they're being cleaned out. I think it's very similar to the original Glamglow mask that everyone loves (see: over 3K five star reviews on Sephora) except this is better, in my opinion. Better ingredients and a better experience/feel after.
From the product description: This nutrient-rich kaolin clay mask deep-cleans and balances, absorbing excess oil and drawing out impurities. Activated charcoal minimizes the appearance of pores, giving skin a smooth, refined appearance, while salicylic acid stimulates exfoliation. Perfect for those concerned with congestion and oily skin.
It features ingredients like kaolin, charcoal, apple, green tea, olive, ginger and more. It also has peppermint extract and oil for a nice tingle and fresh scent! My skin feels super clean and refreshed after using this but not too tight or dry. I like to use it over my whole face once or twice a week.
*this mask is SO BLACK. I would not use your nice washcloths and towels to remove! It's also a mess just using water over the sink. My favorite way to remove it is using a natural facial sponge like the ones below. They're compressed until you add water and then puff up perfectly and are reusable for a couple of times! They're fun to use and great for things that are super messy and for some gentle exfoliation.
Next, the spot treatments:
3. Kate Somerville EradiKate Acne Treatment ($26)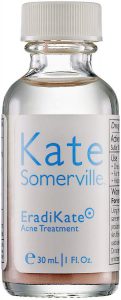 I've used this spot treatment on and off for a few years and love it! I dip a q-tip in it and apply right on top of any pimples. It does dry and could be used overnight, but I prefer not to sleep with non-clear masks/treatments on my face just for cleanliness. I feel like this cuts healing time way down and that it really treats the blemishes quicker than other spot treatments.
From the product description: Kate's bestselling EradiKate™ Acne Treatment is specifically formulated with the highest level of sulfur allowed to effectively fight blemishes, reduce acne, and help keep skin free of new breakouts. AHAs are designed to reduce the appearance of enlarged pores while zinc oxide, a natural mineral, provides oil control by absorbing excess sebum. The result is clearer skin that lasts.
4. Glossier Acne Spot Treatment ($14)

This little pen is a new must have for me! I've found that different people respond differently/better to the major acne-fighting ingredients. For example, I remember my mom used to prefer salicylic acid products when I was growing up. For me and my skin, I haven't found anything that works better than benzoyl peroxide (which is why I like Proactiv for so long!). BP really just dries out my blemishes almost immediately and is a great preventative for my skin. The product in this pen is great and makes my breakouts much more manageable within a day! It is extremely drying though, so I try not to use it when I don't need it.
From the product description: A portable pen to clear zits at high speed. Unlike visible spot treatments (usually used overnight, in secrecy, at home), Zit Stick is designed to live in your pocket, bag, and daily life. Use at the first sign of a pimple, applying up to three times daily until your zit is gone—5% Benzoyl Peroxide kills the germs that caused the zit while shrinking size and swelling, with Tea Tree Oil and Capryloyl Salicylic Acid (a less irritating derivative of Salicylic Acid). Click three times, glide over zit with the antimicrobial stainless steel tip, and wait a few moments for it to dry to a translucent, go-about-your-day finish.
The packaging is cute! It has a little metal rollerball under the cap and you twist the bottom to click the product up. When I'm using it on active pimples, I click the product up and then use my finger to apply.
Finally, my last breakout-related product recommendation right now is to use pimple patches! I tried a bunch of different ones last year and these are my favorites:
Rael Hydrocolloid Invisible Acne Pimple Healing Patch ($16 for four packs!)

I definitely don't advocate for picking at blemishes, but sometimes a pimple needs to be popped. When that's the case, I like to do it at night and then sleep with one of these little stickers over the spot. It absorbs all of the extra stuff and helps heal the area while you sleep! Without these, the area can scab (and scar) or re-pimple and it's just a mess. These patches are great protective barriers over the sensitive and exposed skin. If you don't want to touch your blemishes (major props to you!), these can also protect those that are ready to pop and will contain the mess. Just remember to change them as they turn white/opaque to keep the area clean!
Hope this helps, and I'd love to know your favorite tips/tricks/products for handling breakouts in the comments below!