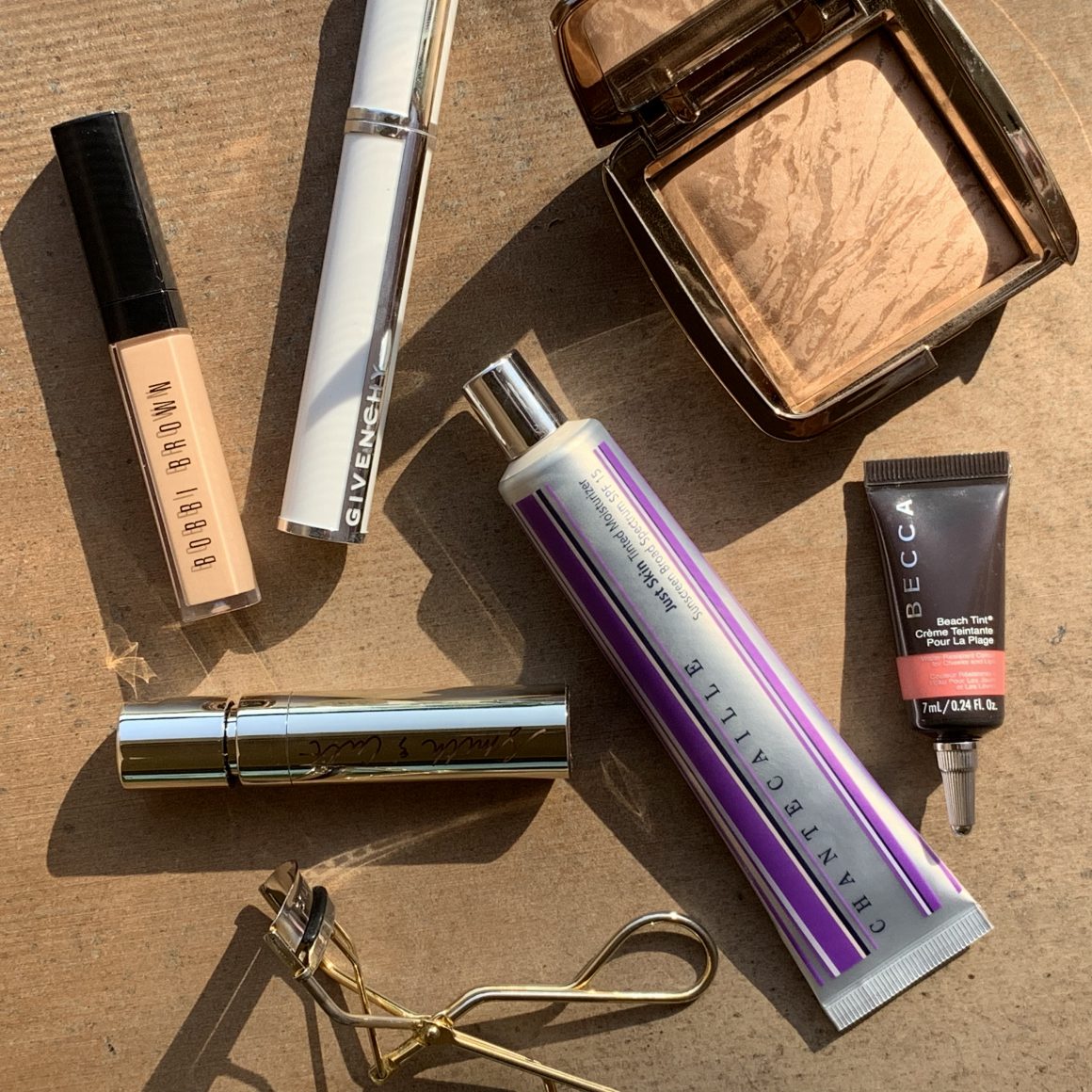 I've got a great quick "no makeup" makeup routine down and these are the products I'm using right now!
For my base, I've been using and loving Chantecaille's Just Skin Tinted Moisturizer. It's got surprisingly good coverage for the product category and the texture is perfect—it really does look like skin. I then add Bobbi Brown's Instant Full Coverage Concealer to any spots and around my nose for extra coverage.
I've always had such a hard time with bronzer because I'm so fair. It always looks too orange or muddy on my skin and I thought it just wasn't meant to be! But I recently bought this Ambient Lighting Bronzer in Nude Bronze Light by Hourglass and it is perfect. It's actually so subtle that I had a really hard time trying to photograph swatches of it. When used on the face, it adds just a pinch of warmth and I often use it in place of blush when I'm in a rush. The swatch pictured is very heavily applied with my finger; the product itself is so finely milled and sheer that it's impossible to mess up when applied with a fluffy brush.
Next, I squeeze a bit of Becca Beach Tint in Guava onto the back of my hand and use a synthetic brush to apply it to the apple of my cheeks. It gives the most lovely and natural flush! It's also free of glitter/shimmer so it looks super natural. Then, I apply my absolute favorite lip product right now, the Smith & Cult Tainted Lip Stain in Linger Sigh. It's one of those "ph adjusting" colors (which is really just a dye that reacts to moisture so it appears clear in the tube and then changes to pink when applied to lips). This formula is like a gloss/balm hybrid though and the my-lips-but-better color really does leave behind a subtle stain—although it really just looks like my lip color has been evened out for a couple of hours until I reapply. As I've gotten older, my lips have faded in color a little bit so I love having products like this that are so natural looking but also work for longer periods of time than a regular tinted balm. Below are heavy and blended swatches of all the color products but bronzer:
Finally, I curl my lashes and apply mascara. I like to think of myself as a bit of an eyelash curler connoisseur because my lashes have always been SO STRAIGHT and actually kind of point down. Whenever I wear mascara, my lashes have to be curled or else they're so heavy that it actually blocks my vision a bit! So I currently have three favorite curlers for different purposes but the Shu Uemura curler is a true cult favorite for a reason. It easily gets up to the lash line without pinching and really helps give a full and long lasting curl. I comb through my lashes, squeeze and hold for a few seconds each, repeat, and then apply mascara. I try not to use a curler after using mascara so that my lashes don't clump and/or stick to the curler.
Another of my tricks to holding a curl in your lashes is to use waterproof mascara. It's a bit of a commitment since it does take more effort to remove, but especially living in 80+ degree weather year round I think it's totally worth it! One of my favorites is Givenchy's Noir Couture Waterproof Mascara in Black Velvet. The formula is so smooth and buildable, it never clumps, and it really lengthens and adds a little volume my lashes. The brush is also helpful for applying vertically and to the bottom lashes for separation. I also love the waterproof PhenomEye mascara by Givenchy for the ball tip that's also amazing for separation and reaching every single eyelash.
With these products, it truly takes me less than 5 minutes to be ready to go! They're all so forgiving and easy to use while still being high quality and with such beautiful textures that it looks so natural—just a little brighter and more polished than my bare face. Here's what it looks like!
If I had to only use one product before leaving the house, it would be a tie between the lip stain and my eyelash curler. If you had to only use one product before leaving the house, what would it be? I'd love to hear your answers!