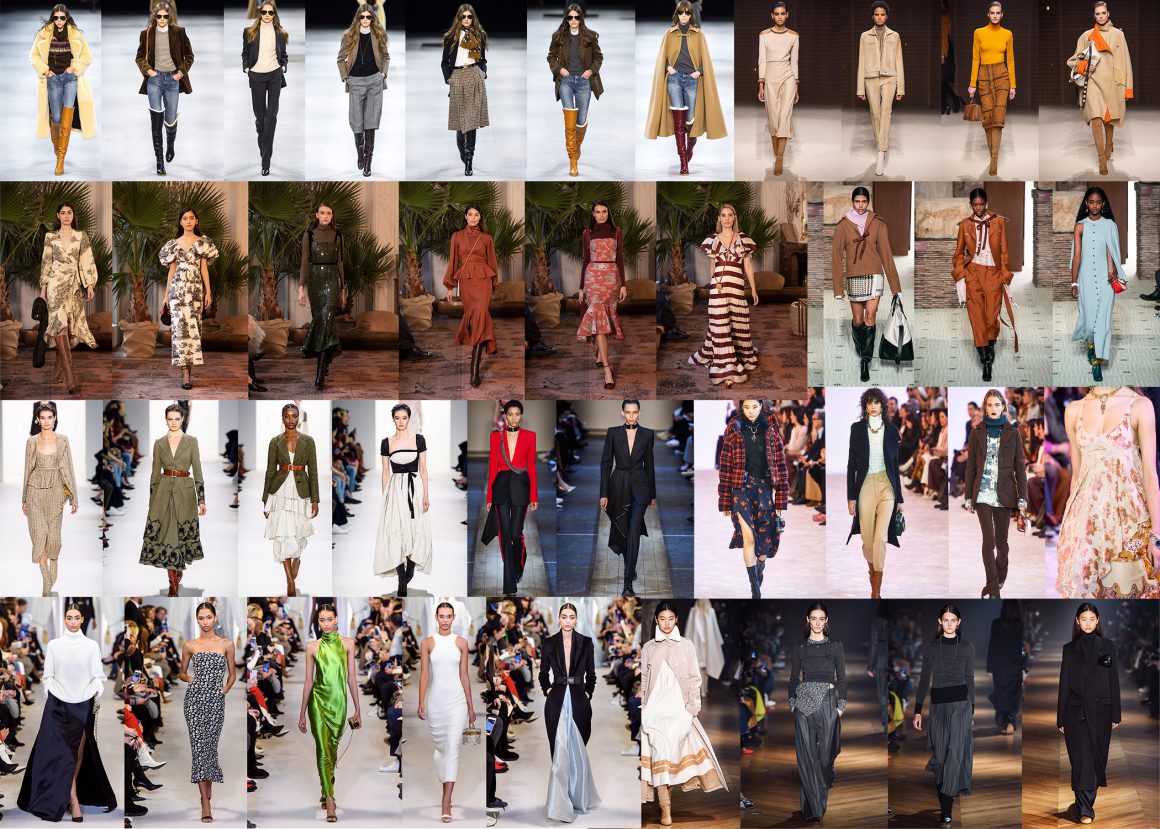 I *love* watching fashion shows & presentations every season and Fall 2019 Ready to Wear had some really great moments! A lot of the collections were very 80s inspired (which I'm not a fan of), but a bonus is that decade really introduced some exaggerated styles & shapes and it's always fun to see those reinterpreted (new ways of doing big shoulders or denim, for example).
These are some of my fav pieces and collections from this show season, and no surprise that I love classic shapes, feminine details and usually pretty neutral colors. If I had to wear only one collection it would be Celine or Johanna Ortiz, and I think my favorite individual piece is the Lanvin sailor coat with leather bow! I also loved Chloe and Tom Ford, and discovered some newer (to me) designers this year like Rosie Assoulin and Brock Collection who I'm really excited to see more from next season.
Celine:
Inspired by the house's history and vintage Parisian style, but all I could think was East-coast collegiate feel with a 70s twist and I LOVE it.
Lanvin:
The sailor jackets!!! So playful, I adore them.
Alexander McQueen:
Tailored perfection from Sarah Burton. I can't say it better than Vogue's wording of "exquisitely realized…sharp, inventive tailoring" here.
Beautiful People:
I hadn't heard of this brand before now either but I'm impressed! Designer Kumakiri was interested in the dynamic of restraint and indulgence which I think is beautifully represented throughout the collection.
Mira Mikati:
I know literally nothing about this designer and wasn't necessarily into the rest of the collection but THIS COAT!! So fun and would be perfect with jeans and sneaks/boots. So wearable and unique.
Johanna Ortiz:
Everything is so beautiful in this collection and I even love the runway/venue design as well. The Columbian designer even used her home and heritage to create her own toile (looks 1, 2 & 5) which I think is so special and stunning!
Elie Saab:
So much beautiful texture & details. Dark but romantic and with a little Spanish flair to me which I love.
Hermes:
This collection looks so elegant, timeless, and in true Hermes spirit, very expensive. Elevated basics with subtle modern twists. The boots and bags are also beautiful up close.
Valentino:
 Probably my favorite design house for years now. I wasn't obsessed with this whole collection but these pieces are so Valentino and also so beautiful. I think Pierpaolo Piccoli is truly brilliant. I couldn't agree more that his collections are fashion poetics that Piccioli and his team make near impossible to translate into words but whose appeal will speak beyond seasons and down generations.
Giambattista Valli:
Suiting, outerwear and tailored pieces will always be classic and expected for fall but I'm also loving all of these florals and romantic/bohemian/feminine prints and shapes!
Chloe:
Consistently good collections and always fresh & young vibe. Vogue notes on the brand include modern, unstructured, weightless and totally feminine which I 100% agree with and adore.
Philosophy di Lorenzo Serafini:
I love the sweaters with minis! I would wear them in a heartbeat. All four of these look sexy but also comfy which makes me hopeful that becomes a thing, haha. Inspired by 90s supermodels and I love it!
Rosie Assoulin:
I LOVE this collection! As I was flipping through the slideshow I kept getting more and more excited with what I saw. Really fresh and fun but still so wearable, in my opinion.
Tom Ford:
Very on brand: luxe fabrics and perfect tailoring. The goddess/chain dresses are so gorgeous. And I love the dark green men's suit so much I want it for myself.
Brock Collection:
Another brand I'm so excited about!! A husband and wife team known for their romantic designs. The green tweed reminds me of the Sound of Music. Gorgeous.
Monique Lhuillier:
Monique Lhuillier knows how to dress women. She's another consistently great designer that always has such pretty and flattering pieces. She cited 80s Jerry Hall as one inspo for this collection and I can totally see it!
Gabriela Hearst:
I love these pieces and details so much. That black cashmere coat is gorgeous!
Carolina Herrera:
Designer Wes Gordon described this collection as "happy colors" and I'm 100% on board with it!
I actually had so many more favorites but had to stop somewhere! There were a lot of puffer jackets, suit separates and coats that I loved as well as other designers like MaxMara, Reem Acra, Miu Miu & Brandon Maxwell who are always beautiful.
Oscar de la Renta had a tapestry wrap dress and wine colored velvet mini that I loved. Zuhair Murad had a burgundy velvet suit that was gorgeous. Also Karl Lagerfeld's last collection for Fendi was really special (I only really liked one or two looks from his final Chanel show but the collection was very true to him and the brand and I thought set was incredible).
I'd love to know which shows, designers and/or pieces you loved in the comments below!