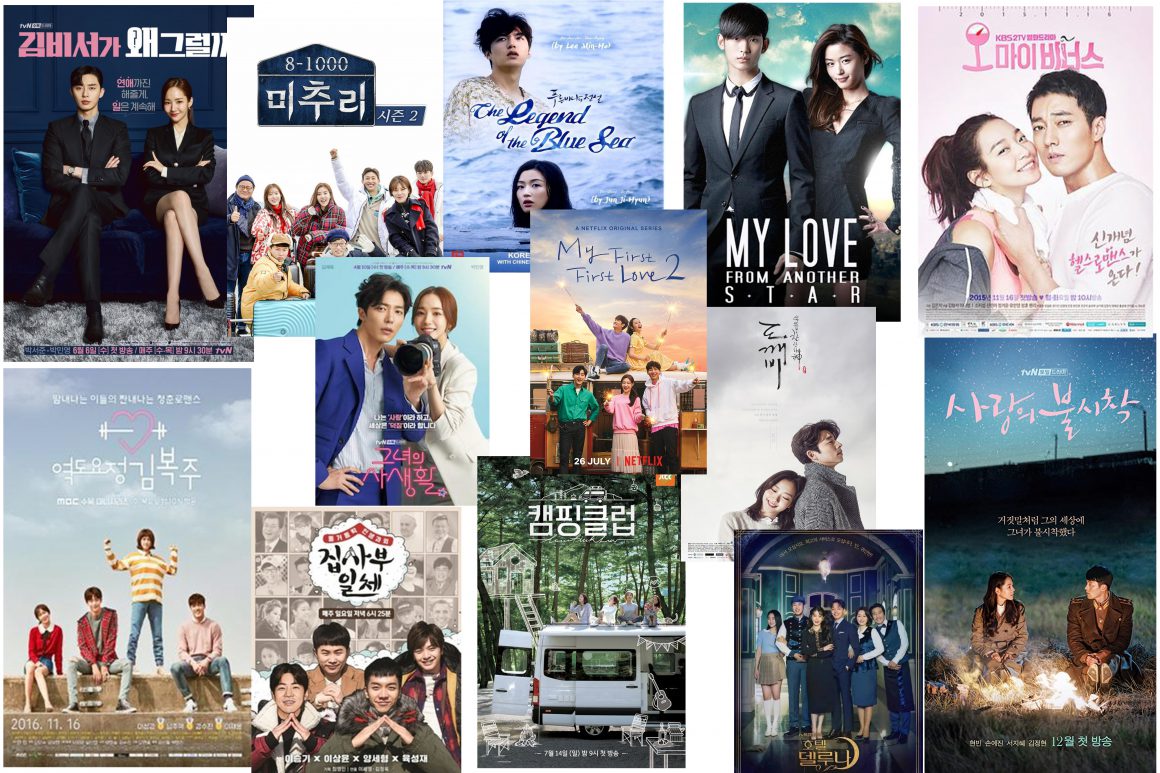 It looks like we might all be spending a little more time at home in inside for a while, and if you're looking for something new and unique to watch I've got you! My ideal entertainment is a great romantic comedy, and I've been absolutely LOVING Korean tv shows in this genre lately. They're almost all that I've watched for probably the last six months. I love how creative and special they all are, and it's so exciting to learn about an entire different culture while watching something entertaining.
I'm also just not a fan of a lot of western tv shows right now because most of them are so dark and/or dramatic. Even Downton Abbey ended up being too unpleasant for me, haha. I just don't enjoy watching things that stress me out, make me cry too much or scare me, regardless of how well written and/or acted it is. Of course there are plenty of Kdramas that also deal with dark material, but they have a huge romantic comedy/drama section (and a few variety shows) that are new to me and I've found so enjoyable to watch! There are a lot of repetitive themes like missing/estranged parents, past/past life flashbacks, rich boy/poor girl crossed lovers, love triangles, etc. I really don't mind these, though, because again, they're usually so well done and it's a million times more enjoyable to me than many other unpleasant repetitive themes in mainstream shows.
Another thing I will say is that for me, it took me a few tries to really get into Kdramas. I started and stopped a few times, and sometimes the first episode seemed like a dud to me. I think there might just be like an adjustment period to getting used to reading subtitles and understanding a different culture, humor, etc. So stick with it at least until episode 2 if you haven't watched foreign shows before and want to give any of these a try.
Below are my favorite shows that I've watched so far, and you can find many of them on Netflix and/or Amazon Prime Video. I also have a membership to Viki, a global streaming service that has endless Kdramas (as well as content from China, Taiwan, Japan, and so much more).
#1 Weightlifting Fairy Kim Bok-Joo
This show is one of my very favorites. It's an adorable story about a group of kids who are Korean athletes that live and train together on the national athletic campus. The main characters are a weightlifter (her) and a swimmer (him), and the actors & their chemistry are all SO CUTE. This has an average of 9.7 ⭐️s from over 40,000 voters on Viki (one of the highest rated shows I've seen), and it's easy to see why. This is also the only drama that Rob really loved (he never really sits down to watch entire episodes, but he would hang around more and watch this one with me than any of the other scripted shows).
#2 Oh My Venus
I love this show so much that I watched it twice last year. It's about a previously gorgeous woman who is overweight (courtesy of impeccably done makeup/a chubby suit) and overwhelmed, and she finds a man who is a celebrity personal trainer who helps her become healthy and happy again. TRUST ME, I KNOW this sounds so offensive and unappealing, but somehow this story and the characters make it such a sweet story, and it's really not as simple as the outline. The lead character is strong, brave, funny, smart, and her personality remains her best feature throughout the show (regardless of how she looks, which TBH is also gorgeous the whole time). The supporting characters are all awesome, and the leads are SO good. She has a thyroid issue which I related to (I also related to her other struggles, let's be real), and her personality and perseverance are so amazing. Despite how offensive it sounds, she is such a strong and vibrant character who really makes it a great story, and the lead male is SO handsome and sweet, and he actually struggles more than her and she helps him too. It's hard to explain the amazing qualities without giving spoilers away, but give it a try. It's so much better than the plot points make it seem, I promise.
#3 Her Private Life
This is a cute story about an art gallery curator who has a secret life as a fan of a Kpop boy band. This actress is so incredibly beautiful and talented, I love everything that I've seen her in. The male lead is an artist who is tapped to be the gallery's director, and initially has some friction with the curator (guess what happens by the end ?). The supporting cast is also AH mazing in this drama, and this is what I'm talking about with how creative these shows are! The settings and character backgrounds are so fun and unique.
#4 What's Wrong with Secretary Kim
This is the same actress from Her Private Life, and I picked this drama to watch because of her. I ended up also loving the hilariously narcissistic male lead, and this show was so sweet. It does have some scary flashbacks to a childhood trauma of being kidnapped, which I didn't know about until it was too late and I was invested in the show. (It's not sexual abuse if that's something you also want to avoid). FYI I do think that the scary or unpleasant flashbacks/aspects of most of these shows do end up serving the greater story for the most part. Supporting cast was also good. It reminded me of that cute Hugh Grant/Sandra Bullock movie where she was his assistant and they fell in love.
#5 Bride of The Water God (Bride of Habaek)
This drama was so cute and fun. The male lead is from Weightlifting Fairy, and I absolutely adore him. The female lead was a new actress (to me) and she is stunning and so good. This is a little bit of a less serious version of Goblin (see below), and I loved both, TBH. It's got magical elements (he's a water god, obvi) and it's a cute story with great visuals and a stellar supporting cast. It's a little silly at times, but that's what makes it enjoyable. There is a super sad part toward the end, but again, it serves the story. I just finished this and loved it!
#6 Crash Landing on You
OMG. I'm only halfway through this right now, but it is incredible. I'm also seeing a LOT of other people (Americans, specifically) talk about this show and I haven't seen a show have that much crossover appeal before! It's on Netflix and is about a S Korean woman who ends up in N Korea. It's a touching story and the leads are FANTASTIC. I've read that it's probably not a terribly accurate presentation of realistic events (I mean, how she gets there is straight up silly), but there is something about the relationships and story that feels so authentic and emotional. It's really interesting to think about the two Koreas and the romance is already so sweet. It kind of reminds me of a historical movie also? I can't wait to finish.
*update: I just finished Crash Landing on You and it might be my all time favorite so far. It's just so good and every single one of the characters, sets, storylines were amazing. I already want to watch it again!
#7 My Love From the Star
Another magical/supernatural theme; this one is about an alien (him) and a movie star (her). I love love love this actress. She is so adorable and gorgeous and is probably one of the only people who could make this self centered character so lovable. The story and romance are so sweet, and I love little characters like her younger brother and his "dad". This one was really fun and creative!
#8 My First First Love (Seasons 1 & 2)
This Netflix show is also one of my favorites. I love all of the characters and the youthful/fun storylines. It's so visually appealing as well; these shows all make Korea look like such an enchanted and beautiful place! The lighting and streets are so warm and magical, and ofc there are no tourist crowds or fine dust, haha. This was just like a really cute slice-of-life show about a few 20 somethings that was so easy and enjoyable to watch.
#9 Guardian: The Lonely and Great God
Another magical premise: he's a Goblin (a god) who is kind of cursed to roam the earth and she is a schoolgirl. This show is S T U N N I N G. The sets, characters, all of it are truly and seriously so beautiful. This show has a few more darker elements and sad/scary parts than others, but it all fits into the theme and feel of the show and is just beautifully executed. The two male leads are honestly reason enough to watch the show, they are hilarious and so well done. I laughed and cried a lot with this one. Soundtrack was also incredible!
#10 The Legend of the Blue Sea
This story is about a mermaid and a con man falling in love, haha. I could not convince myself to watch a show about a mermaid for the longest time, but I eventually gave in and this stands out in my memory as one of my very faves. This is the actress from My Love From the Star (Jun Ji-Hyun) and she's one of my top 3 favorite Kdrama actresses (actually in my top 3 favorite actresses period). She is SO charming. This is very The Little Mermaid-esque, with her naïveté being a huge point of endearing humor for the story. There are flashbacks that are kind of intense, but the story ends up dealing with them in a way that felt satisfactory to me. The leads have such great chemistry, and the supporting cast is incredible again as well (esp her homeless friend and the young roommate who doesn't talk). There are such sweet and creative/genius details, I will definitely watch this one again.
#11 Hotel Del Luna
This show, like Goblin, is *stunning*. The mixture of CGI and costume/set design is incredible. Yet another magical show, this one about a hotel that helps ghosts find peace and the owner is cursed to own/operate it. Ji Eun (Kpop star IU) is phenomenal as the female lead. I can't explain how gorgeous and talented she is. The male lead wasn't my favorite, and I hate even saying this because the show and even the romance were still amazing. I watched this this past September/October and it's the perfect spooky/magical/romance for that time of year (or any time of year if you're spooky at heart). This one has some more gory bits just because it deals with ghosts, but it wasn't particularly scary or shocking to me (especially compared to other popular zombie/murder shows). My favorite supporting character was the bellboy, he's adorable.
#12 Camping Club
Rob told me about a thread on Reddit called EyeBleach, that's essentially pictures of puppies and kittens and rainbows to make your eyes happy after having seen something gross or ugly. This show is like eye bleach/mind bleach/it was almost therapeutic to watch. It's a reality show about a girl band from the 90s who reunite to live in a camping car for a couple of weeks and travel around Korea. The girls are all so unique and their relationships are so endearing and entertaining. It's basically a nature show as well, with gorgeous views of mountains, beaches, forests, lakes, and grassy fields that I had no idea were all included in S Korea's terrain. I mostly *hate* reality shows like the Real Housewives and the Bachelor (which I've never actually seen), not because I don't like the people but because the editing and drama make me so anxious. Why do we want to see people yell and fight and cry!!!? There were a few tears here but in the sweetest/simplest way and this show is just so freaking pleasant. Rob was even hooked because of how soothing it was!
#13 Hyori's Bed and Breakfast
Another show that had Rob completely hooked; he actually watched entire episodes of this show! It's another reality show about Hyori (a singer/pop star who was also in the girl group on Camping Club) and her husband who live on Jeju Island and love hiking/swimming, making music, doing yoga and drinking tea with their 4 (or 5?) dogs and 2 cats. For this show, they agreed to a bed and breakfast situation where the producers pick regular people to come and stay with them. The hosts have no idea who or how many will arrive each day, and it's so fun to see them troubleshoot and get used to having their peaceful home overrun with groups of young people, married couples, explorers, kids, etc. They're also the perfect people for the job, because the way they juggle being celebrities and hosts is so natural. Hyori is hilarious and charming and the way that they handle such happy chaos with calm and grace is amusing and admirable. It's so cute and the animals definitely add an adorable bonus!
#14 Master of the House
This show is about 4 Korean celebs (an entertainer, a boy band member, a comedian, and an actor) who form kind of a focus group intent on learning life lessons from a variety of "masters" in different areas of life. Each episode (technically each 2 episodes)  features a celebrity, teacher, athlete, or public figure that the guys shadow for 2 days to learn about his/her routine and way of life. This show already has almost 100 episodes and I'm on about ep 85! It's so entertaining, literally laugh out loud funny, and also touching almost every episode. The early episodes had much more of a "this is the lesson we learned this episode" format, and now it's kind of presented more as an extended tour and interview/activity with the guest. I've learned so much from this show and love how many different people they get to interact with! The four guys are also amazing and work SO hard; each of them has been my favorite at some point and their overall chemistry and teamwork is delightful. I do wish they had more younger "masters" since they all seem to have so much more energy and fun on those episodes; the older guests are also always entertaining as well. At this point, I have too many favorite episodes to count, and I hope they don't end this show anytime soon!
#15 Village Survival, The Eight (Season 1 & 2)
This is another reality/variety show with celebrities and it is so funny. Like just pure silliness, laughing constantly, fart jokes and physical humor galore. It's 8 celebs who are sent to a remote village to spend the night while working to solve a mystery to find a hidden $5,000 somewhere nearby. They play games and quizzes to gather clues, and it's all just ridiculous and chaotic fun. Side note: all of the reality/variety shows that I've seen and that are listed here focus heavily on cooking and eating Korean food. It's so interesting and always looks so delicious, so don't watch if you're hungry, can't have noodles/spices/meat & fish or are trying to diet, haha.
I hope maybe you found something fun and new to watch from this list! It is really so interesting to learn more about other cultures and I think Korea is doing a fantastic job at exporting their entertainment so that we can all watch and learn from it. Have you watched any Kdramas or Korean variety shows yet? What have been your faves?