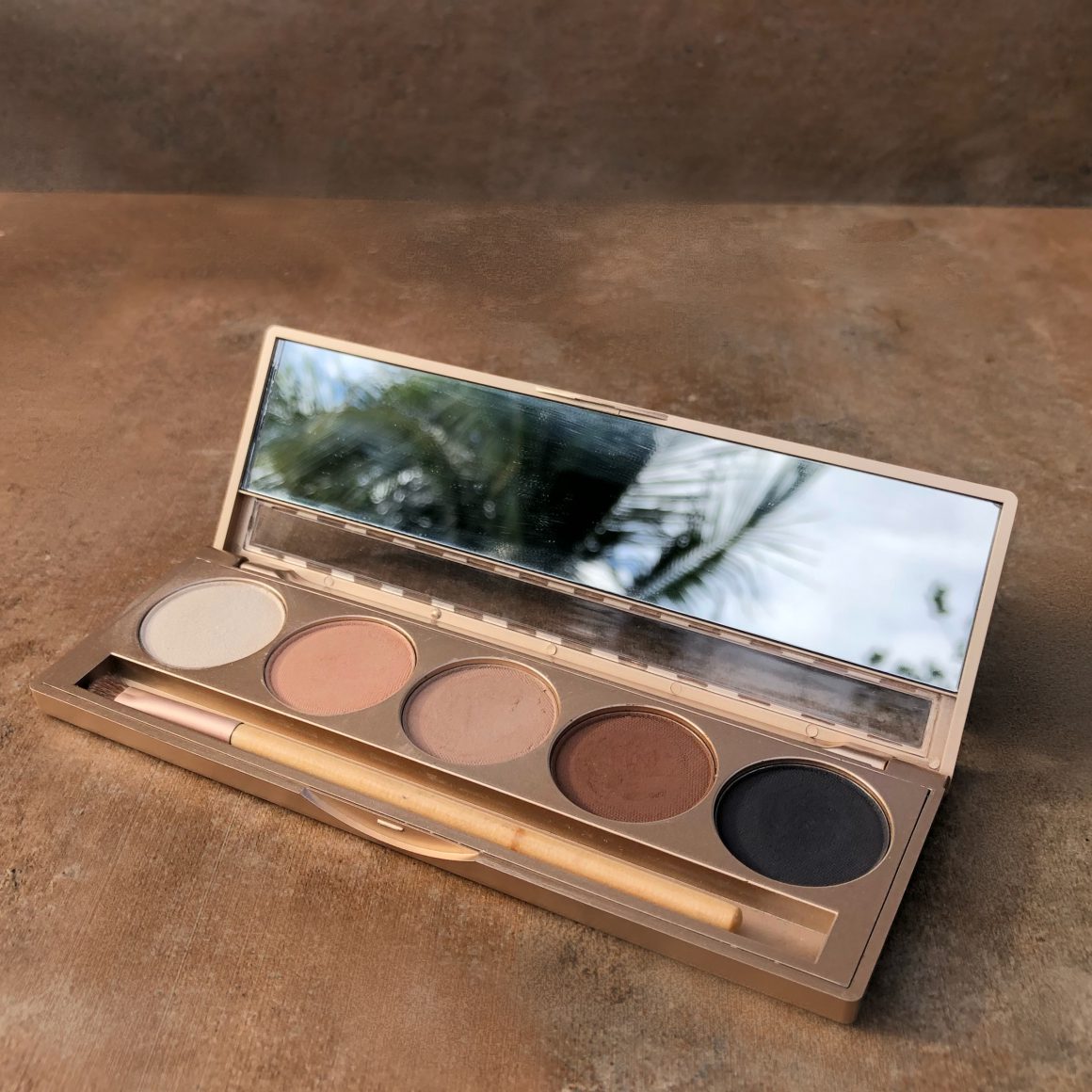 This is one of those products that I liked but just never ended up using. The powders are really unique and almost like pastels (the crayons, not the colors) in that they're finely milled and soft, almost creamy. While the colors and formula are lovely, this palette isn't perfect. These are some of the better clean/green beauty eyeshadows I've tried, though!
The lightest and darkest shades are a little chalky as you can see in the swatches above. I like the unique warm taupe for adding dimension to the crease like a light contour, and the chestnut and peach shades are nice as well. Even though it's a great basic color range, I'm not in love with this particular combo especially since they're all so neutral and matte. I think one of the reasons I rarely used it is because so many other palettes have versions of these colors as well. So sadly I never needed to reach for this!
*random thought: I don't know why, but I think these shades would be especially pretty on blue eyes! With my dark features, I'm pretty picky about my brown shades and something about these just felt a little off for my coloring.
From the brand's product description: From elegant to edgy, our silky smooth shadows deliver the style you want while staying put for long-lasting, crease-free color. Formulated with minerals, botanical extracts and silica, this shade selection creates gorgeous, natural-looking eyes.
Bonus: While the packaging I have is nice, this product was recently upgraded to a newer and sleeker look (see below). I really like the new packaging and appreciate what looks like smaller pans and a better applicator. I'm not sure if the formula has been updated as well (though the shades look exactly the same).
**this particular palette does have a bit of a cult following! It wasn't necessarily my favorite, but a lot of the people I've talked to who love green beauty LOVE this product.
Price: $59. I honestly didn't remember the price and for some reason was thinking that this was in the $30 range. I was surprised to see that it's actually $60! I think that's a bit steep for what you get, especially with this color combo. Hopefully the updated product has better lightest/darkest shades which would add to the value.
Bottom line:

If you're looking for very basic eyeshadows with a great formula and ingredients, I do recommend this palette! A bit overpriced in my opinion and I definitely won't repurchase this color selection though.

4/5