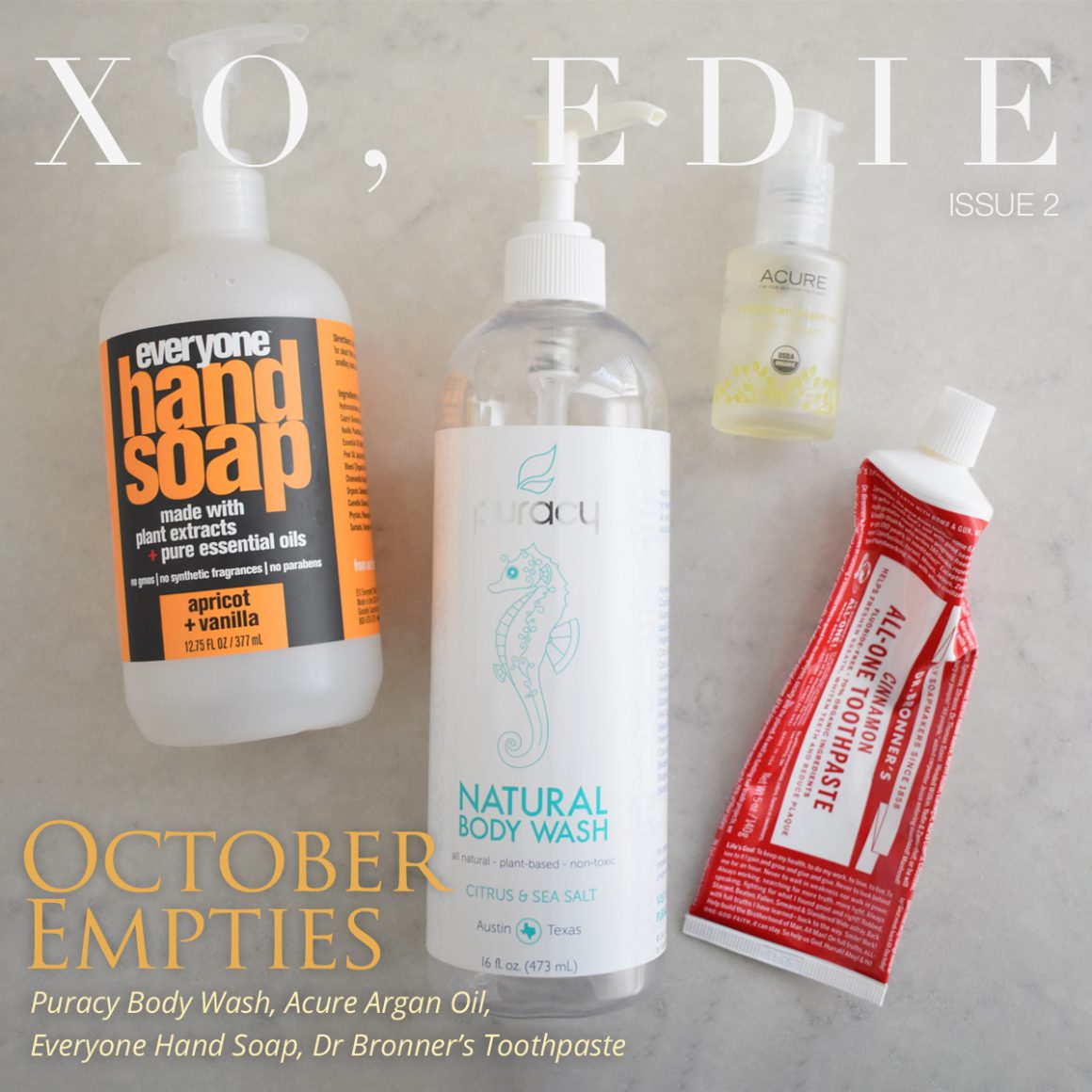 It's less than two weeks into October and I just ran out of a few staples, so this month's empties post is here early! I use two of these products about five times a day and pretty much buy them in bulk. The other two have been my shower staples for months and I'm taking a break from one for now and retiring the other for good.
First up is Everyone Apricot + Vanilla Hand Soap by EO Products
I get this on Amazon and occasionally when they have stock at Target. Switching to a cleaner hand soap was really important to me because my husband and I both wash our hands about 20 times a day. I tried a few different natural formulas and scents but was never really happy with any of them until I tried this.
According to the brand's website, "Coconut-derived cleansers gently and effectively clean hands and leave them moisturized. Our signature EO® Organic Herbal Blend of Aloe, Chamomile, Calendula, and White Tea extracts leave hands soft and smooth."
The formula is non-gmo verified, sodium-laureth sulfate free, and has absolutely no artificial dyes or fragrances (which is major). The 100% natural scent is a very mild but really pleasant sweet citrus and it cleans your hands really well without completely stripping them of all moisture like most hand soaps do. I have them at every sink in the house and backups are stocked!
Next is Puracy's Natural Body Wash
I have a soft spot for this product, since it was possibly my first clean beauty purchase ever and was one of the best things I did for my health and skin after using Dial Antibacterial Soap as my body wash for years. A big green beauty blogger introduced me to this, and since I was just getting started, I basically just went down her list of faves and was bought most of what she recommended. Now that I am so much more confident with clean beauty and have tried a few alternatives, I will be permanently retiring this product from my routine.
Pros: A much safer and healthier alternative to conventional soaps and body washes. This one bottle lasted me close to six months, and a little goes a long way. It lathers nicely on a loofah, which is something that I prefer. The scent is really nice and light, kind of like very mild grapefruit. It feels great and never irritated or dried out my skin. The formula is vegan, nontoxic, hypoallergenic, cruelty free, and made in the USA. Even the original artwork on the bottle helps support local artists.
Cons: It just has too many ingredients for me right now (close to 20, not including the "natural fragrance/natural botanical blend" individual ingredients which aren't listed). I can barely pronounce a lot of the ingredients, which isn't necessarily a bad thing, but I had look each up individually to see what they actually were. Puracy seems to know this, as they include descriptions of each of the ingredients in parentheses on the label. Nothing in this formula sticks out as harmful or concerning, but I want to use the simplest and purest ingredients possible on my whole body right now. The body wash I'm using instead, Osmia's Oh So Soap, has only seven ingredients and I know exactly what they all are. Osmia's Oh So is also a bar soap that comes in a small paper wrapper, so that's obviously preferable to the plastic container and pump of Puracy. Overall, it's just a personal decision for me to not use this product anymore because I've found something else that I prefer. I'll still recommend this to people who might not prefer bar soap and are looking for a body wash that's cleaner than conventional brands.
Next, Acure's USDA Cert. Organic Argan Oil

You know I've been using this as my all over body moisturizer everytime after I shower for a while now. I love it and think it's a great product and value (although they could definitely offer a larger size for those of us who use it as a body oil! I go through about two a month). This product is still one of my favorites and I always have one on hand, but I'm trying a new body oil for now just to switch things up. I'll do a post on that soon, but in the meantime I still absolutely recommend this and often use a pump for my cuticles or ends of my hair. It's definitely a great all-purpose oil, especially for travel or those who like to keep their products and routines super simple. Bonus that the little glass bottle is thick and sturdy and that the pump locks firmly when twisted.
Finally, Dr Bronner's Cinnamon Toothpaste
I have a removable bite guard from my neuromuscular dentist and have to remove and wash it everytime I eat anything (and I'm a grazer, haha). I brush my teeth after eating and before putting my bite guard back in, so I end up brushing my teeth up to five times a day lately. It's pretty annoying, but my teeth have definitely never been cleaner! I use this and Dr. Brite's Toothpaste, but I've been especially obsessed with cinnamon lately so this is my favorite. It has a very light flavor, very clean ingredients, and makes my mouth feel super clean and fresh. I try to have at least one backup in the house at all times.
That's it for my October Empties! Are there any beauty products you love so much that you keep backups stocked? I'd love to know!