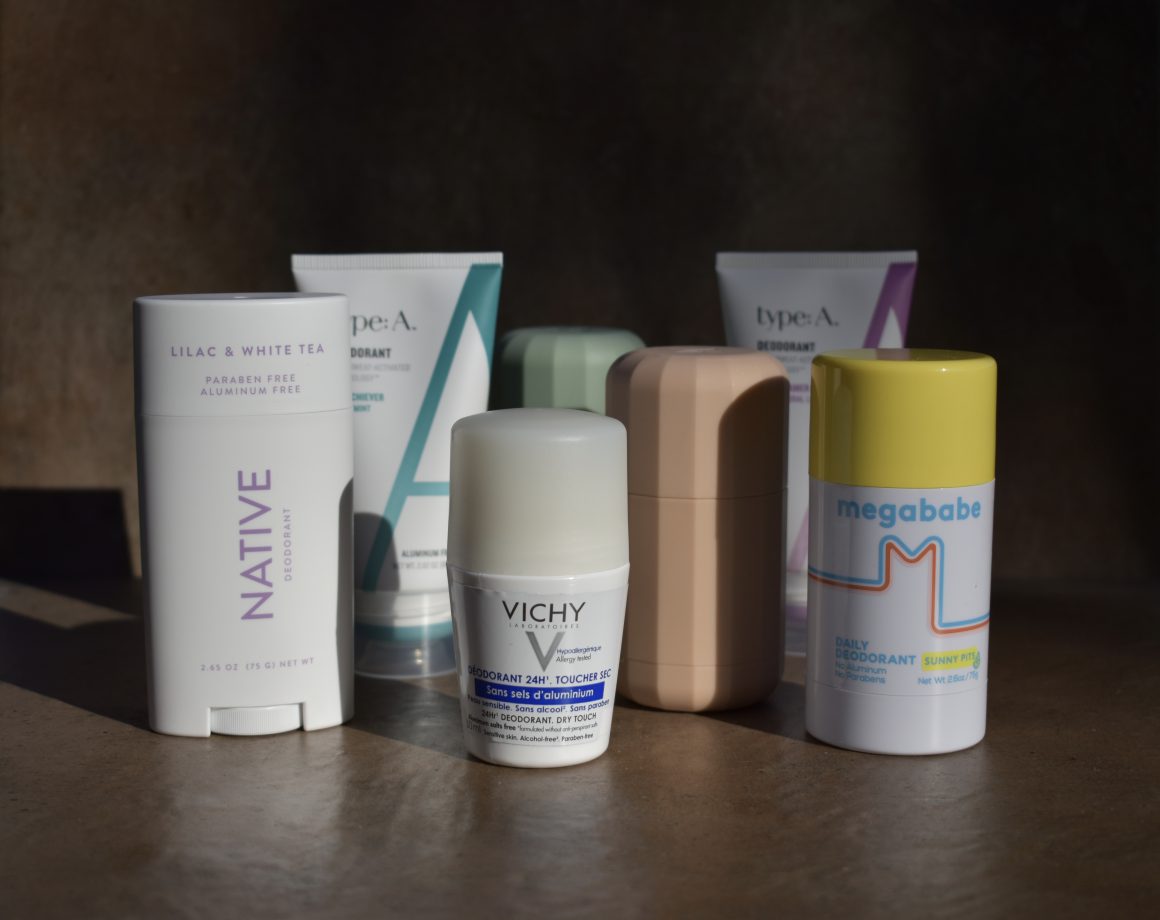 I've been using aluminum-free deodorant for a few years now. It's important to me and one of the "clean beauty" swaps that I'm definitely sticking to. The first thing you might need to know is that natural deodorants are just deodorants and not antiperspirants. Antiperspirants work by clogging your sweat glands and therefore preventing your body's natural processes. Sweat isn't gross or bad, guys. It's natural and healthy! Unfortunately, the smells and excessive wetness associated with sweat aren't always appealing, and there's also nothing wrong with wanting to minimize those aspects. There can be an adjustment period when switching to natural deodorants, but I've honestly found it not to be too bad and the end result is using a healthier product with minimal noticeable difference from conventional brands. I've tried countless cleaner deodorants since I switched, and here are my picks (and a couple of duds) from this year:
MY #1 CHOICE: NATIVE DEODORANT IN LILAC & WHITE TEA (Sensitive Formula)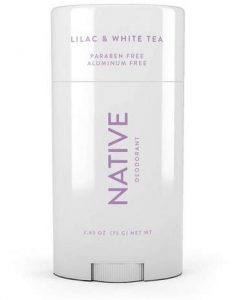 This has been my top pick for 2 years running. As you know, scent is one of the most important aspects of any product for me. This is the best smelling natural deodorant I've ever tried! It was a seasonal scent, but I found it at Target just a couple of weeks ago and stocked up. Other than the scent, I most like that this is available in a baking soda-free sensitive formula. Baking soda is a popular ingredient in natural deos, but it can cause irritation for a lot of people, myself included. So this option is super appreciated!
I also like the classic container & application. When I first switched to natural deodorant, many of the formulas were pastes in pots that you had to apply with your fingers (I found it unpleasant at the time, but now wouldn't mind as long as it was a really superior product. They usually weren't.). This is a white semi-thick solid paste formula that goes on smoothly and doesn't pill or flake. Depending on how much you apply, it can transfer to clothing but hasn't caused any staining.
PROS:
Sensitive/baking soda- free formula
Easy packaging & application
Great scents
Formula doesn't stain clothing
Feels smooth and gentle
Free from parabens, phthalates, gluten, talc, and aluminum
Accessible (available at Target)
CONS:
White formula can leave slight residue and might not be ideal for deeper skin tones when going sleeveless
RUNNER UP: MYRO DEODORANT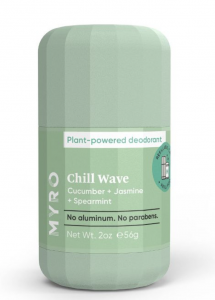 This is a newer brand and I absolutely love so many things about it. It's plant based, and in a reusable container which is less waste and more eco friendly. You can subscribe to their website for refill pods or pick them up at Target. The container is also unique and pretty; it comes in a variety of shades as well. The scents are a great effort to be more appealing that your average basic tea-tree or lavender EO scent, but I didn't find one that I really loved (Chill Wave was the one I liked best). The formula is super innovative and more like a clear stick/gel. It feels wet going on, but dries to a really nice consistency that I feel actually helps control wetness really well. The scent I chose was amazing at blocking odor, but it was stronger that I prefer especially because I didn't love love it (it's nice and clean smelling, but just not something I'm in love with).  Overall, this option is almost perfect with just a few caveats.
PROS:
Probably the best I've tried at truly blocking odor
Attractive & eco friendly packaging
Incredibly smooth, clear, gel-like formula that dries to almost invisible look & feel
Modern unisex scents that are more appealing
Unscented option is surprisingly effective!
Plant based, vegan, gluten-free & cruelty free
Accessible (available at Target)
CONS:
Unfortunately, I didn't *love* any of the scents available
The texture can get a little runny in warmer climates

One of my containers actually started leaking straight liquid from the bottom and it wasn't a crisis but definitely inconvenient
3rd PLACE: TYPE A DEODORANT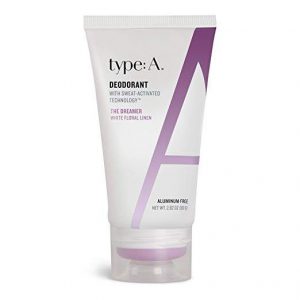 I saw this brand last year and was so excited to try it. The scents sounded really appealing and I thought the packaging/formula looked interesting. I got The Dreamer (a white floral) and The Achiever (ocean mint) to test. It's a white paste deodorant that's in an innovative and cute squeeze tube design. The applicator is smooth and has slits for the product to come through, and you swipe it on like a regular deo. I didn't love either of these scents, but I do feel comfortable recommending them both! If you love soft fresh florals, the Dreamer is beautiful. The Achiever is also a fresh mild minty scent that would be perfect for any age or gender. This formula boasts a "sheer, dry-touch" formula and "sweat activated technology." Honestly, I've never noticed any significant difference to deodorants that claim to be activated by sweat. I understand that certain ingredient respond to moisture (by absorbing it, for example), but I don't think there's any noticeable boost in effectiveness the sweatier you get (it's kind of the opposite, I think). Anyway, I enjoyed a lot about this deodorant but just didn't feel like it was strong or effective enough for masking odor, especially on hotter/sweatier days.
PROS:
Cute, functional and mess-free packaging
Mild but appealing scents
Comfortable formula that isn't too heavy and doesn't stain clothes
Cruelty-free (leaping bunny certified)
Recyclable packaging
Accessible (Amazon Prime)
CONS:
Doesn't offer a baking soda-free option (BUT I didn't notice a reaction to the % of baking soda used in this formula)
Isn't the most effective at covering stronger odors
HONORABLE MENTION: VICHY 24 HOUR DRY TOUCH ALUMINUM FREE DEODORANT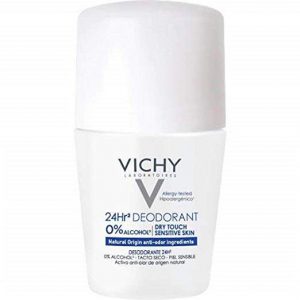 If you're just not a fan of natural deodorant textures, scents, etc. but ditching aluminum is still important to you, maybe try this cult favorite from French brand Vichy. This ultimately didn't control odor well enough for me, but I think it's a nice option for those who just prefer conventional & familiar formulas and brands. It's a great size and has a rollerball applicator that I love. The formula is sheer and lightweight and feels cooling. The scent is a bit like a powder-scent from other drugstore brands. While it does smell fresh and light, it just didn't mix well with my body chemistry and almost accentuated my natural smell? So I won't repurchase, but it might be worth a try especially for teens or light activity days.
PROS:
Popular & conventional brand just without aluminum
Formula texture is super nice and comfortable
Packaging & applicator are cute/functional
Scent is pleasing in the tube
Accessible (Amazon Prime)
CONS:
It just didn't work well for my body chemistry
MEGABABE DEODORANT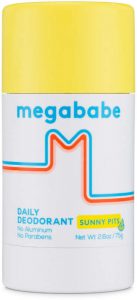 I love love the name and vibe of this brand! They also have talc-free body powders and a super fun product specifically for boob sweat which I find both cute/funny and incredibly innovative (it's a powder in a pump that you mist under your boobs/into your bra). I love that brands are addressing and creating solutions to things like this (they also have an "thigh rescue" anti chafing stick and an "everywhere" powder for guys), because bodies aren't really as gross or embarrassing as a lot of media/advertising would have us believe! Anyway, I just can't recommend this deodorant despite how much I REALLY wanted to love it. I picked the lemon "Sunny Pits" scent which was super fresh and pretty in the tube. The formula was a little too hard (as in firm) and difficult to apply/spread, and this deodorant just did not make me smell good, period. In fact, it was similar to the Vichy in that it accentuated a body odor smell but this was way worse. A lot of natural deo brands warn of an "adjustment period" when switching from conventional/aluminum formulas to cleaner ones, but I've been using natural formulas for years and with Native, for example, there was no adjustment period. I think some formulas just don't work for some people! And that was definitely me with Megababe deodorant. I am still interested in trying their talc-free powders &  shower sheets/wipes, though!
PROS:
Love the brand
Free from aluminum, parabens, alcohol, and baking soda
Accessible (Target)
CONS:
Didn't work and actually made me smell worse
Other brands I tried that didn't make the list are Schmidt's (okay, basically a rougher texture and less effective version of Native IMO), Kaia Naturals Juicy Bamboo (loved, but didn't control odor for me), Arm & Hammer Essentials Fresh (obsessed with the clean laundry like scent and clear stick but it's just a little too strongly scented for everyday wear), and Agent Nateur Sensitive/Unscented (loved but it smelled exactly like stale airplane air to me).
Have you switched to aluminum-free deodorant yet or is natural deodorant important to you? I've been really happy with the switch and don't feel like I'm sacrificing too much so it will be a permanent change for me. I also now think that the perfect natural formula/scent combo is possible! If Native scents could be Myro formulas (minus the melting), I'd be set. Thankfully this category seems to keep growing and innovating, so everyone is sure to eventually find something they love!