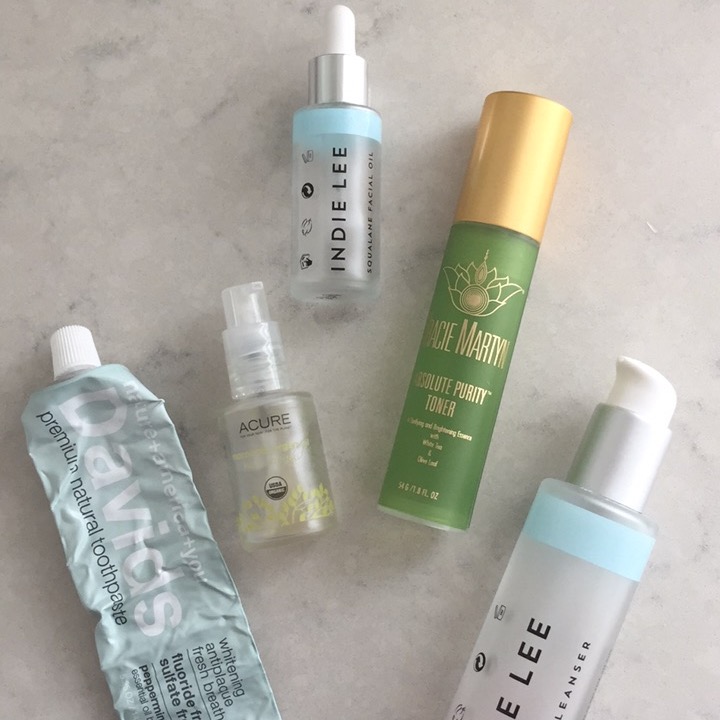 I've reached the bottom of a few (skincare) bottles since switching to clean beauty earlier this year, but here are five items that I've repeatedly used until the very last drop. I have used, loved, and repurchased these products at least 3 times each, but I'm saying goodbye to two of them for now!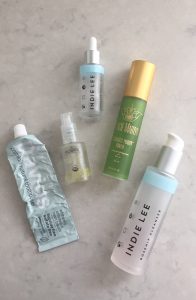 First thing to go is my beloved David's Natural Toothpaste. You can find my review of this product here, and I still stand by everything good that I said about it. Of all the natural/organic/nontoxic toothpastes that I've tried, this is my favorite formula by far. I also feel like my mouth feels cleanest and my teeth look whitest using this brand. What I don't like now, however, is the use of carrageenan in this formula. (It's always been there; I am just deciding that I prefer not to use this ingredient in my mouth/on my gums for now.) For a great roundup of info on carrageenan, see the Wellness Mama's article about it here. The bottom line, though, is that it is a thickener and can cause inflammation in the body. The last thing I want to deal with is inflamed gums, so I am back to using Dr. Bronner's Cinnamon toothpaste and trying Dr. Brite's formula for now.
The second product pictured here is Acure Organics' Argan Oil, and I will only part with it if I eventually find a body oil/lotion with minimal ingredients that is in an actual body-sized bottle. I go through so many of these little bottles because I use this all over my 5'10" self everytime I get out of the shower. I go through about one bottle a month, but I think it's totally worth it because it has only one ingredient (USDA Certified organic argan oil) and makes my skin feels so soft and smooth!
My love for Acure's Argan Oil is actually why I won't be repurchasing Indie Lee's Squalane Oil. This oil was one of the first and cleanest products I bought when I started with clean beauty, but it is just too small and not remarkable enough to keep buying it as my body oil–especially when I can pick up the Acure Argan Oil at Target or on Amazon for under half the price (and I truly prefer the argan oil despite my usual "preference for the most expensive option," according to my husband). Indie Lee's Squalane Oil is a lovely, soothing single ingredient product that would probably be a great facial oil for those with dry, sensitive, or reactive skin. I won't be needing it anymore for now, though.
The last two products pictured here are my absolute everyday essentials. Seriously, I can't be without them. First is Indie Lee's Rosehip Cleanser, and second is Tracie Martyn's Absolute Purity Toner. This cleanser is super clean, super lightweight, perfect gel-to-bubbly consistency, and smells ah-mazing. It leaves my face so refreshed and squeaky clean. I love trying out new cleansers and will probably add multiple formulations (hydrating, exfoliating, etc.) to my collection, but this is my staple for now. When my skin is reactive from trying new products or starting to breakout from my hormones, this cleanser always helps bring things back to normal. Second, I guess Tracie Martyn's Absolute Purity Toner is kind of my clean skincare holy grail. I just wrote about it here like a week ago. I do go through it like crazy, and it is $60, but my skin is so much worse without it and it is just an investment I am willing to make for now!
I'll continue to keep you posted on the products that I love enough to repeatedly use and repurchase, and in the meantime you can tell me some of your favorite clean beauty products in the comments below!
XO, Edie
P.S. Just so you know, this post contains a few Amazon affiliate links. This just means that if you shop by clicking the link from my blog, Amazon pays me a tiny percentage for linking to them. The price is the same for you either way, and I am not affiliated with any brands or being compensated for MY purchases, opinions or recommendations. I will always disclose if something has been sponsored or even gifted to me for review.