Hey guys! So I have a new addition to my everyday essentials, the Sensitive Unscented Deodorant by Primally Pure. It is the first "real" natural deodorant that I've tried, and I really like it! (I was using aluminum free deodorant already, but it still had triclosan and some other bad ingredients in it.)
I've been seeing lots of deodorant posts on clean beauty blogs and social media lately, and it is kind of overwhelming which one to choose! My biggest concern is scent, since that is basically always my number one make it or break it aspect of a product (especially with natural products, where scents can be so strong and herbal sometimes). I chose this deodorant to try first because the ingredients are super clean and simple, it comes in an unscented option, and I love the design and packaging. I chose the sensitive formula because most baking soda based deodorants suggest trying the lower strength first (if they offer it) to avoid possible irritation. I also ordered the brand's Everything Spray to try, and my thoughts are below!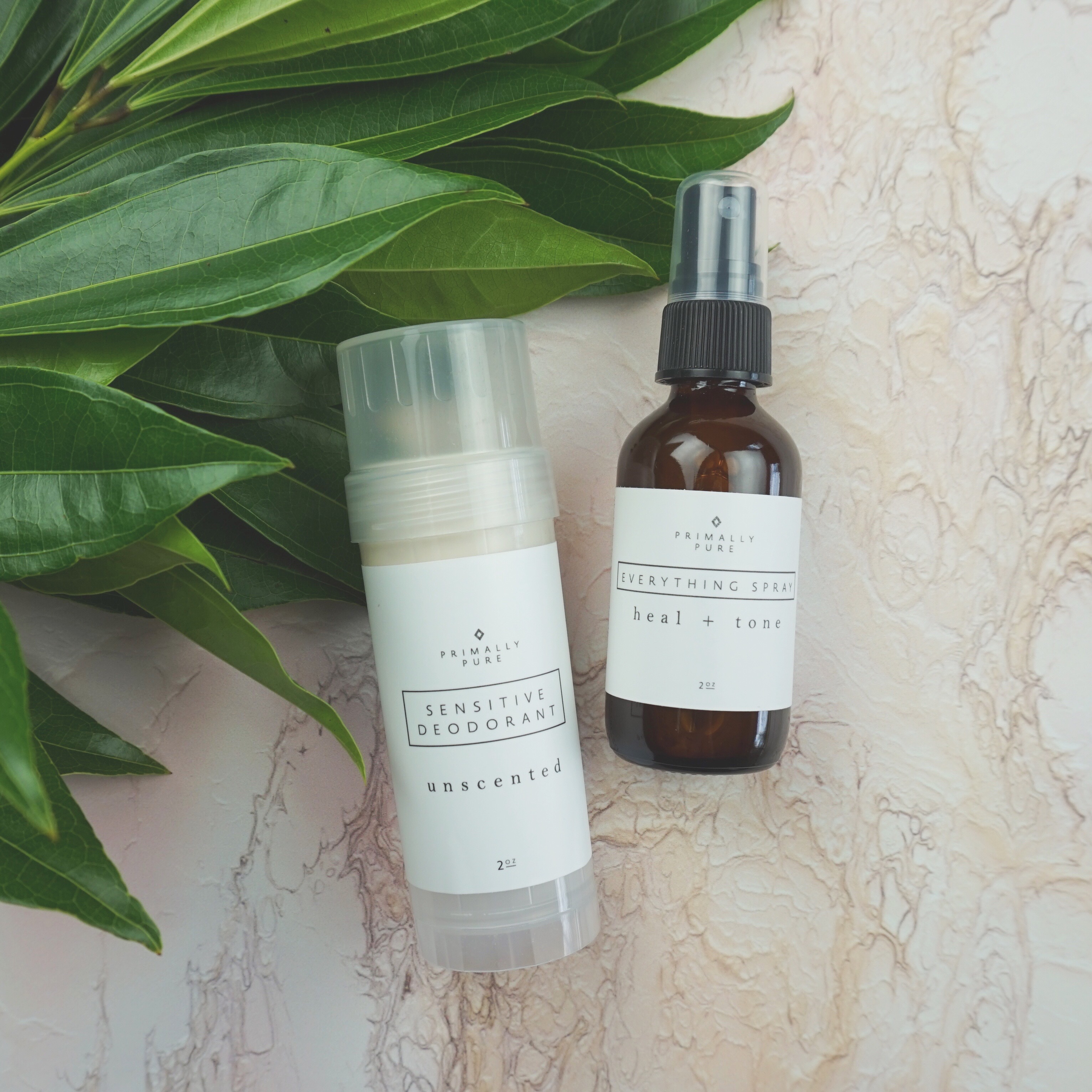 Primally Pure Sensitive Unscented Deodorant
Ingredients (unscented): Organic Arrowroot Powder, Organic Extra Virgin Coconut Oil*, Tallow from Grass-Fed Cows, Organic Beeswax, Baking Soda, Non-nano Zinc Oxide, White Kaolin Clay
*fair trade
Packaging: BPA free plastic twist up tube with screw on cap.
Product info: "Primally Pure deodorant will keep you smelling fresh while also pampering your pits with good-for-you ingredients like tallow from grass-fed cows and organic + fair trade coconut oil. This deodorant is not an antiperspirant – sweat is a HEALTHY and NORMAL part of being human! And since our deodorant doesn't contain any of the toxic chemicals found in conventional deodorants, it won't interfere with your body's natural and necessary detoxification process (also known as sweating)." From product page.
Smell/texture: Because it is all natural (and therefore doesn't contain chemicals to mask fragrances of ingredients), this deodorant has a very mild coconut smell in the packaging. I don't notice a scent while wearing it, though, so it is as close to unscented as I imagine any natural product can be. This makes it great for men, women, teens, everyone! The texture is like a creamy thick paste, but it applies surprisingly well and similarly to a conventional stick deodorant. If you over apply, there is some residue and balling, but duh and it isn't the end of the world.
Review: It's a good product and does what it claims! I don't run marathons or do cross-fit, but this deodorant fits my activity level and sweat/odor production. I usually don't sweat very much or smell too bad, even when exercising. But I live in south Florida and love beach days and being outside, so I am more comfortable wearing a deodorant than being au naturale 24/7. With it being unscented, I feel like it kind of just mutes any odor rather than masking it or mixing with it (which can be worse than just regular BO sometimes). It is a simple product and I really like how it preforms. Your armpits will sweat, though. It will not hide or mute super strong body odor like if you spend all day at the beach in 90 degree weather and haven't showered in a couple of days (been there, no regrets). If you apply a lot and then immediately put on a tight black shirt/dress, you may get white marks. Don't apply directly after shaving, or you might have some irritation. FYI, this also comes in Lemongrass, Lavender, and Tea Tree scents. Primally Pure also makes a higher concentrated version of this deodorant and it comes in all three scents and unscented as well.
Primally Pure Everything Spray
So the other product that I bought from Primally Pure was their Everything Spray. I LOVE the ingredients and really wanted to love the product. I got it because I am looking for an aftershave type spray for my underarms and bikini (basically trying to find a nontoxic version of a BikiniZone spray I have used for years to prevent red bumps after shaving those areas). This product did not help with or prevent red bumps after shaving my underarms. I tried to give it to my husband to use on his face as an aftershave/toner, but he hates the smell of vinegar (and this smells strongly of vinegar), so that was also a no-go. I already have a face toner that I like, so it is unnecessary for me there. I haven't really found a use for it yet, but I'm guessing it could be a nice relief for bug bites in the summer maybe? Anyway, the ingredients are great and mostly organic, so if this is something you are looking for and you don't mind the smell of vinegar, I'd still say give it a try.
Ingredients: lavender hydrosol*, distilled water*, witch hazel*, aloe vera juice*, raw unfiltered apple cider vinegar*, magnesium oil, essential oils of grapefruit*, lavender*, and tea tree*
*ORGANIC
I'm still on the look out for an aftershave spray or toner, have any recommendations?? I'll let you know what I find and try next!
Xo, Edie