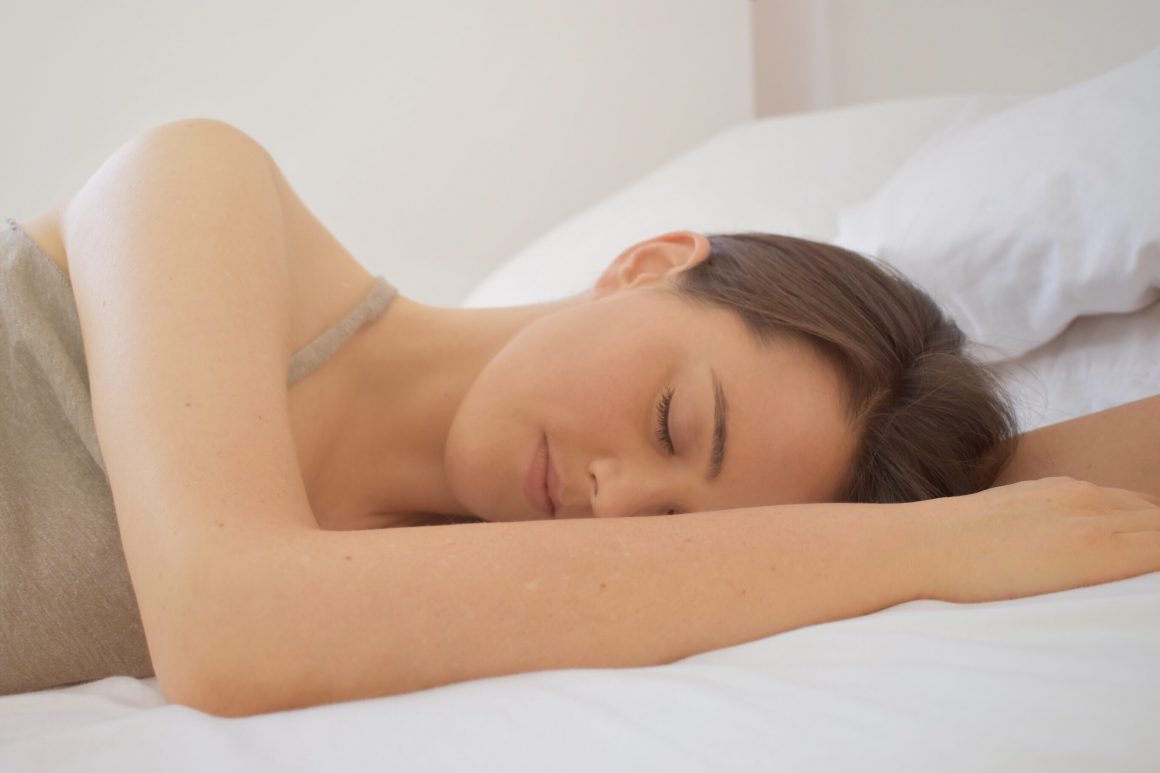 As promised, here are my top five tips for developing a healthier sleep schedule and bedtime routine! Just in time, too, since we'll lose an hour with Daylight Savings beginning this weekend. All of these tips have been hugely helpful for me as I've worked back from staying up super late to going to bed much earlier on a regular basis. So here we go:
Tip #1: Take an Evening Walk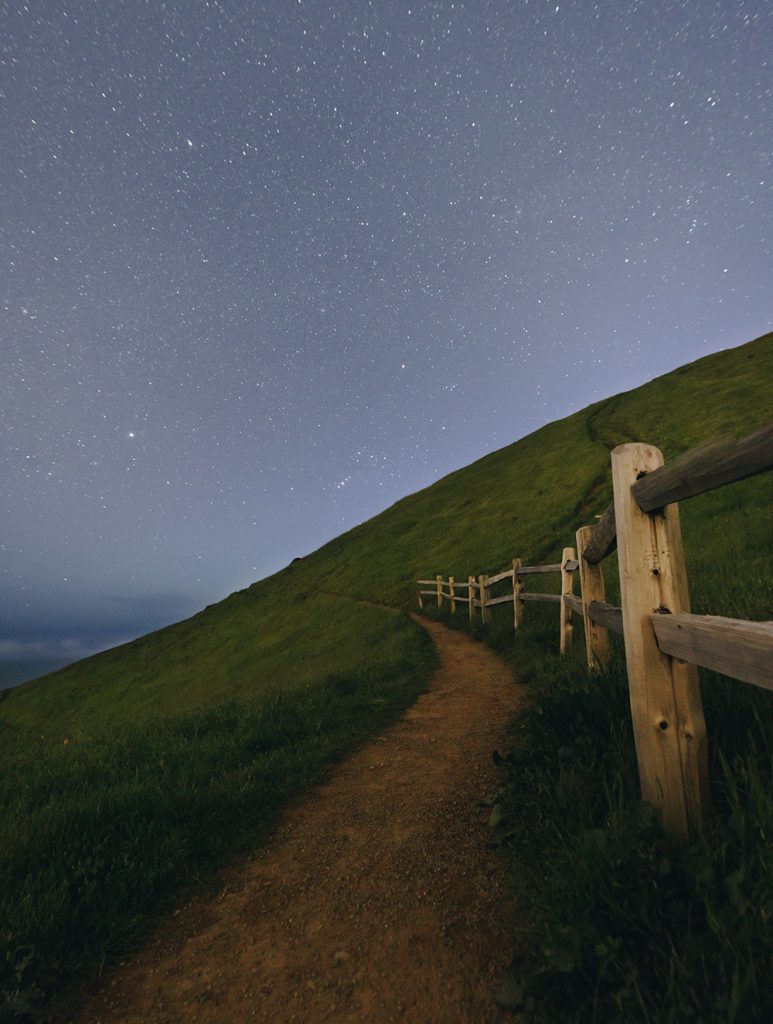 My nighttime routine typically starts after dinner and around 8pm when Rob and I take our dog Bailey on a walk. It's something we've been doing together every night, and it's now probably my favorite part of the day! Even when the weather isn't great or we don't feel like going, I just tell myself we'll do a short walk and we always end up going longer. There are endless benefits from walking regularly, like helping with digestion after meals, to improving your circulation and mood, to increasing creativity and coordination–and it's also a great way to spend time by yourself or with loved ones since there aren't as many distractions. You can just enjoy your surroundings and company (or alone-time) and the fresh air! If it's not warm enough yet where you live to actually get outside in the evenings, try a nice session of stretching, some candlelit yoga, seated meditation, or other calming activity that requires you to physically be present and start slowing down for the night.
Our evening walks start to signal to my body that it's time to wind down. It's usually dark outside by then, so it's also great for my circadian rhythm to get away form all of the artificial light that I'm around all day. After our walk, I know I'm mostly done eating for the day (sometimes I can't resist a nighttime snack, and that's always ok!).  I usually have some caffeine-free herbal tea or fresh ginger tea and begin to relax. I also put my phone on night mode and turn the screen brightness way down. About 9 or 10 pm, I put my phone down completely and set it on airplane mode until the morning.
This brings me to my second tip:
Tip #2: Limit Phone/Tablet/Computer Use at Night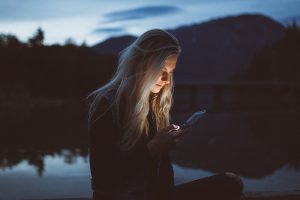 The blue light from electronics–our phones, computers, and even some energy saving LED light bulbs–is expected to not only be disruptive to our sleep schedules, but harmful to our overall health as well. According to Harvard Medical School's website, some studies also suggest "a link between exposure to light at night…and some types of cancer, diabetes, heart disease, and obesity" (source). I know these are some serious suggested side-effects, and Harvard is quick to acknowledge that there isn't definite "proof that nighttime light exposure causes these conditions; nor is it clear why it could be bad for us. But we do know that exposure to light suppresses the secretion of melatonin, a hormone that influences circadian rhythms, and there's some experimental evidence (it's very preliminary) that lower melatonin levels might explain the association with cancer" (source).
You can find blue-light blocking glasses on Amazon, and there are also settings and apps on your phone to help filter the harmful waves. However, I really ecommend making a habit of putting your electronics down after a certain point every night.
I stop looking at my computer/phone/ipad at least two hours before I plan to go to sleep. Actually, as a rule, I try to never use my phone in bed. I don't even keep it on my bedside table; I have it outside our bedroom door or in the bathroom most nights.
Note: I was going to say limit total screen time, but I watch TV almost every night and am not going to pretend that I don't! Most newer TVs have saved settings for brightness and backlighting, and I have a nighttime setting that I set my TV screen to after the sun goes down. I am trying to turn the TV off earlier or avoid it most nights completely, but it's something I'm working on for now. Lately, I have really gotten back into reading and will turn off the TV about 10 or 11 pm and open my book.
Tip #3: Read a Book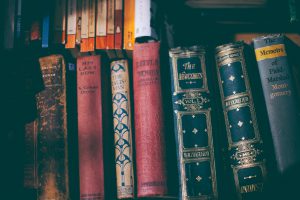 Reading is so good for your mind and body! It is proven to lower cortisol (the stress hormone) levels and is great for cognitive function, creativity, and memory, to name a few additional benefits. I also find that I fall asleep much more quickly after reading than after watching TV right before bed. It puts me in a great headspace and it definitely physically relaxes me as well. I prefer to read lighter material at nighttime because intense stories and emotions can negatively affect me sometimes. I am a quick reader and have finished about four books since January, but I've only found a couple that I really enjoy. I'd love to put a list together if you're interested and would LOVE suggestions for some nighttime reading material!
Tip #4: Have a Specific Bedtime Routine You Look Forward To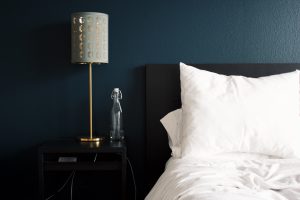 All of these tips are technically part of my overall bedtime routine, but I have a few specific products and practices that I look forward to using/doing every night before sleeping. Right now, my self-imposed bedtime is midnight; I'm working down to 10pm as my next goal.
Tip #5: No Bailey in the Bedroom (at least on weeknights)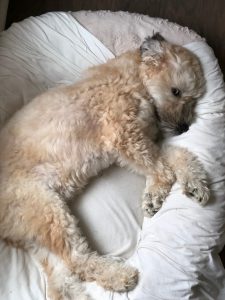 Honestly, my least favorite bedtime tip is actually one that has helped the most, and it's to not have Bailey in the bedroom with us at night. Y'all know how much I love this stinkbug, and it sometimes breaks my heart (especially when he eagerly trots into our room at bedtime or cries for a second when I close the door), but when Rob and I really need some quality sleep, Bailey just can't be in the room. He is so restless and disruptive at night, from constantly readjusting his position to shaking his head and flapping his ears to laying upside down and scratching his feet across the door and walls. We've woken up numerous times to his adorable face and hot breath right in our faces in the middle of the night, and we often hear a loud thud when he accidentally rolls off of the bed. It's  just too much, haha. Even with all of the noise masking and reduction measures Rob and I take every night (we wear earplugs in addition to the air purifier and sound machine), Bailey still interrupts our nights enough that we both always feel worse on mornings after we let him sleep with us. He actually will lay against and scratch our bedroom door from the outside, so *we got a baby gate as a buffer there as well.
*We now have small weights placed behind the baby gate to reinforce it since he recently pushed it aside, opened the door, jumped up onto our bed and finally woke us up thumping his back leg to scratch his ear. Needless to say, not having him sleep with us is the best decision for us.
That's it for now, and I'm curious how you get ready for bed or if there are any little routines or rules that you  do every night. Let me know in the comments below or find me on Instagram at @xo_edie. I love hearing from you!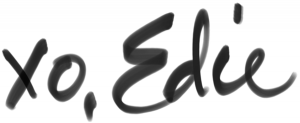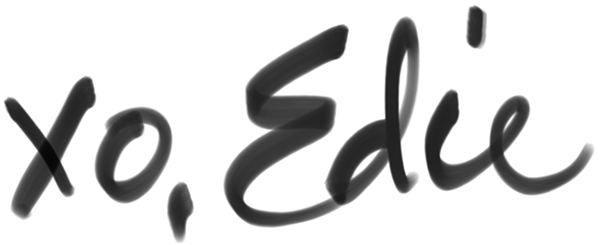 SaveSave
SaveSave
SaveSave
SaveSave
SaveSave
SaveSave
SaveSave
SaveSave
SaveSave
SaveSave
SaveSave
SaveSave
SaveSave
SaveSave
SaveSave
SaveSave
SaveSave
SaveSave
SaveSave
SaveSave
SaveSave
SaveSave
SaveSave
SaveSave