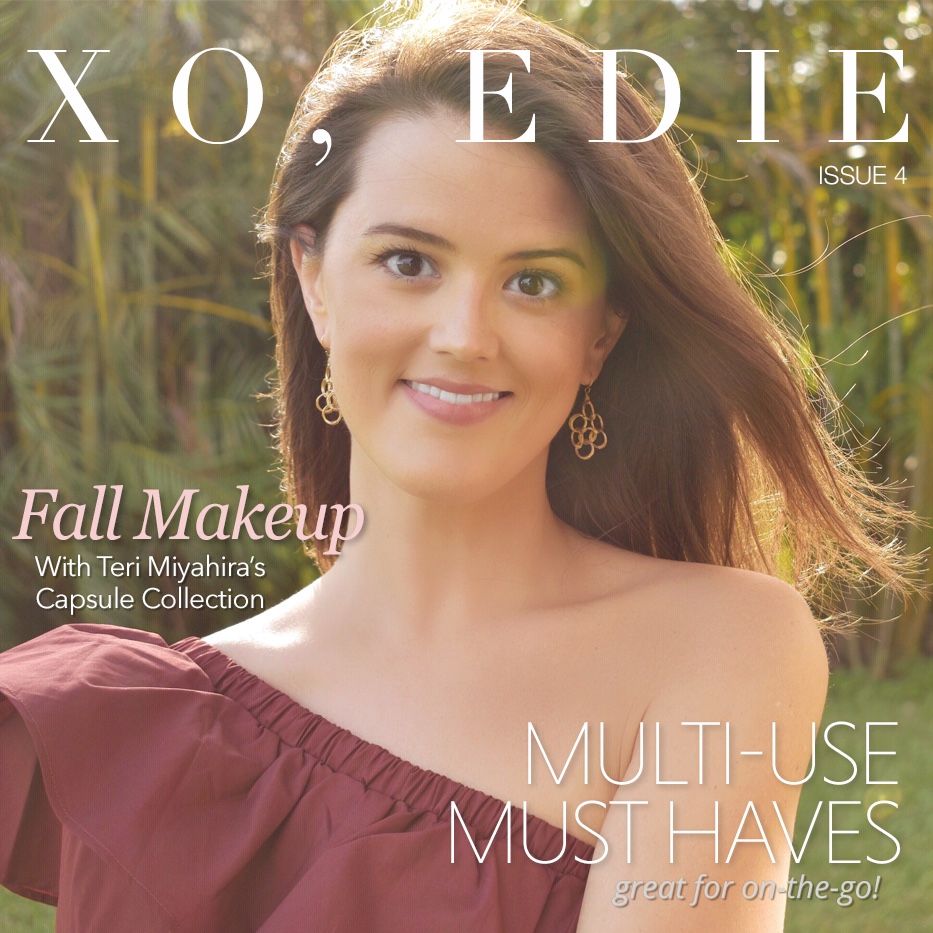 November is one of my favorite months, and that's only mostly because my birthday is on the 22nd. I love the weather and the autumn glow outside, everyone getting excited for the holidays, and usually getting to go home and see my family. I won't be traveling this fall, but this issue is all about some of my favorite multitasking essentials that are great for on the go or if you just want to simplify your routine during this busy time of year!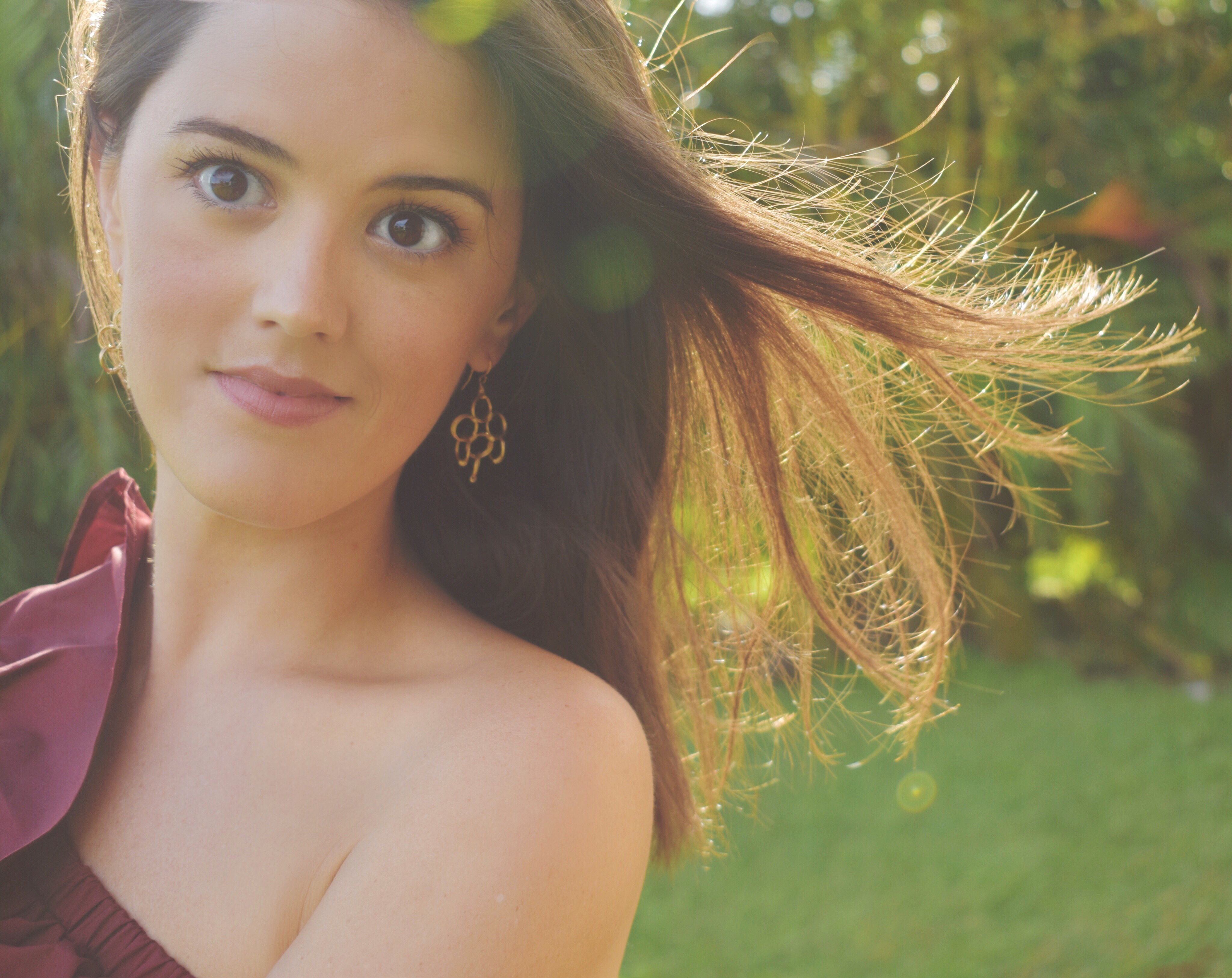 This fall makeup look is with Teri Miyahira's Natural Lover's Capsule Collection and her new Cream Face Wand in Unwind that can be used for lips, cheeks and eyes. For traveling, I'd pack these and only need foundation/concealer, mascara, and maybe an extra lipgloss and that'd be all I need for makeup! The palette is super thin and I love that you can customize it with any of her magnetic pans. Teri's formulas are so beautiful and pigmented but always blendable and I'm really just a huge fan of everything I've tried from her so far. Also, her contour in Strong (top left of the magnetic palette picture) is the only cool-toned taupe contour that I've found in clean beauty so far! It's perfect for light to medium skin tones when you want a true contour or shadow shade.
If you're traveling this holiday season, or maybe if you're just a little overwhelmed this time of year, I've got you covered with some skincare and makeup multi-taskers. These are some of my current favorite essentials that I own and really love–and they're all great for multiple uses. Sometimes just paring down what we use and surround ourselves with can help when it feels like there's a lot going on. And if you're a holiday pro who thrives when you're busiest, these are all great staples that'll keep up with everything you do.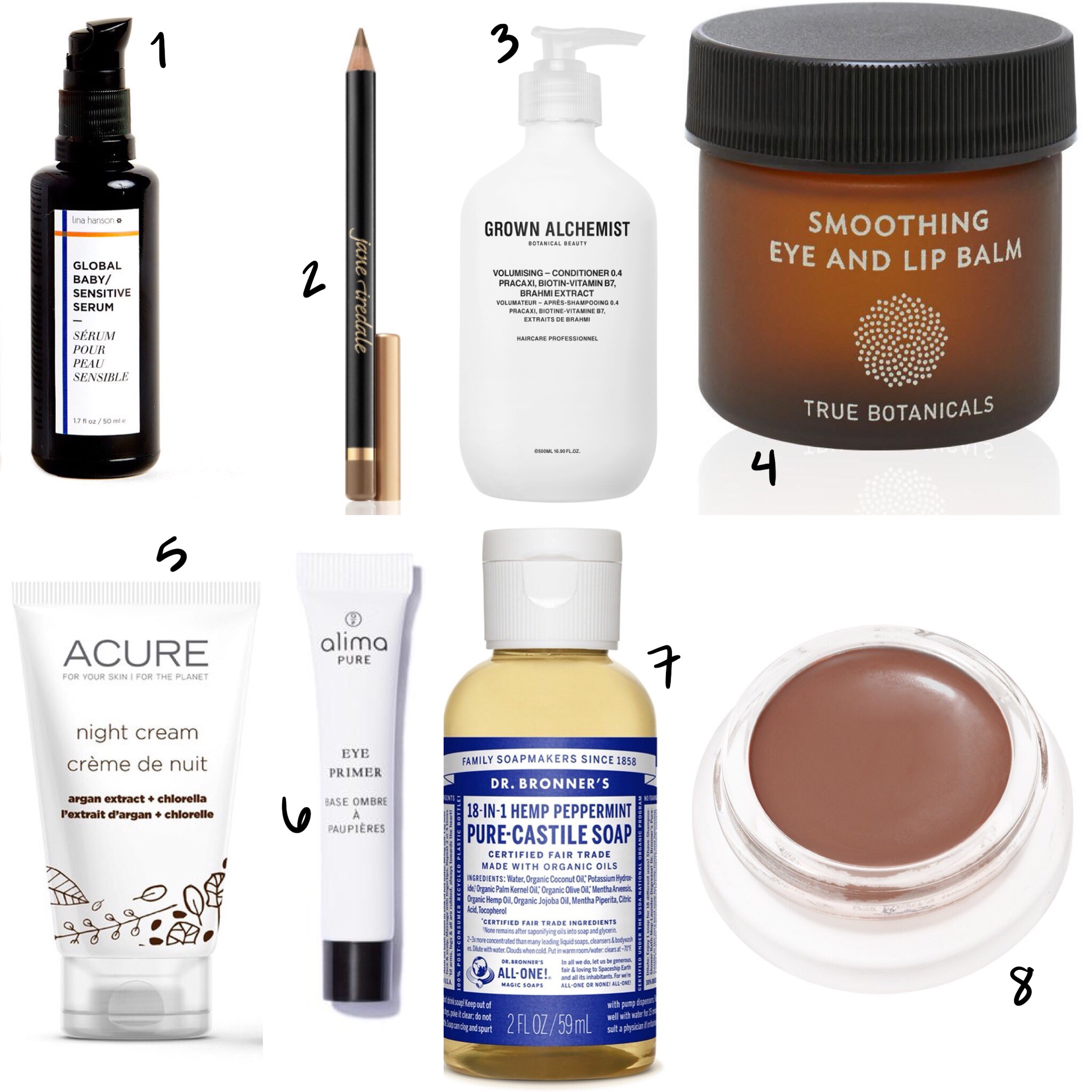 1. Lina Hanson Global Baby/Sensitive Serum: This is my new body oil and one of my absolute favorite products lately. It is so beautiful! This formula is free from all added fragrances and even essential oils to be gentle enough for baby and sensitive skin. Some of the suggested uses are 1) oil cleanser, 2) makeup remover, 3) baby oil, 4) stretch mark moisture/treatment, 5) body oil, and 6) bath oil. The formula is 100% natural and contains organic and wild-harvested ingredients including: Kalahari Melon, Safflower, Jojoba, Sunflower, Apricot, Cucumber and Avocado oils and non-gmo vitamin E. Although it's free from essential oils and added fragrances, this serum has the softest clean scent that is so soothing and lovely. It feels like a luxurious ritual every time I use it. The sturdy but small bottle is also the perfect size for traveling (though a little smaller than I'd like for the $50 price tag, especially when I use so much of it as a body oil).
2. Jane Iredale Eyeliner in Taupe: This versatile shade can be easily worn as eyeliner and/or brow color. See my Halloween makeup look on Instagram to see it in my brows! I obviously have very dark features and it works well on me and would also be a great shades for lighter hair and eye colors. It's creamy enough to add color without tugging or pressing hard, but not soft enough that it smudges or smears. A great basic for your travel/everyday makeup kit.
3. Grown Alchemist Volumising Conditioner: I use this as my hair mask and conditioner as well as my shaving cream. It has the softest smell of crushed earth and sweet flowers that is so pretty and relaxing in the shower. To use as a deep conditioner/hair mask, just apply it to dry hair and let sit for a couple of minutes to hours (however long you want) before washing as usual. Also, my legs have never felt as smooth as they do after shaving with this! Here is a link to the travel size set of this conditioner plus the shampoo (and it costs less than the full-size conditioner alone!)
4. True Botanicals Eye & Lip Balm: This is the only product on the list that I don't own yet. I've been really wanting to try it, though and have heard rave reviews from others. I love a great multi-balm, and this could also be used on cuticles that are dry from dropping temps and all of the hand-washing during cold and flu season.
5. Acure Night Cream: Speaking of dry hands, this face cream is not just a great cleaner version of traditional cream/lotion moisturizers; it's also my favorite hand and foot cream. It's naturally scented with lavender, which makes it a great aromatherapy tool as well. During the holidays when traveling, being in large groups of people and sometimes stressful family get-togethers, this little lotion is great to have in your purse to rub on your hands and then take a moment to breathe. I use it at night before bed as a hand cream and it's so calming.
6. Alima Pure Eye Primer: Ok, so this is my wildcard! It's obviously a great eye primer to wear under shadows but I also like using it by itself for a clean and natural look. My newest way to use this, though, is as a "pimple primer". This time of year can be stressful and stress can lead to breakouts, and this makes covering bumps and blemishes so much easier! Just apply a thin layer and allow to dry a bit before adding concealer. The thin formula doesn't add any weight or cakey-ness to the coverage, and whatever magnetic magic that allows it to hold eyeshadows works the same with foundation or concealer. It also helps the color/coverage last so much longer!
7. Dr. Bronner's 8-in-1 Hemp Castile Soap: No multi-use list would be complete without this staple. Dr. Bronner's 8-in-1 does it all. According to their website, it's "good for just about any cleaning task. Face, body, hair, food, dishes, laundry, mopping, pets—clean your house and body with no synthetic preservatives, detergents or foaming agent." This travel size is perfect for packing on the go, and this is also a scent and line that everyone in the family will use and enjoy. Dr. Bronner's is one of the only nontoxic brands that Rob will actually use, and the peppermint is his favorite for toothpaste and soap. I also love the almond scent and baby (unscented), and it's great for cleaning makeup brushes as well!
8. RMS Lip2Cheek in Spell: You've probably already seen me talk/post about this before because it's one of my favorite products/colors right now. The formula isn't extraordinary but the color is a perfect neutral for my skin tone and can easily be worn on lips, cheeks and eyes. I actually do think it's a nice formula for cream blush, but it doesn't last as long on lips and oily lids. The pretty, modern and minimal glass packaging is easy to toss into even the smallest clutch for touch-ups, though, and the ingredients are great. A couple of the other shades have dyes, but Spell only uses natural color pigments and mica for a subtle shine.
That's it for this issue! I hope you enjoyed it and I'd love to hear what you enjoy most about this time of year and/or what beauty products you love to travel with. Chat with me on Instagram (@xo_edie) or in the comments below.
Also, keep an eye out for my full holiday gift guide that is coming very soon and be sure to subscribe to my email list if you want to stay up to date with my latest posts!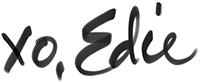 *this post contains some affiliate links, and if you shop by clicking the links or ads it can help support the blog! Thank you!