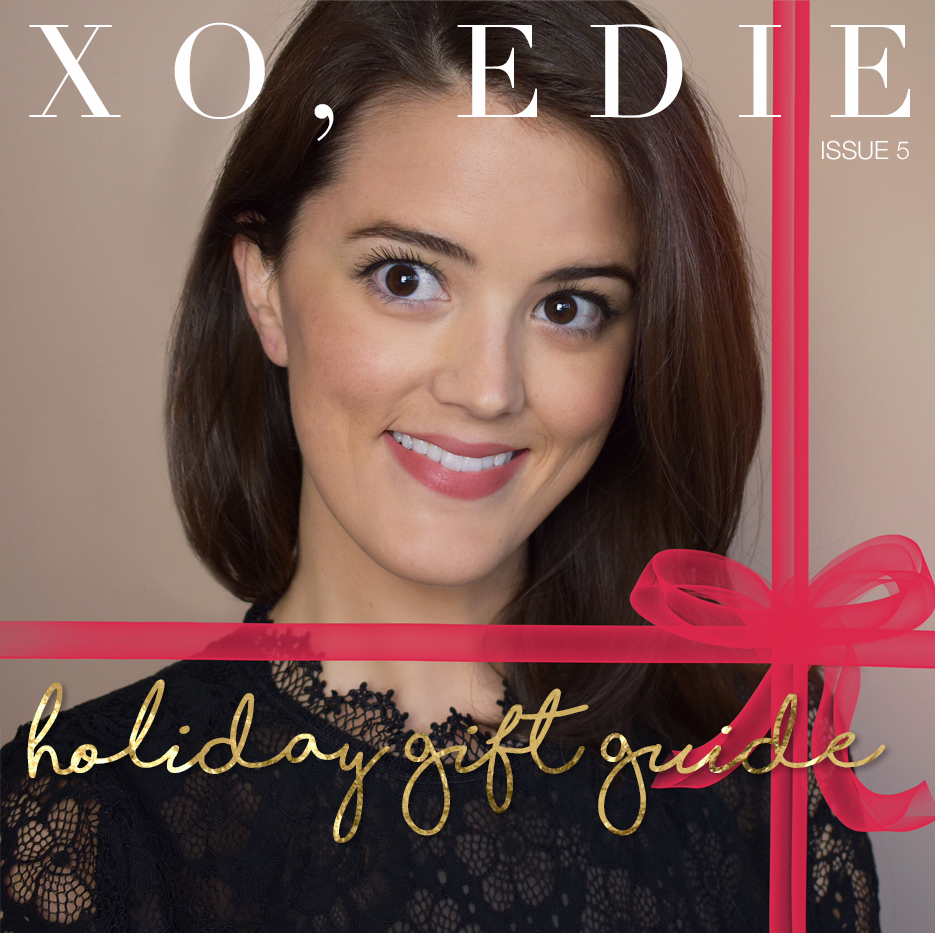 I love the holiday season—all the way from fall until Valentine's Day, really. I love the fun of Halloween and the warmth of Thanksgiving, but Christmas time will always be a favorite for me. I moved away from home a few years earlier than most kids, so the holidays used to be one of the only times I'd get to see my friends and family at home. As I've grown up, traditions have changed and I might not even get to be with some of the people I love every year, but the feeling I get is the same. I feel so much love for my family and feel loved by them during the holidays, and that happiness is so comforting and fulfilling long after the tree and stockings have been taken down.
Although money and material things are in no way comparable to being with my family in person, sending gifts (however big or small) is one way that I love to show my appreciation for them. Of course I love receiving gifts as well, especially when they're unique and thoughtful and especially if they have an additional meaning or purpose behind them.
Below is a guide that I've put together for this holiday season, and each item is either something that I own and love, something that I'll be gifting this year (sorry for the spoilers!), or something I'd be happy to receive myself. Best of all, almost every single thing on this list has an additional purpose or benefit besides being a great gift. Some are clean and nontoxic household and beauty items to share with those you care about, some are eco-friendly and more sustainable options, and some have direct charitable causes and actions when you purchase them. I've put a lot of thought and time into this list, and I'm really excited by all of the great options and opportunities for thoughtful purchases that are available to us today.
All products are listed with prices and links that were current at the time I wrote/was working on this, so just let me know if anything needs updating. Happy shopping and the happiest of holidays to you and yours! XO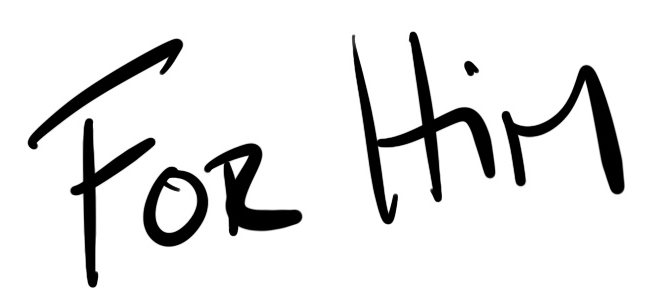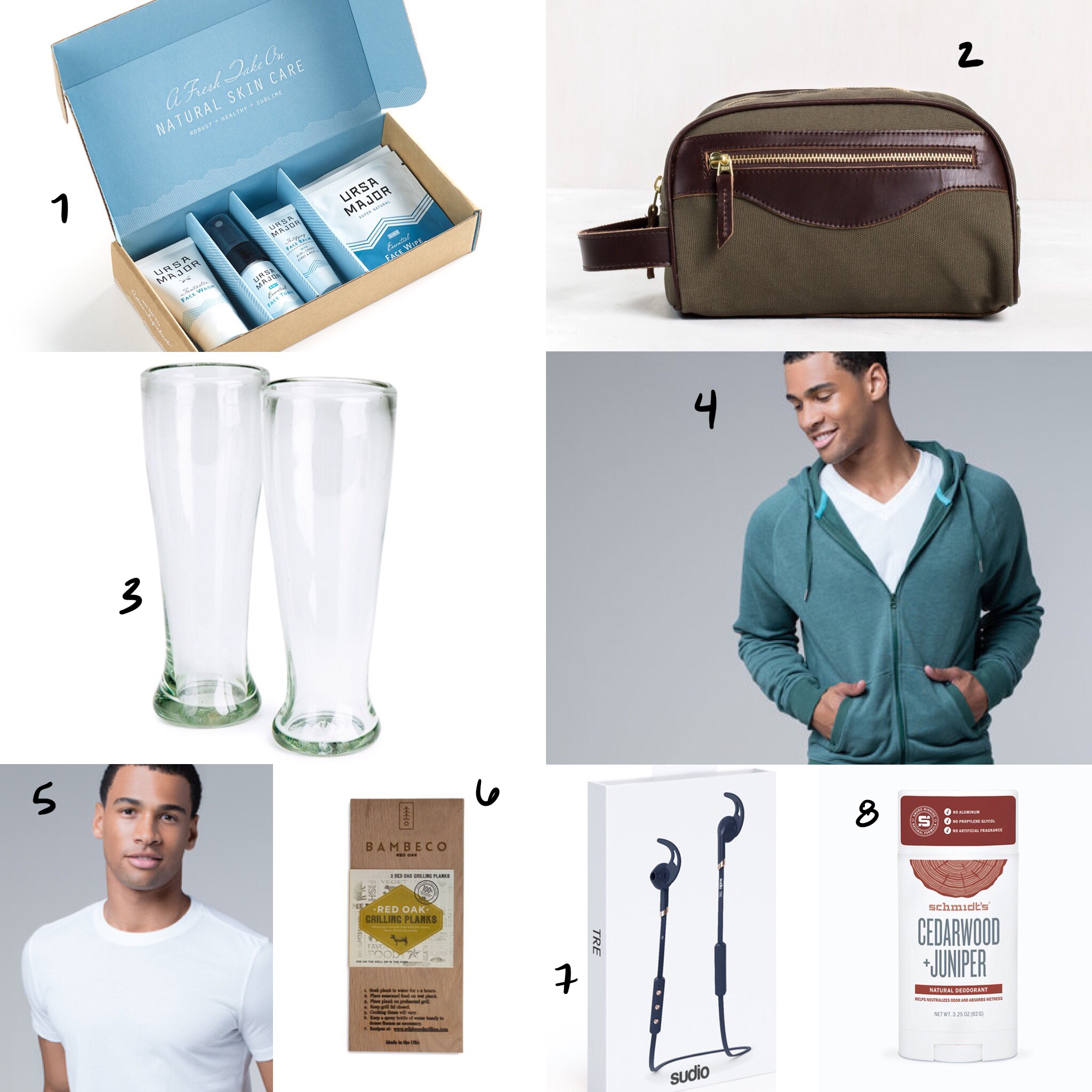 1. Ursa Major Clear & Healthy Skin Kit ($20): A trial/travel kit featuring two weeks worth of this unisex clean beauty brand's best sellers. Includes Fantastic Face Wash,  4-in-1 Essential Face Tonic, Fortifying Face Balm, and Essential Face Wipes.
2. United by Blue Travel Case ($48): When we first started dating, I gave Rob a dopp kit that looked almost just like this and he still says it's one of the best gifts he's ever gotten! This case is made from 100% organic waxed cotton canvas, is water repellant, and for every one sold, the company has pledged to remove one pound of trash from oceans and waterways. Also comes in tan and navy.
3. Bambeco Set of 2 Beer Glasses ($20): These hand-blown recycled glasses are made by a process that saves 50% water compared to non-recycled glassware.
4. Pact Zip-up Hoodie ($68): This cool-weather essential is made from GOTS certified organic cotton and recycled polyester in a Fair Trade Factory. It comes in multiple colors and if it is anything like the women's clothing, it's extremely well made, super soft and holds up well after washing.
5. Pact Crew Neck Undershirt Set of 2 ($25): 100% GOTS certified organic cotton undershirt set that comes in black and white. Also check out their socks and underwear for both women and men. Available in many Whole Foods stores if you need some good, high quality, organic cotton essentials!
6. Bambeco Set of 2 Red Oak Grilling Planks ($18): All natural, non-toxic, FSC (Forest Stewardship Council) certified red oak planks to use on the grill or in the oven with beef, pork, fish and more. Made in the USA.
7. Sudio Sweden Tre Headphones in Blue ($99): I have these wireless headphones in white, and they're so much more convenient than earbuds that plug into your phone. The sound is amazing but you can also still hear background noise which is safer when using them while out and about. Sweat-resistant, 9+ hour battery life, microphone and volume controls, and nice color selection. Great for everyone and a good price point for the product!
*I just got the new IPhone 8 Plus and am having trouble connecting with these headphones. Any earlier model will work though!
8. Schmidt's Natural Deodorant ($8.99): Awesome natural deodorant that's free of aluminum, propylene glycol, parabens, phthalates and artificial fragrance. The packaging and formula are close enough to conventional that it makes switching to cleaner deodorant a no brainer! If scent or baking soda irritation is a concern, they have fragrance-free and sensitive skin formulas as well.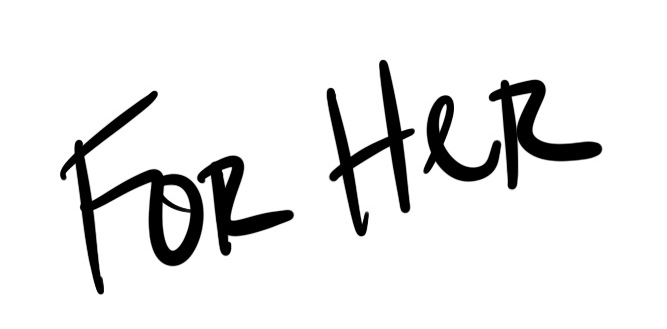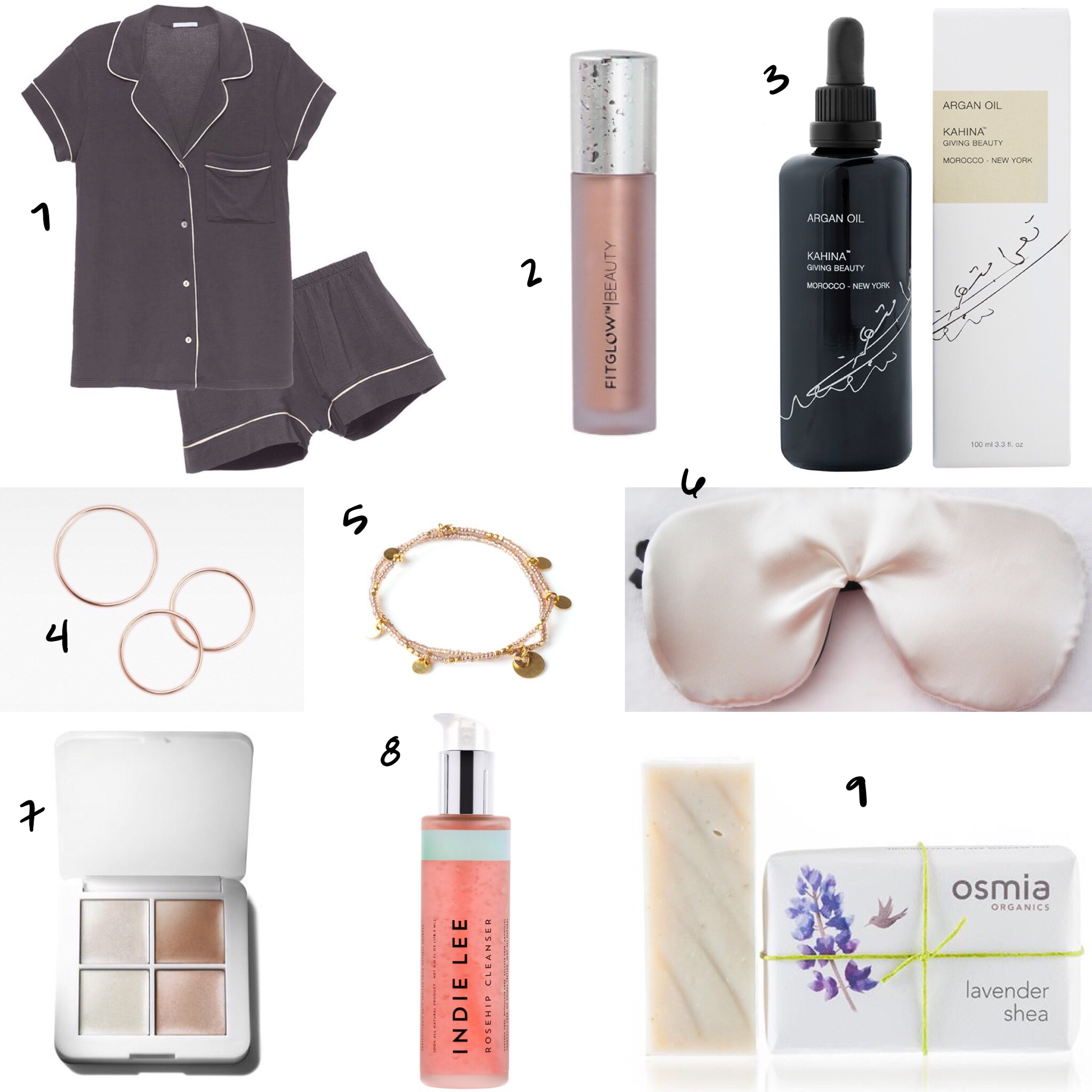 1. Eberjey Pajama Set ($102): These might be my favorite PJs. They're so cute and comfortable, and they really make a fantastic gift. They're really well made, a nice weight (ie, not totally sheer or too clingy), never look wrinkled and hit the sweet spot between sexy and classic. Did I mention they're incredibly comfortable? Also, a girl can never have too many cute pajamas. Just saying.
2. Fitglow Beauty Lip Colour Serum in Bliss ($42): I usually don't go crazy with color cosmetics as gifts unless it's for someone I know really well or they've asked for a particular product and shade. It's just hard to guess what someone prefers and how certain colors wear on their individual skin tone. That being said, I think that this lipgloss is a pretty safe bet for most women. (It does have shimmer, so keep that in mind). It's a great nude/neutral gloss that's not only safe and nontoxic, but it has actual skincare benefits as well. If you have a department-store beauty lover that you'd love to share some clean beauty products with, check out these glosses and the new mascara from Fitglow. I highly recommend both!
3. Kahina Giving Beauty Argan Oil ($36): This product contains only one ingredient: organic argan oil. Argan oil is one of those magical do-it-all ingredients that actually does it all and does it well. It can be used on the hair, face, neck and décolleté, body, hands and cuticles, and you get the idea. It's antioxidant rich, non-comodegenic, absorbs quickly, is extremely moisturizing and never sticky or greasy. Kahina is certified organic and fair trade, and they even donate a portion of profits back to the Berber women of Morocco who help produce their products (and are also paid for their work). For more info, check out their website here!
4. Vrai and Oro Set of 3 Rings in Rose Gold ($144): Skinny stacking rings are so light and pretty on the hands, and this set by Vrai and Oro (Italian for Truth and Gold) is beautiful and a great value. I like this brand for its ethically and sustainably produced diamonds, but I thought this set of solid gold rings was too good to pass up. They're available in white, rose and yellow gold, and you really can't go wrong with such a simple and classic design as a gift.
5. Me to We Layered Bracelet Set ($18): All of Me to We's pieces are associated with a cause like Food, Water, Education, Health and Opportunity. This particular bracelet set is supposed to offer access to clean water to those in need and is handmade by women in Kenya. Each product has a code on the back of the packaging, and you can track your impact by going to their website and typing it in. Great product, great value, great cause(s)!
6. Organic Cotton Sleep Mask ($35): I have multiple sleep masks from this Etsy shop and they're my absolute favorite. Well made, super comfortable, they block all light and come in many colors and styles—most of which are organic cotton (and this one features 100% silk as well). They're great for traveling, napping and just getting a good night's sleep and are so easy to take care of: just throw them in the wash with your laundry and you're good to go!
7. RMS Beauty Luminizer X Quad ($48): I know what I said about color cosmetics above, but this luminizer/highlighter palette will absolutely work on everyone. RMS is a modern, minimalist clean beauty brand that is free of chemicals and synthetic ingredients. These shades can be used all over the face, mixed with moisturzier, as eye color, and so much more.
8. Indie Lee Rosehip Cleanser ($32): If there's one clean beauty product that you associate with me at this point, this is probably it. And I'm not mad about it! This lightweight gel cleanser smells like heaven, is amazing for all ages and skin types, and is one of my favorite skincare products I've ever tried. Even the packaging is beautiful. Clean and conventional beauties alike will love this simple but luxurious face wash, guaranteed.
9. Osmia Organics Lavender Shea Soap ($15): Speaking of simple luxuries, you also truly can't go wrong with any of Osmia's incredible bar soaps. The company's mission is to offer products "…formulated with exceptional, natural ingredients, which we hope will inspire people to live in health and joy, with a softer impact on the planet." I can't think of anything more lovely or appropriate for the holidays, and the soaps are all gorgeously poured and packaged straight from Colorado to you.
1. Coyuchi Organic Sheets ($48-$598): We all know you spend a third of your life sleeping (according to the internet), so you want the materials you choose to use in that space to be as safe and comfortable as possible, right? An organic and nontoxic mattress is ideal, but organic bedding is a great place to start. Coyuchi not only makes great organic bed and bath linens for you, but they also "support organic farming as a whole, reduce carbon emissions by up to 60% vs conventional cotton production, provide safe and toxin-free environment for their workers, and responsibly renews & recycles used linens through a partnership with the Renewal Worshop." Check out more info and products from Coyuchi's website here.
2. Eskayel Sultana Print ($30-$150): Eskayel has been one of my favorite home decor brands for years because of their gorgeous and unique designs. It made me so happy to find out that they're also committed to sustainability and thoughtful production practices. Everything (artwork, textiles, wallpaper, etc.) is always made to order to reduce waste and overproduction. This piece is so pretty, vibrant, bright and is a digital print of original hand drawn artwork by Briana Devoe White.
3. Zestt Organic Cotton Napkins & Tea Towels ($16-$36): Zestt makes some of the cutest kitchen linens, throws, and baby wraps/blankets that are all made from organic cotton. In fact, they're a GOTS certified company, meaning that their certified products are guaranteed to have no pesticides, harmful dyes or harsh chemicals. According to their website, GOTS certification is also "one of the most stringent markers of organic cotton goods, [that] also ensures the production process of our textiles is ethical and fair." Zestt also pledges to use at least 70% recycled content in their products. I have a few sets of the tea towels and they come beautifully wrapped with a ribbon that is perfect for a holiday hostess gift!
4. Eskayel Banda-Cay Pillow ($165-$305): Eskayel isn't just gorgeous and unique prints and patterns, they also use "Belgian natural linens and organic cottons for all fabric bases, and their commercial grade products are comprised of at least 30% post consumer recycled material whenever possible. All wallpaper and fabric is locally produced in the northeastern United States. One percent of total sales are donated to environmental organizations through their partnership with One Percent for the Planet." I have two of their beautiful pillows already, and the quality really is superior. The fabric is substantial and the colors are even more beautiful in person.
5. Carpenter Hill Custom Leather Coasters ($36): I recently got a set of these for our home and have been loving the simple and clean design and neutral feel to them. Metal and ceramic coasters just collect the moisture from cold glasses and can drip when you take a drink. These natural raw leather coasters will age and tan beautifully with use, giving a vintage and worn in vibe after a few years. They're made by Celina Mancurti for Carpenter Hill. The artist is from Argentina but currently lives and makes all of her products in the USA. Makes a great gift for newlyweds or new home owners, and they can pe personalized with a monogram stamp or a couple of cute other options.
6. Bluecorn Naturals 100% Beeswax Votive Candles ($11.99): These are one of my favorite non-toxic home decor/entertaining/lifestyle finds, and it's not just because they don't contain petrochemicals, paraffin wax, artificial fragrance, or lead wicks. I love these because they do look beautiful, burn without smoke, soot, or fragranced fumes, and a cleaner burning candle can contribute to a healthier home envorinment!
7. Bambeco Sonrisa Vase Collection ($29-$39): These simple and beautiful artisanal vases are slightly shaped to give a more modern and organic feel to the design. They're nontoxic and handmade from recycled glass soda bottles in a process that saves 50% water vs non-recycled glassware. Also, the price point especially for the craftsmanship is awesome.
8. Creative Women Gray Ribs Bath Towel ($72): Creative Women is a certified Fair Trade company that works with women-led small businesses in Ethiopia, Guatemala, and Kenya. They make beautiful baskets and textiles, and each piece is hand woven with 100% locally and sustainably grown fibers and colored with AZO free dyes and/or sustainably sourced leather. This design was handmade in Ethiopia.
1. Stasher Bags ($9.99-$19.99): These little reusable storage bags are crazy popular and worth all of the hype. I own several, and can vouch for their usefulness and quality. Stasher bags are made from 100% nontoxic food grade silicone (no plastic!) and can be used to cook, bake, microwave, freeze, and store anything you want! They have an airtight seal and can be washed in the dishwasher (I like to turn them inside out to get super clean).
2. Rose Gold Vitamix ($599): Ok, this color is technically called copper, but it looks rose gold to me! Everyone I've ever talked to or met who owns a Vitamix swears by it for making smoothies, soups, batters/doughs, milks, and everything else you would ever want to chop/mix/blend. If someone got me this for any occasion or holiday, I would probably love them forever.
3. Pyrex Glass and Silicone 10 pc Food Storage Set ($49.99): Another great plastic-free food storage find. If you know anyone who meal preps, this is an amazing gift that you really can't have enough of. I use and need to wash my entire set at least once a week. They're nontoxic, great looking, substantial, and the suction top really keeps things fresh. Highly recommend!
4. Olive Wood Spoon Set ($24.99): I just discovered olive wood, and I think it's so beautiful! I want olive wood everything in my kitchen now. Wooden utensils are great for cooking since they don't scratch surfaces and are definitely pretty enough for serving. These spoons are eco friendly and made from sustainably sourced FSC certified wood.
5. Carpenter Hill Handless Mug ($19): This adorable mug is handmade by Master Potter James West in Corrales, New Mexico. It's a really satisfying weight and feel when drinking from it. The 8 oz. size is perfect for tea, which I love. I only have one right now and have been making Rob hand wash it every day so that I can use it every night for fresh ginger tea. I'm just now reading that it's dishwasher, microwave and oven safe, so he will be interested to know that. Another piece that I own, love, recommend and will be buying more of myself!
6. Zestt Eva Organic Cotton Tea Towel ($14): See above for more info about Zestt. We have these exact organic cotton tea towels in our kitchen and Rob and I both love them for cooking, washing dishes, drying hands, and everything else. They're chic, wash well, sustainably and ethically made, and the perfect thin-but-sturdy weight for the kitchen.
7. Instant Pot ($99.95): Another highly recommended kitchen tool that is amazing for a variety of uses. I really want one of these! This exact model has over 22,000 reviews on Amazon that average almost the full five stars! An amazing gift for someone who is busy, new to cooking, loves to batch cook, wants to make their own bone broth or yogurt, and so much more. A pretty safe bet for anyone who eats food, haha.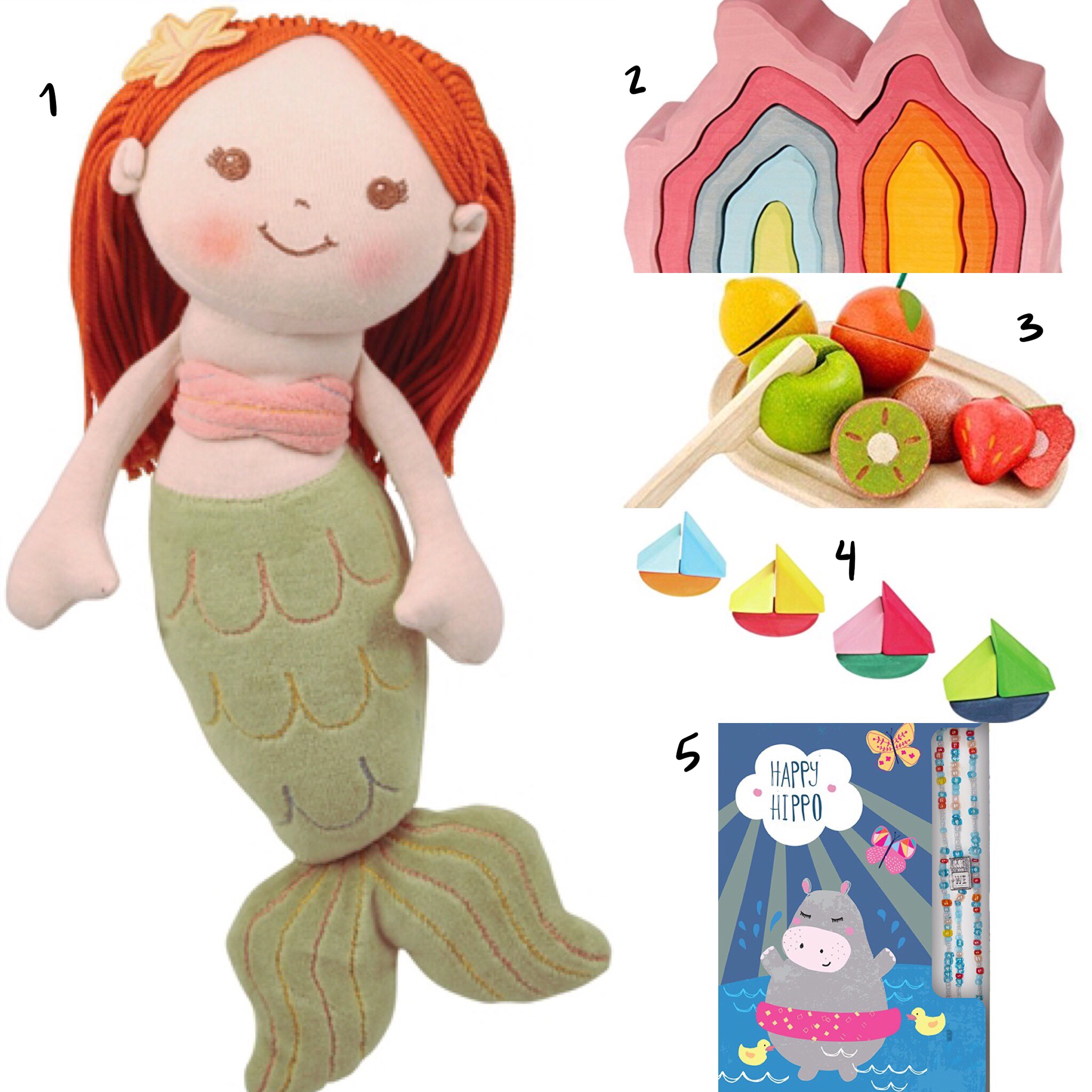 1. Good Earth Fairy Mermaid ($29.99): These are the cutest little soft dolls I've ever seen. There are fairies and a brunette mermaid also, but I can't find where they are available for sale. So apparently this is a rare item! From the product description: "This lovable rag doll is made with natural cotton and recycled fiber filling and comes perfectly packaged in a reusable, recycled cardboard gift box. Hypoallergenic, eco-friendly, and natural. Safely made free of harmful substances and toxic chemicals. Low eco impact dye process. Machine washable. Designed with love in Brooklyn." Look at her starfish barrette and sweet little face!
2. Grimm's Coral Reef Undersea Nesting Stacking Puzzle ($48.95): Ok, is this not the coolest thing ever?! (Sorry the picture got a little cropped). This nesting puzzle/stacking toy is made from natural and nontoxic FSC Certified wood sourced from sustainably managed forests in Europe. They are also colored using water based dyes and plant oils. Some of Grimm's toys are made with workers who have disabilities and their puzzles have been used in therapeutic studies! Find more info about Grimm's on their website.
3. Plan Toys Activity Assorted Fruit Playset ($17.99): This set is so adorable for your babes who love to watch you in the kitchen! Plan Toys are made from sustainable materials, formaldehyde-free glue, organic color pigments and water based dyes, and are dried in a chemical-free kiln. Even their printed products use recyclable paper and soy ink which is biodegradable. Learn more about Plan Toys here!
4. Grimm's 12 pc Wooden Rocking Boats Set ($39.99): Another set from Grimm's, these little rocking boats are all individual parts and colors to mix and/or match with your little ones. Again, the wood is sustainably sourced and the dyes are natural and nontoxic.
5. Me to We Cute Critters Rafiki Bracelet ($10): This adorable Rafiki (Swahili for friend) also helps give access to clean water. Me to We's Rafikis are made by women in Kenya who earn fair wages. This is a 48" stretchy cord with beads that can be worn as a necklace, wrap bracelet, anklet, or however you want! Might not be suitable for small kids in case the elastic breaks.
This is only mostly just a list of gifts that I'd love to get this (or any) year. The other reason I included my personal list is because I thought it might be helpful to see what someone like me might want. If you're reading this right now, there's a chance you already know about a few of the 'gifts for her' I posted above. Here are some more options for yourself or the other women in your life!
1. Eskayel El Finn Print ($30-$60): Ok, I may or may not actually order this for myself as soon as I'm done writing this description. I just love this print and the price actually seems a little crazy? See above for all of the reasons why I'm loving Eskayel even more than I did before I knew they were a thoughtful company.
2. Riddle Candle in Muse ($48): I've had a really hard time finding 100% natural fragrances that I like. Riddle does use essential oils and flower essences but I'm not sure that they're completely free of synthetic fragrances. They're cruelty free and vegan and I feel comfortable using their fragrance oils and candles occasionally right now. My favorite scents are North Wind and Muse; they just smell SO GOOD. This candle is clean burning and made from food-grade coconut oil. For more great additional reasons to buy this candle, straight from Riddle's website: "Our candles are made using COCO coconut wax and poured in LA by the Light 4 Life Cause – Benefiting Exceptional Children's Foundation. Because our scented candles are made from food grade coconut wax they are also great massage oil candles that can be used a moisturizer after the wax has cooled to a warm temperature." They also come with a little pouch of flower seeds to plant in the empty container once the candle has completely burned down.
3. Subscriptions to Thoughtfully and Darling Magazines: I love a good magazine and chill sesh, but there are only so many times I can read about certain celebrities and "how to get abs." Both Thoughtfully and Darling are committed to creating more unique and—you guessed it—thoughtful content that resonates with modern women. I've only read one issue of Thoughtfully so far, so I can't say whether or not I absolutely love both of these, but I'm excited about the concept and that there is enough of an audience that they are happening right now. I'll report back once I've read more!
4. FEED Ava Envelope Clutch ($125): This simple little clutch is so chic. When you purchase it, it also provides 50 school meals to children in need. FEED's global partners include the United Nations World Food Programme, the United Nations Children's Fund, and Feeding America. The company's impact reaches from the United States to Guatemala and Haiti, Syria, Rwanda, Egypt and Kenya. For more info, visit their website here.
5. Vrai and Oro Solitaire Diamond Bracelet ($250): I love dainty gold chain bracelets, especially when they have some sparkle! The chain and clasp are made from 14k solid gold and the stone isn't your regular mass-market, often controversially sourced diamond. Vrai and Oro commits to using responsible materials and uses Diamond Foundry diamonds in all of their jewelry. "Diamond Foundry grows above ground diamonds in California that are indistinguishable from mined diamonds and identical in chemical composition. The only difference is that Diamond Foundry diamonds are cultivated using 100% solar energy, and are without the social and environmental issues that accompany mined diamonds." Visit Vrai and Oro's FAQ page for more info!
6. Franklin & Whitman Starr Garden Botanical Stem ($21.95): According to the product description, this is "a soothing blend of uplifting botanicals for deep pore purification and skin hydration. Formulated with organic flowers and herbs specifically chosen for their calming and skin-benefiting properties. This organic botanical steam is a subtle mix featuring amazing organic ingredients such as Sunflower petals, Jasmine buds, Chrysanthemum flowers, and Red Clover blossoms. Botanical steams moisturize, remove pollutants, deeply cleanse and dislodge dirt from pores. They relax muscles and stimulate circulation all while smelling amazing." Convinced yet?
7. Eskayel Souk Lumier Pillow ($165-$305): Do you think I can just cover my entire house in Eskayel? It would be like a watercolor/psychedelic wonderland of amazing prints and color. Seriously considering it.
8. Idil Botanicals Sambac Goddess Shimmering Body Oil ($60.68): From product description: "made in Switzerland from a combination of natural, organic and wild-crafted skincare ingredients." Scented with organic night blooming jasmine and featuring moisturizing organic camellia which is "rich in skin cell renewing fatty acids, softens and gives it a luminous glow and a velvet touch." Also has antioxidant rich organic grape seed oil and organic jojoba oil.
9. Grown Alchemist Volumising Shampoo ($49): You know I love Grown Alchemist's strengthening shampoo and conditioner, and now I want to try the volume line. This is my favorite nontoxic haircare brand, and it really leaves my hair feeling healthier and looking better than any other line I've tried so far.
Whew! I have to say, there are a lot of great options here and I hope you find something yourself or for someone you love! Just a quick note, that any products that are linked to Amazon are through my Amazon Associates account, so if you shop using my link (or by clicking and shopping through the ads on the side or bottom of the page) it can help support the blog and I'd really appreciate it!