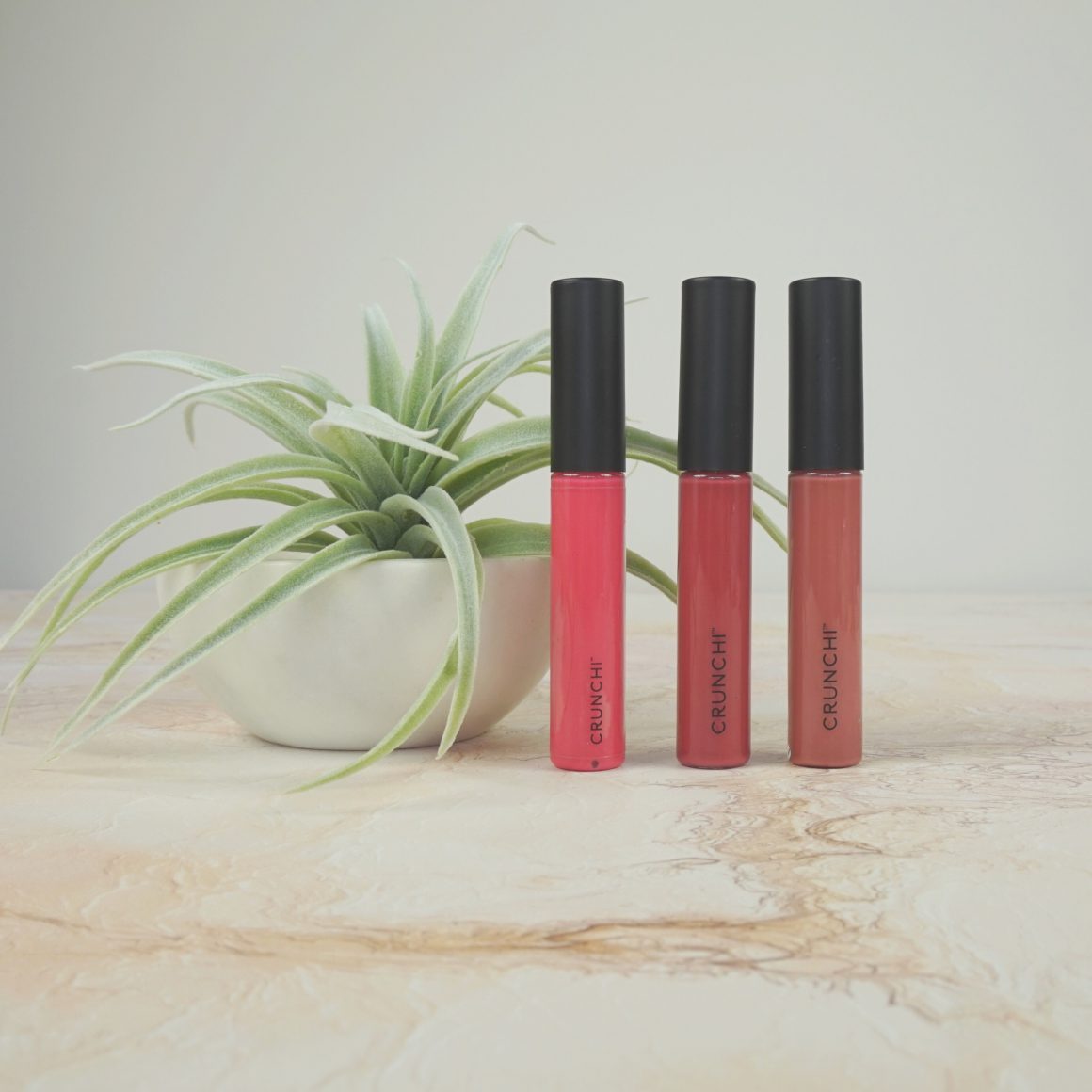 Okay, so these are my favorite lipglosses right now! Crunchi is an awesome brand and I have loved everything that I've tried from them so far. I currently also use their primer, foundation, and blush.
First of all, these lip glosses are not sticky at all. They are so smooth and moisturizing, come in lots of beautiful colors, and have a very slight and pleasant vanilla scent which I LOVE. The three that I own are swatched very heavily below and the colors are (bottom to top): Namaste, Date Night, and Dance Party.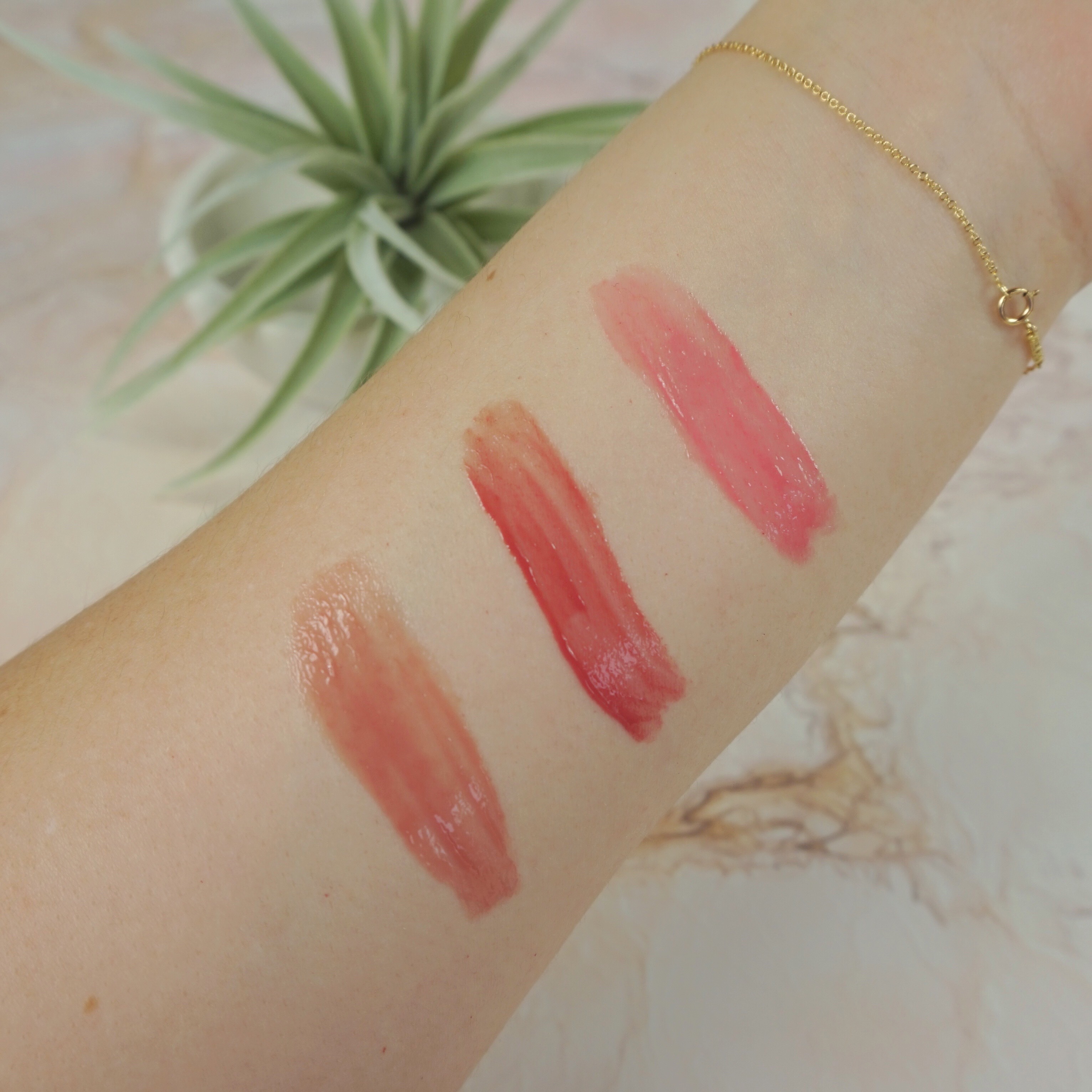 ---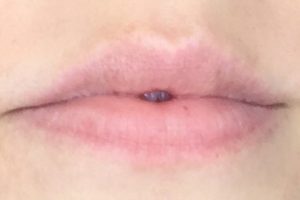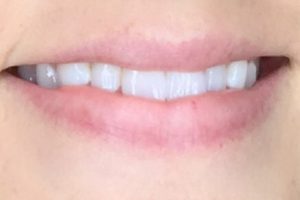 Here are my bare lips for reference.
Namaste
Namaste is a beautiful rose/nude/pinkish brown that is a perfect 'your lips but better' color. It's great to wear when you do dark or smoky eye makeup and want something subtle that still has a little bit of color on your lips. This shade is also perfect for a fresh 'no makeup' look or for muting a strong lip color that may feel like too much by itself. I wear this shade the most often since it also looks great on my otherwise bare/makeup-free face when I am out running around during the week. Namaste is the most sheer and subtle of these colors but it's definitely my favorite and I always have it with me in my bag.
---
Date Night
Date Night is a beautiful sheer berry color that I think is perfect for all skin tones. Berry lip colors sometimes have a slight blue undertone that is more suited for very fair and cooler skin tones. Since I have more of a warm/neutral skin tone, I usually gravitate more towards peach and brown undertones in my lip colors. Date Night doesn't have a particularly strong blue (cool) or orange (warm) base tone, so it is a great neutral berry lipgloss. This is the most pigmented of the colors although it is still semi-sheer and buildable. I like to wear Date Night with simple and clean eye makeup (like just lashes and black eyeliner) for a classic look.
---
Dance Party
I received Dance Party as a gift with purchase and would never usually pick a lip color for myself that looks hot pink in the package/online. But I totally fell in love with this color! It isn't nearly as bright on my lips as it looks in the tube or even how it looks swatched on my arm. It is definitely pink, though, and I feel so beachy and bright wearing it. I especially like wearing this shade when I have some color on my face (from the sun or just when wearing lots of blush/bronzer, haha). Depending on your natural lip color, Dance Party can range from a sheer blush pink (on more pigmented lips) to a vibrant bright pink (on paler lips).
Overall, I give these glosses an 8/10. I will definitely be repurchasing Namaste and probably Dance Party as well. I love the feel, colors, scent, and applicator (they have a sponge tip which I prefer over brush wands). All three colors that I own have a beautiful shiny and glossy finish without any pearlescence or glitter. Crunchi does sell a couple of shimmery glosses if you are interested, though. I actually like some stickiness to my lipgloss; I think it adds staying power. The texture of these glosses is almost too silky and lightweight, and shorter wear time is the only real drawback to these, in my opinion. The colors wear off evenly though, and my lips feel moisturized throughout and after wear so I don't feel the need to reapply constantly. And for safe, all natural, cruelty-free, gluten-free, toxin-free makeup that is also made in the USA with certified organic ingredients, these glosses are seriously amazing. I continue to be impressed by this brand! The next Crunchi lipgloss colors that I want to try are Transparency (clear) and Ella (peachy-nude).
You can buy these on Crunchi's website (here) or from Amanda aka the Organic Bunny's new store (here).
Have you tried Crunchi yet? Let me know if you have/what you think and as always I'm happy to answer any questions!
XO, Edie