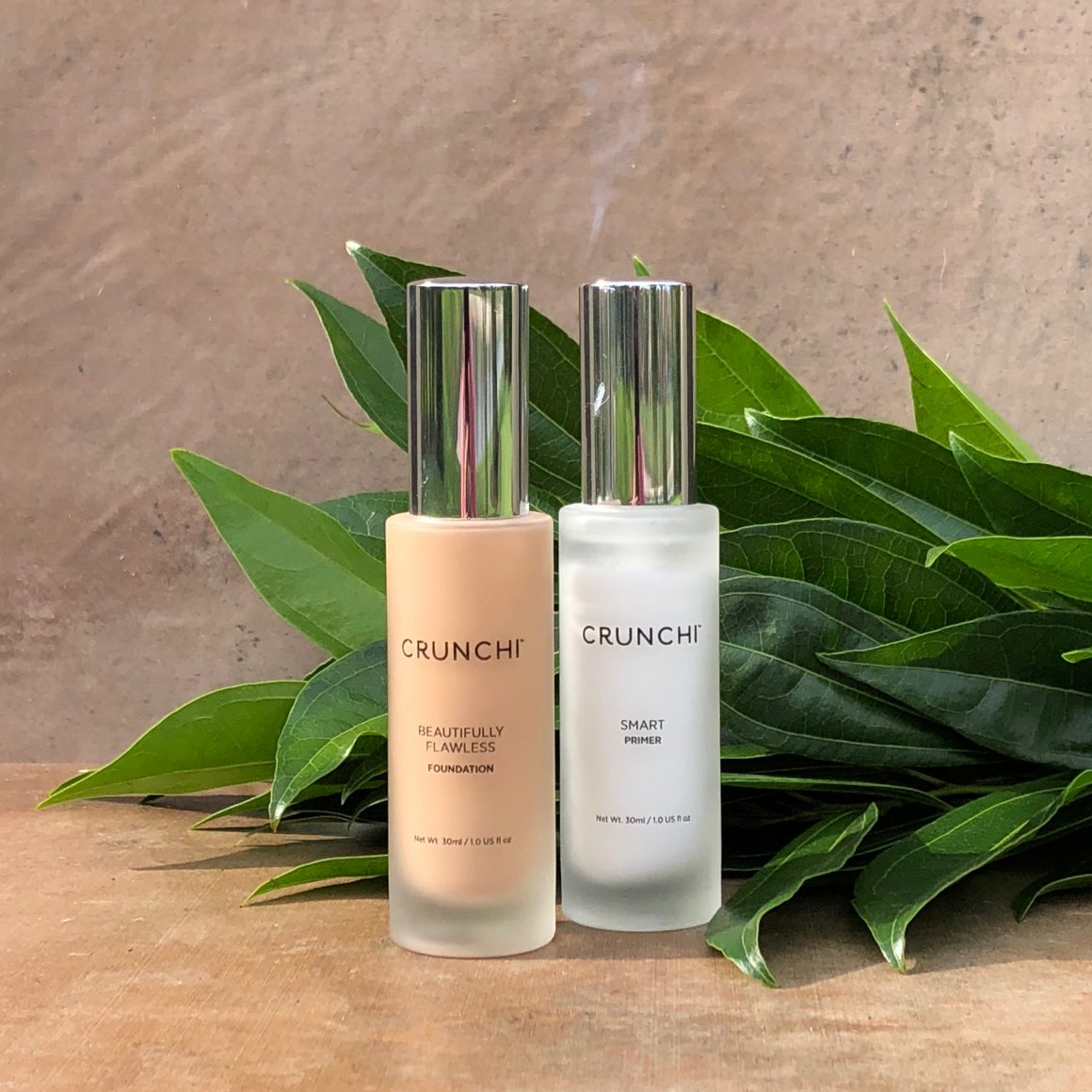 Crunchi's Beautifully Flawless Foundation is one of the best clean/green/nontoxic foundations that I've tried. In fact, I have two favorite clean foundations and this is one of them!It has buildable medium coverage, the texture is silky and bendable, it has a nice light scent (not herbal; more like vanilla), and the packaging looks and feels really nice. I was between shades; I bought 2 & 2.5 (but since mixing every time was a hassle, I just ended up wearing shade  2.5 the most).
From the brand's product description: "Vitamins C & E provide antioxidant-rich coverage while soothing Aloe Leaf gives a lightweight moisture, perfect for all skin types. We also recognize that it is not only what goes in the package, but the package itself. All of our liquid foundations come tightly sealed in an eco-friendly glass bottle, giving you confidence that it will remain toxin free." Thoughtfully Produced, Consciously Packaged, Vegetarian, Gluten Free, Toxin Free, Cruelty Free, and made in the USA.
Bonus: I love that they have shade sample cards available for $7 because ordering foundation online can be annoying and totally hit or miss. Also, the primer and foundation brush that are kind of pushed with this product really aren't necessary, in my opinion. This foundation doesn't need a primer and I think there are better ones available. This primer obviously has clean ingredients as well, but I found it too slick and think for my normal/combo skin.
Price: $48 for 30ml/1 0z
Bottom line:

I think Crunchi's Beautifully Flawless Foundation is similar in price, quality and experience to department store foundation but with cleaner ingredients. Love the texture, coverage, wear, and scent. Only drawback is it settles in my fine lines a tiny bit. Recommend and would repurchase!  
4.5/5
P.S. If you're interested, see my original review here!