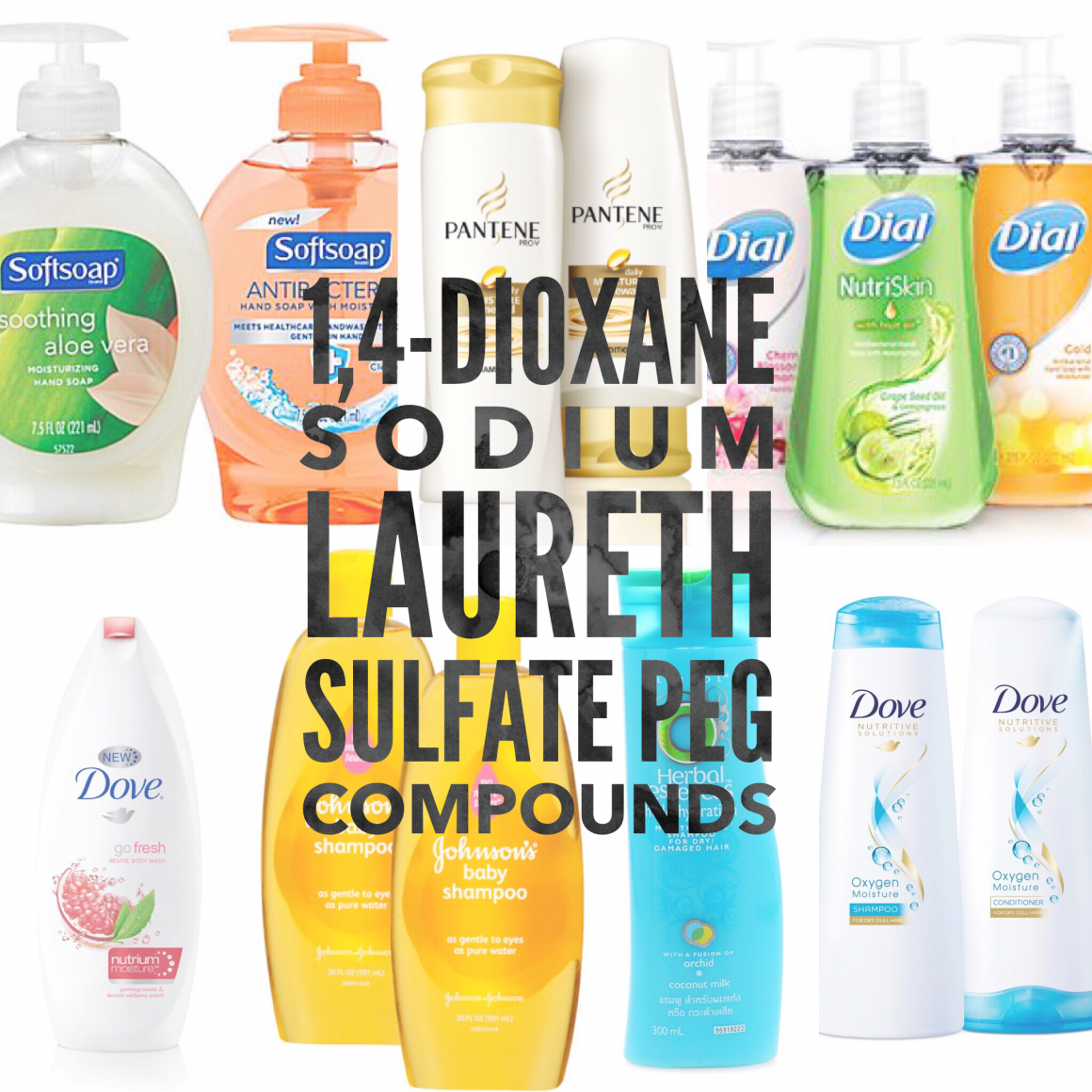 Hey guys! So today is my first Toxic Tuesday post. The point of this post is pretty obvious, but I want to say a few things first.
1. I am not saying (and will never say) that certain products will kill you or definitely give you cancer. I am not a doctor or a scientist, I am learning as I go from sources that I choose and find reputable and compelling enough.
2. I am prioritizing what is important to me, and am going at my own pace to evaluate and replace the products I use based on my health and my needs. I have an autoimmune disorder so chemicals that are hormone/endocrine disruptors or affect immunity are going to be highest on my list of priorities. I have never really had skin issues, problems or reaction to fabrics or laundry detergent, so replacing that will come later and out of a general desire to buy and use cleaner lifestyle products and have less synthetic chemicals and potential toxins in my home.
3. I love sharing and recommending what things I like or what works for me and my body/face/household, but my intention with this blog is to encourage you to find what works for you. Do our own research on things that worry you or if something sounds off (Have a baby? Maybe look at those products first. Have skin irritations and sensitivities? Check out the ingredients in your laundry detergent and cleaner detergent options. Don't think Flouride has enough substantial research behind it proving it is harmful? Keep using fluoridated toothpaste if you decide.) But educate yourself on what you buy and bring into your home, challenge what you are told by stores, product websites, advertisements and blogs, and be a smart consumer. It's worth it.
Okay! Here we go. Today's toxic chemical is 1,4-Dioxane, a carcinogen linked to organ toxicity that may be found in as many as 22% of cosmetics products. It isn't exactly an ingredient (you won't find it listed on product labels); it is a byproduct of certain chemical processes that are used to alter ingredients in personal care products.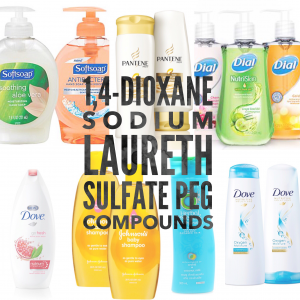 All of the products in the image above contain ingredients that can create 1,4-dioxane and/or be contaminated by it. BABY WASH INCLUDED.
Regulations: Banned for use in cosmetic products in Canada
Format and information adapted from Campaign for Safe Cosmetics website.
More info: Ethylene oxide (what is used to make sodium laureth sulfate and where the -eth comes from) "is a flammable, toxic gas used in the production of several industrial chemicals. According to the Occupational Safety & Health Administration (OSHA), acute exposure can result in respiratory irritation, headaches, nausea, cancer, reproductive effects, mutagenic changes, neurotoxicity, and sensitization." (source).
NO THANKS.
So whenever I point out harmful chemicals and/or products that contain them, I will try to offer you some safer alternatives and share what I am using instead. Again, the products in the image above aren't definitely going to kill you, and the products in the image below aren't necessarily 100% safe. Always check ingredients for possible allergens or irritants that may affect you.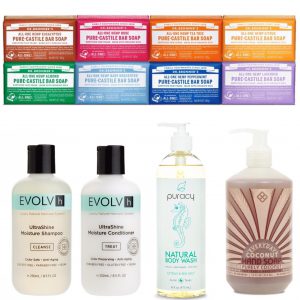 Shampoo & Conditioner: There are a few clean hair products on the market right now. Innersense makes organic shampoo and conditioner that everyone raves about. It seems to be the best performing line, from what I have read and seen from other nontoxic beauty bloggers. True Botanicals is another clean beauty line that offers haircare and has great reviews. To be honest, though, I REALLY care about how my shampoo/conditioner smells. It's like the basis for how I've always chosen haircare products, even before I knew enough to care about ingredients. Oribe products are my favorite. Moroccan Oil and that Organix line from Target also smell so good! But they are full of artificial (chemical) fragrances and lathering ingredients and even formaldehyde releasing agents! Anyway, Evolvh has the best smelling natural haircare line that I have tried so far, hands down. It is what I will be using for now.
Body wash & Hand Soap: Right now, I am using Puracy Natural Body Wash and Alaffia Coconut hand soap. Both of these products contain laurel alcohols listed in the ingredients, but they are not the same as conventional sodium laurel sulfate or sodium laureth sulfate (which is created from sodium laurel sulfate). Conventional self care products create sodium laurel sulfate from petroleum oil (unsafe). These products get the laurel alcohols from coconut. There is some debate if sodium laurel sulfate derived from coconut oil is any safer than petroleum based SLS because a chemical process still takes place to create the ingredient. I trust these brands and products for now. If you want to avoid this ingredient–natural or synthetic–there are some cleaner options for you.
Clean bar soap: Dr. Bronner's bar soap in peppermint is Rob's favorite soap right now. It is super clean, the only even remotely controversial ingredient would be palm oil, but this one is organic and certified fair trade.
Do you guys like this kind of post? And, as always, please let me know if you have any questions, comments, requests, ideas, suggestions, etc!
XO, Edie