I've been really picky about my partnerships and collaborations so far, and there are two main reasons why.
First, I'm not quite comfortable selling lots of things to you right now. I've found a few amazing products that I actually would go door-to-door vouching for, but that list is not very long or in any way complete just yet. I'll always tell you what I love (and I'll be better about updating my favorites pages where you can find these), but I never want to never make you feel like you need something because I said so.
Honestly, I also change my mind a lot! I've found things that are better than what I originally thought was the best, and as you know I've even switched back to some more conventional products where I feel green/clean beauty is lacking. I want to be able to share this all with you without worrying about formal or even informal agreements that might influence what I say. For those reasons, I haven't felt comfortable yet signing a contract to promote and sell most products that have been pitched to me. Also, I had one instance of writing for someone that changed almost every word I wrote, and I'm hesitant to do those kind of collaborations again–especially only for "exposure" and no compensation. (I will say that my recent article with Teri Miyahira's team was a pleasure to work on and see published. I love her blog and brand and will hopefully be working with them again soon!)
Second, when I was growing up, despite all of my other responsibilities (sports, extracurriculars, friends and social events, chores, etc.), my parents used to say "School is your job." That meant that my education was supposed to be my top priority and if there was ever a question or conflict, I knew what came first. (This was obviously their ideal prioritization, and I'll admit that our values were not always aligned, haha).
Right now, my health is "my job." I love clean beauty and sharing my thoughts and time with all of you, but this website is currently not my number one priority. My top priority is focusing on resting, healing and supporting my body the best that I can. A huge part of healing is handling and managing stress, and I am just not up for endless deadlines, and continuous scheduled posts and photoshoots right now. I mostly work when I'm feeling well, and my health unfortunately isn't very predictable. This blog and all of you are a great supplement to my healing process though, and I love having something that I care about to occupy my time and a way to make so many new connections and friendships.
I'm looking forward to working with a few select companies/brands this coming year. Just know that I say no a lot more than I say yes, and it is a careful decision when I do choose to work with someone. I want to start expanding my content from only clean beauty to more things that I love and enjoy like clothing, accessories, pet care, health & wellness, and more. I want to have a relationship with you and for you to trust me when I write something as an opinion or review. I want the freedom to be able to tell you I no longer use a certain product or have changed my mind about it, etc. In the future as I grow, I hope to be able to work with more individual brands and products that I really love and truly recommend, and you will be the first to know when that happens.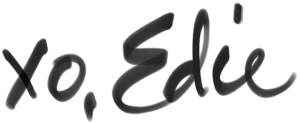 SaveSave
SaveSave
SaveSave
SaveSave
SaveSave