Confession: I've never really liked sweet potatoes. Regular potatoes, though, used to be one of my favorite foods and I miss french fries and potato chips more than anything. (Ok, maybe I miss queso the most. And cupcakes. And pizza. You get the idea, I miss pretty much all junk food.)
The good news is that I finally found a totally AIP/Paleo/Whole 30 recipe for sweet potatoes that I actually love! Reminiscent of junk-food, but actually healthy, nutritious, unprocessed and allergy-friendly. My biggest tip for those who aren't big on traditional sweet potatoes is to use white sweet potatoes (I like the organic Hannah variety). This method is by far the best, easiest, most consistent and and tastiest way I've been able to cook these guys. And believe me, I've tried to cook them many different ways, haha. I've been making these at least once a week lately, and they totally help curb my french fry/potato chip cravings! Huge shout-out and thanks to Carly from Frolic and Flow for sharing this recipe with me on Instagram.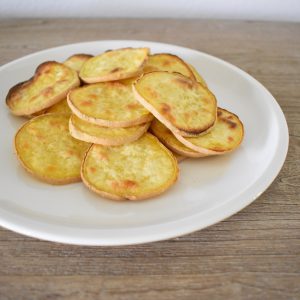 Directions:
1. Preheat oven to 400°
2. Wash sweet potatoes thoroughly (I like to use a little scrub brush like this one to get them really clean)
3. Cut horizontally into thin rounds (I use a mandoline slicer so that all slices are equal and will cook evenly. I also have horrible knife skills so using this is usually safer than a knife.)
4. In a large bowl, toss sweet potato slices with avocado oil and sea salt
5. Line a cookie/baking sheet with parchment paper, and arrange the slices in a single layer (they'll stick to aluminum foil and be a mess, FYI)
6. Bake for about 10-15 mins, then remove and flip each slice over
7. Continue baking for another 10ish minutes, checking to make sure that they don't turn too brown or black on edges (although the burnt ones still taste pretty good and are definitely more potato chip texture!)
8. Remove and enjoy! Add a little extra salt if desired and serve with a veggie and protein bowl, some guacamole, or just as a snack!
Let me know if any of you try these and what you think! XO