*UPDATE: As of August, 2017, I am not using this product anymore. It contains carrageenan which is an ingredient I am choosing to avoid for now. For more info, check out my August Empties post here.
So now that I am on my second tube of Davids natural toothpaste, I thought I'd write a little review just to explain why I like it so much. There are a few great natural and safe toothpastes out there (Dr. Bronner's and Dr. Brite are also good) but this is my favorite so far.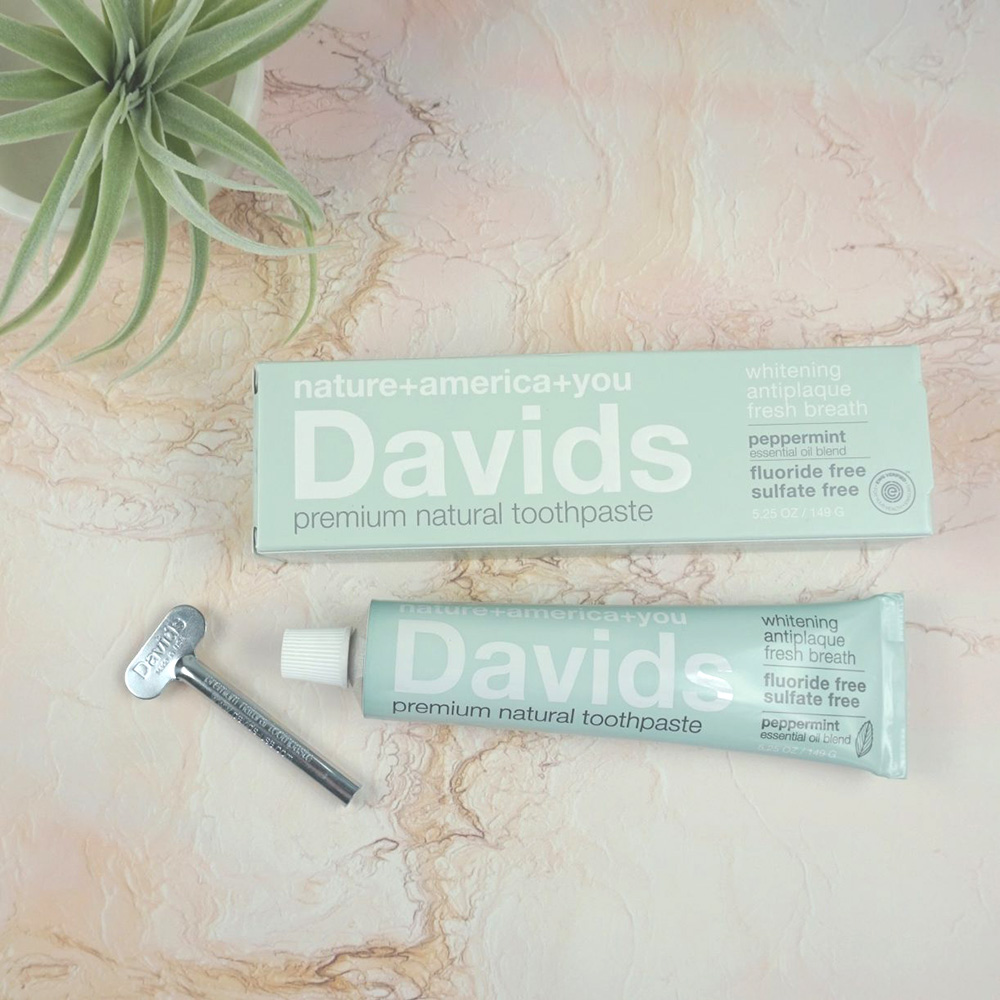 First of all, Davids is fluoride free. According to the Environmental Working Group's SkinDeep database, concerns of fluoride use and exposure range from developmental toxicity to musculoskeletal toxicity and its use is restricted in cosmetics in Canada (source). Fluoride is a pretty hotly debated topic, especially when it comes to requiring children to use it as cavity prevention and whether or not it should be added to everyone's household and drinking water without our consent. There's not a ton of specific and hard evidence saying that fluoride use and ingestion is absolutely 100% toxic. I, however, choose not to use it in my dental care products and we also use a water filtration system in our home to avoid drinking fluoridated tap water. As always, I recommend researching this chemical yourself to decide what is best for you and your family's health.
The second thing I like about Davids is that it doesn't contain sulfates. Many conventional toothpastes contain sodium lauryl sulfate (SLS) which acts as a foaming agent. Unfortunately, SLS is also an irritant and can cause or worsen allergies. It is also suspected to be an environmental toxin. For more info on SLS, read my first Toxic Tuesday post that discusses it here.
Third, Davids is family owned and operated and 100% made in the USA. I love supporting American businesses, jobs,  and ingredients.
Davids toothpaste is also all natural, EWG verified for safety, has no artificial flavors, sweeteners, colors or preservatives, is vegan and cruelty-free, is made from sustainable and recyclable packaging and the carton is made with 100% wind power. I mean, it's hard to find something not to like!
It smells and tastes great, really cleans your teeth, and I do think it has a subtle whitening effect.
This toothpaste also comes with a metal turn key that slides onto the end of the tube to help squeeze out all of the product as you go. If you have a curious and mischievous person in your household, I recommend keeping the key hidden until the tube is at least half empty. My husband put it on and turned it too many times after a couple of uses and I had an overflowing tube of toothpaste for a few days, haha.
As you can tell, I really do love this toothpaste. If you're interested and don't mind carrageenan as an ingredient, I recommend checking this brand out and seeing if it works for you!
Xo, Edie