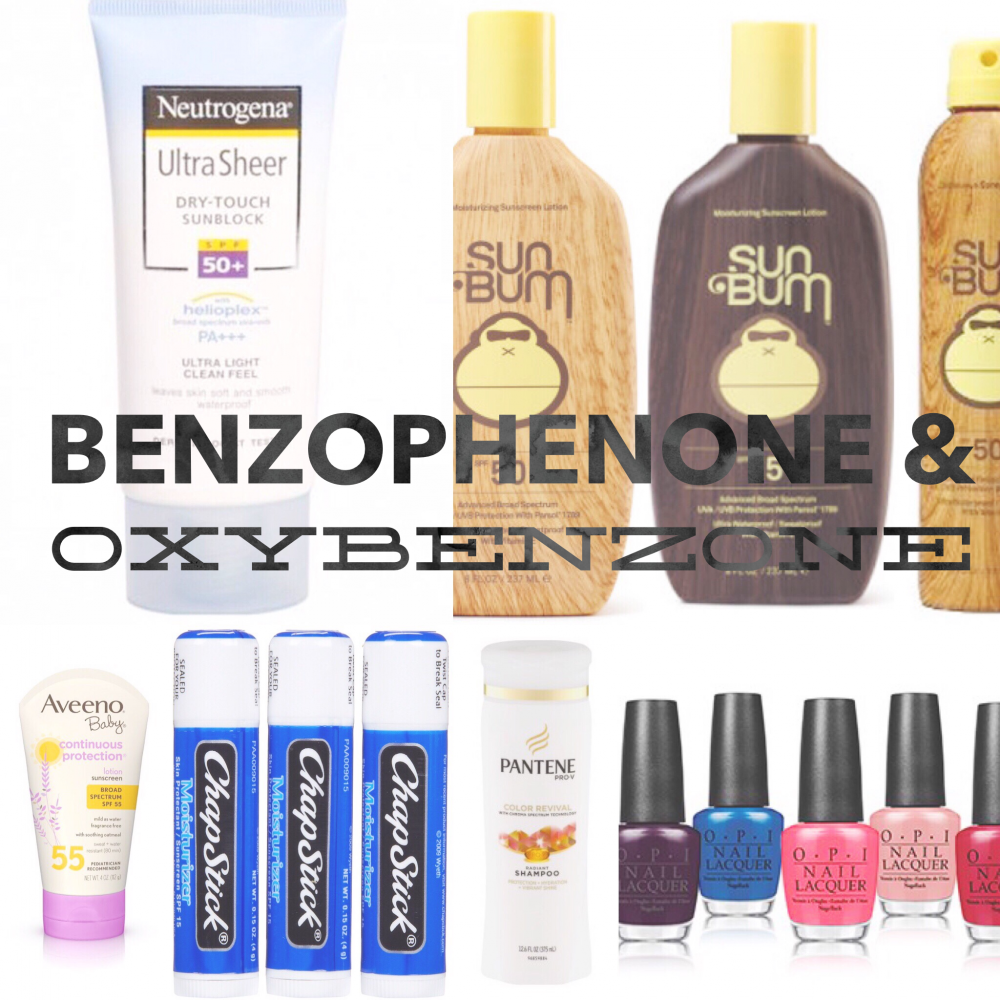 Hey guys! Today's toxic chemical is Benzophenone, a fragrance ingredient and ultraviolet light absorber found in many personal care products including all of those pictured above. It can be absorbed by ingestion, inhalation, and through the skin (source). It has been linked to cancer, endocrine disruption and organ toxicity. It is also an environmental toxin that is harmful to fish if they are exposed to high enough concentrations (such as a crowded beach full of people wearing sunscreens containing this chemical that then all go swimming day after day for months or year round in warmer climates). It has been shown to be persistent and bioaccumulative in the environment (i.e., it doesn't break down or decompose faster than it accumulates) (source).
Products that commonly contain this ingredient: sunscreens, foundation and moisturizers with spf, lip balm, nail polish, shampoo/conditioner, and synthetic fragrances & perfumes
What to look for on the label: Benzophenone or Oxybenzone
Health Concerns: cancer, endocrine disruption, developmental and reproductive toxicity, organ system toxicity, irritation, bioecotoxicity (harmful to environment), animal carcinogen (source)
Regulations: benzophenone is restricted in cosmetics in the United States, and oxybenzone is restricted at 10% max concentration in the EU (source)
More info: To avoid exposure to benzophenone & oxybenzone, read labels of all products that have SPF carefully and choose sunscreens with non-nano zinc oxide or titanium dioxide instead. STAY AWAY FROM SYNTHETIC FRAGRANCES in cosmetics, skincare, and household products.
Format and info adapted from Campaign for Safe Cosmetics website & EWG Skin Deep Cosmetics Database
Safer Alternatives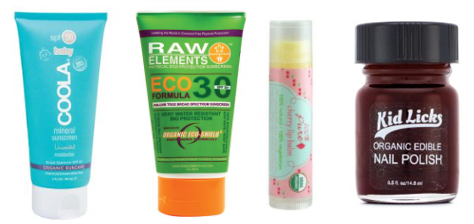 Sunscreen: I haven't tried many nontoxic sunscreens yet, so I don't have a favorite to recommend, but Coola Suncare Suncare Unscented Mineral Sunscreen SPF 50 and Raw Elements Eco Form Sunscreen SPF 30 Plus are both good oxybenzone-free options that are also organic. I really recommend tossing out all sunscreens and spf creams/makeup/lotions etc. that contain oxybenzone since its effects are possibly so dangerous and it penetrates skin so easily.
Lip Balm: My favorite all natural lip balm that I have tried so far is this one by 100% Pure. It smells amazing, is so smooth and makes my lips really soft. Bonus for being USDA Organic certified.
Nail Polish: I don't really wear nail polish anymore, especially because it is literally impossible to find a completely clean alternative, but this Kid Licks polish for kids is organic and edible! It's not going to look or perform like OPI or Essie nail polishes, but it's so fun for kids and made of organic fruits and vegetables. Such a fun thing to do with your little ones and it is 100% safe for them to use! It even washes off with soap and water, so no need for toxic nail polish remover either. Fair warning, some of the reviews of this are mixed (it doesn't stay on well, has a shorter shelf life than normal nail polish, etc.). But, if you buy it not expecting a traditional nail polish and wanting a safe option for your kids to use/wear, I think it's a great idea!
I am really having a hard time finding nontoxic fragrances that I like, but I will keep you updated on what I try and when I find something that I love! As always, let me know if you have any questions, suggestions, recommendations, etc.
Xo, Edie